UJ student wins national furniture design competition
Tshepiso Motau, a final-year Industrial Design student at the University of Johannesburg, has won the Furniture Design Competition. Motau. Image: GCIS Vuk'uzenzele. FINAL-YEAR INDUSTRIAL DESIGN STUDENT AT THE UNIVERSITY OF JOHANNESBURG, TSHEPISO MOTAU, RECENTLY WON THE FURNITURE DESIGN COMPETITION IN A CEREMONY HOSTED BY THE DEPARTMENT OF TRADE, INDUSTRY AND COMPETITION (THE DTIC). Motau, who […]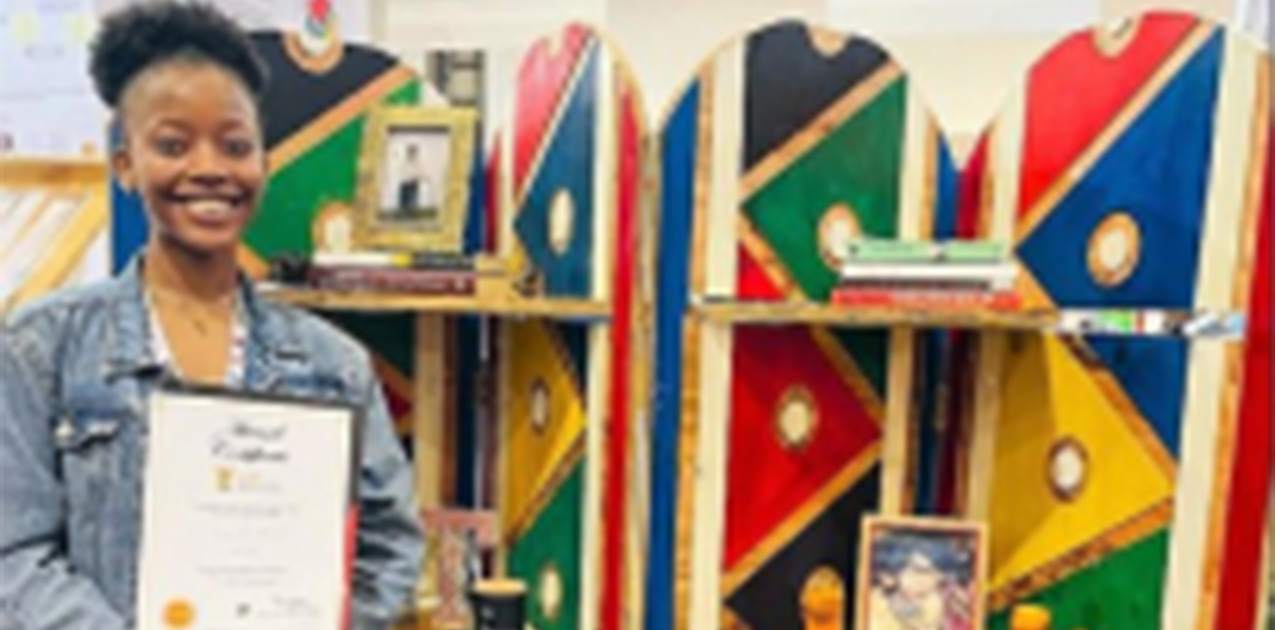 Tshepiso Motau, a final-year Industrial Design student at the University of Johannesburg, has won the Furniture Design Competition.
Motau. Image: GCIS Vuk'uzenzele.
FINAL-YEAR INDUSTRIAL DESIGN STUDENT AT THE UNIVERSITY OF JOHANNESBURG, TSHEPISO MOTAU, RECENTLY WON THE FURNITURE DESIGN COMPETITION IN A CEREMONY HOSTED BY THE DEPARTMENT OF TRADE, INDUSTRY AND COMPETITION (THE DTIC).
Motau, who hails from Centurion, Gauteng designed an eye-catching and colourful room divider with Ndebele patterns inspired by internationally acclaimed artist, Dr Esther Mahlangu.
ALSO READ: Work experience programme opening doors for young people
The University of Johannesburg conferred an honorary doctorate on Mahlangu in April 2018.
The room divider, which can be folded, comes with shelves that can be assembled and dissembled depending on the space available.
Motau was crowned the winner during the Buy Local Summit & Expo which was hosted by Proudly South African.
The 21-year-old was one of five finalists who produced innovative pieces of furniture in line with the theme of this year's competition, 'Local is Lekker'.
ALSO READ: Vodacom invites applications for the 2024 Merit Bursary Programme
The annual competition is organised by the DTIC in partnership with key industry stakeholders such as the South African Furniture Initiative.
It is one of the Furniture Industry Masterplan programmes aimed at promoting design skills in the furniture industry.
Motau says the win came as a surprise to her, as she had resigned herself to a lower spot in the top three after seeing what the other students had produced.
"Being in the top five was a mammoth victory worth celebrating. I really derived pride, joy and contentment from just being one of the finalists. Being crowned the winner of a national furniture design competition of this magnitude in my first attempt was the cherry on top. I am extremely excited and lost for words," Motau says.
MOTAU
She added that her education would still be her priority. She would like to complete her Honours Degree in Industrial Designing before thinking of a full-time career as a furniture designer and manufacturer.
ALSO READ: Cosmetologist Lutendo Malambe creates unique fragrances
The main objectives of the competition are to raise and nurture design capabilities in the country; raise the image of the furniture manufacturing industry in South Africa, and grow the industry's competitiveness by encouraging new product design and differentiation.
However, as the winner, Motau has an enviable opportunity to hone her furniture design skills further.
ALSO READ: Halalisiwe Mncwango's restaurant boosts the local economy
As part of Motau's winnings, she will be part of the  Furntech Furniture Business Technology Incubator Programme for six months. She also received an internship with Homewood Furniture. She was also rewarded with a laptop by the Lewis Furniture store.
READ MORE: South African creatives express their freedom through design