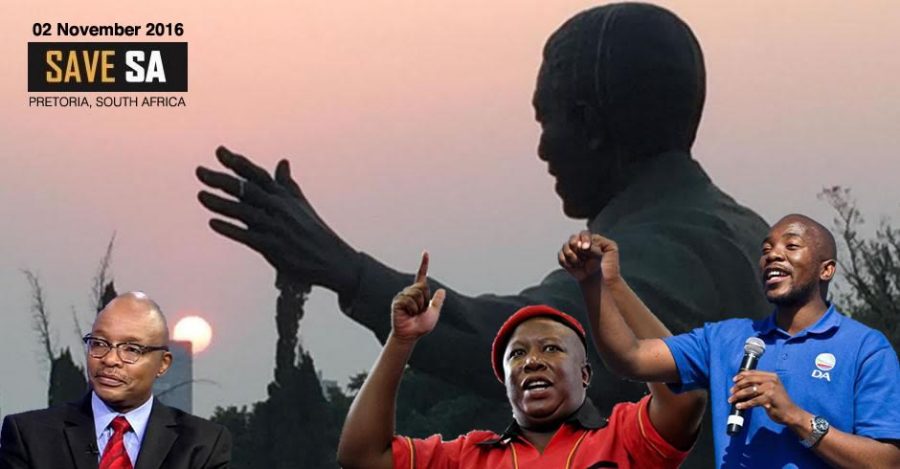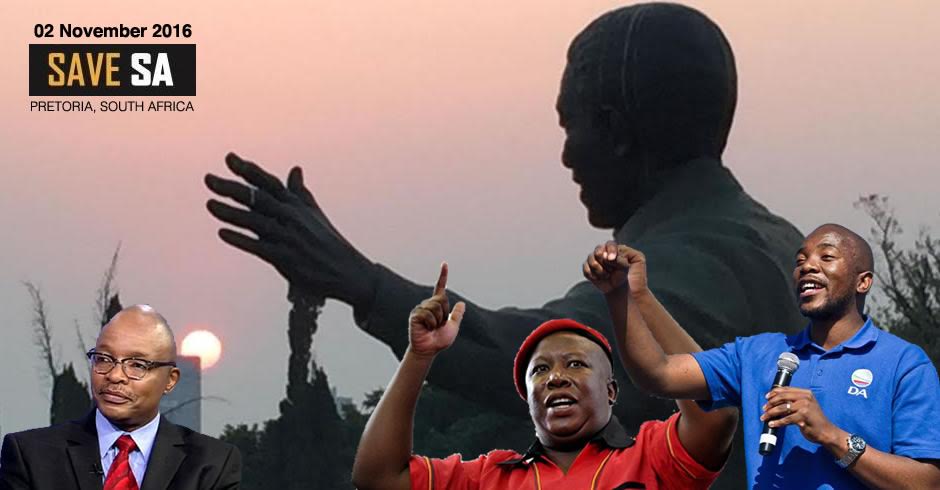 Tshwane Marches WILL Go Ahead. "The Enemy is About to Surrender" – Malema
The march/marches tomorrow, 2 November, in Tshwane will go ahead despite charges against Finance Minister Pravin Gordhan being dropped. The DA, EFF and Save South Africa have all confirmed their commitment. All three marches begin at different venues with EFF in red, DA in blue and Save SA in colours of the national flag. Economic […]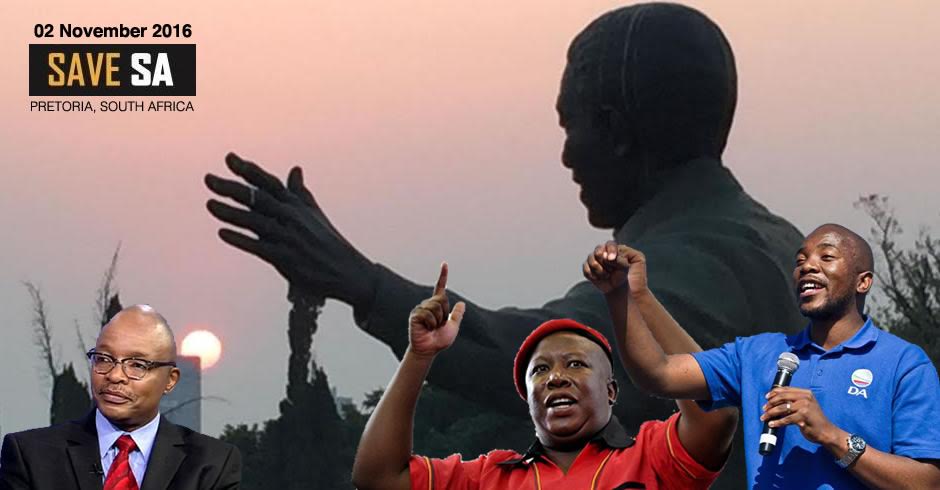 The march/marches tomorrow, 2 November, in Tshwane will go ahead despite charges against Finance Minister Pravin Gordhan being dropped. The DA, EFF and Save South Africa have all confirmed their commitment. All three marches begin at different venues with EFF in red, DA in blue and Save SA in colours of the national flag.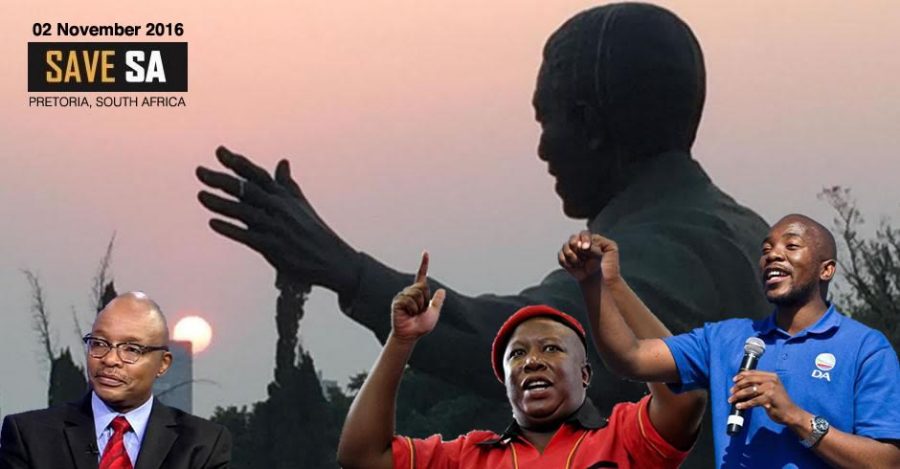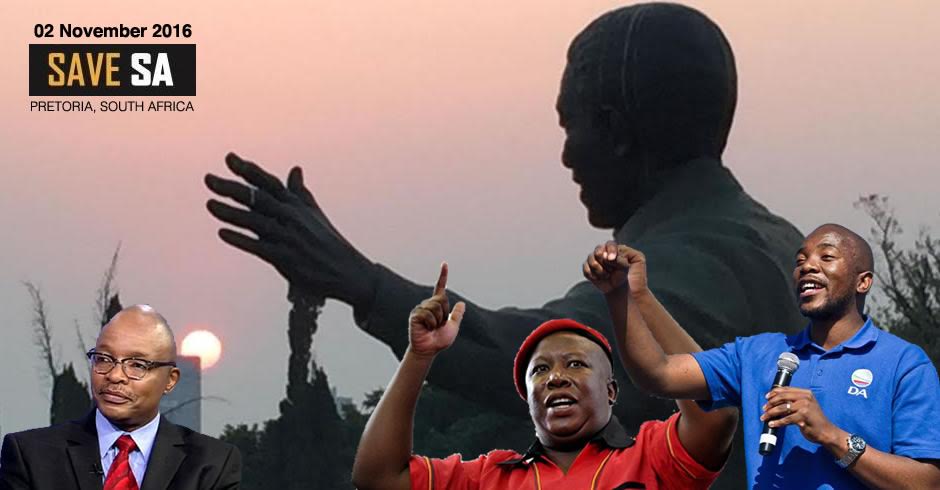 Economic Freedom Fighter (EFF) Julius Malema addressed a gathering in Tshwane Tuesday afternoon, outside the court where the #StateCaptureReport interdict application is being heard.
Malema gave high praise to the DA (Democratic Alliance) saying he "salutes" the party for their work in Tshwane and "we know our people will come tomorrow".
Malema said the ANC's "days are numbered" and told people to not be ashamed to wear the red banner, and to speak against the ANC which has become the enemy.
Addressing students he said we are "fighting for you, we want you to have peace of mind".
He called on the police to "stop being misled by apartheid agents" and to "join the struggle". He said many, who have been arresting students in the #FeesMustFall protests, are committing suicide because they are "swimming in a pool of dirt" and behaving like apartheid police.
Malema called on metro police to "behave" tonight and tomorrow. He said maximum discipline will be required and that agents provocateurs that are being sent in by the enemy need to be identified and isolated. He also claimed supporters from KZN will be joining them in Tshwane.
"We need peaceful protests, we need the masses to behave," he said.
However, he added, that he cannot guarantee the safety of shops and businesses and that that is the job of the police.
"The enemy is receiving the message," he said. "The enemy is about  to surrender."
Malema said ANC people are also welcome because Zuma is not an EFF problem, "Zuma is a South African problem".
He urged all those who agree to "come to the picket lines tomorrow", to stop tweeting about it and take some action. Tomorrow, he said, they will be able to separate the "men from the boys, the girls from the real women".
The march, he said, will go ahead "like it ornot, permit or not permit".
Tonight they will be many waiting overnight at Church Square. He implored them to avoid drinking alcohol.
"Church Square Will Become Freedom Square!"
Malema said the march must be militant and must be radical. Church Square, he said, "from tonight it will change to Freedom Square".
He asked marchers to focus tomorrow on getting Zuma to step down, and not to be distracted by statues and symbols of past oppression.
"Our parents died for us to be here… nobody will take this freedom away from us."
Save South Africa said tomorrow's march will be "a dignified and peaceful gathering to call for an end to this pillaging from the people." The campaign calls on supporters to wear doeks, bandanas, armbands or tshirts portraying the South African flag. Save SA is led by the chairman of the Council for the Advancement of the South African Constitution (CASAC), Sipho Pityana.
The DA have asked their supporters to share the following: "Our march tomorrow will go ahead as originally planned. Our supporters will make it loud and clear that we will NOT stand by and allow our hard-won democracy to be assaulted by Jacob Zuma, and an ANC which continues to support him! We encourage all concerned South Africans to join us. Make your voices heard!"
The DA Youth-City of Tshwane noted that "tomorrow is our peaceful march in protection of our democratic institutions that is being violated under Zuma's Administration daily. We ask all DA supporters to come in blue and unite behind this and show their support for our Constitution that should be protected and upheld by every true South African."
Nov 2: South Africans must rally behind students; stand up against the Anarchy of Zuma and NPA bosses #DayOfAction pic.twitter.com/wZgJHz6B1i

— EFF Official Account (@EFFSouthAfrica) October 28, 2016
Here are the latest details for the People's Assembly, taking place in the People's Capital. The show must go on! #SaveSouthAfrica pic.twitter.com/7cgH8tamOl

— Save South Africa (@_SaveSA) October 31, 2016
Our supporters will make it clear TOMORROW – we will NOT allow democracy to be assaulted by Zuma & an uncaring ANC #ProtectOurConstitution pic.twitter.com/KQzwsQQxUi

— Democratic Alliance (@Our_DA) November 1, 2016
CIC @Julius_S_Malema and CCT Members coming outside of the court. #StateCaptureReport pic.twitter.com/udyWks99Zg

— EFF Official Account (@EFFSouthAfrica) November 1, 2016
Malema; 'Let's avoid drinking alcohol. We're not 'Batagelwe Dlamini', we're not Kebby Maphatsoe, 'Minister Maponapona' #StateCaptureReport

— Thulasizwe Simelane (@ThulasSims) November 1, 2016