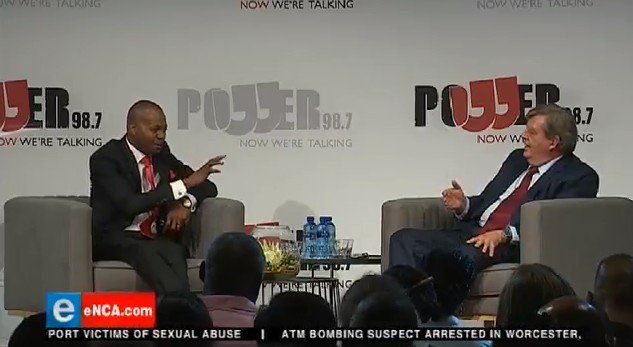 Billionaire Johann Rupert's Comments Cause A Stir in South Africa – For and Against
Comments made by Johann Rupert are causing a stir in South Africa, with some accusing the billionaire businessman of "arrogant racism" and others saying he just pointed out the "uncomfortable truth". Watch the full interview below. Rupert was speaking at the annual PowerFM Chairman's Conversation, which was hosted by MSG Afrika Group Chairperson Given Mkhari […]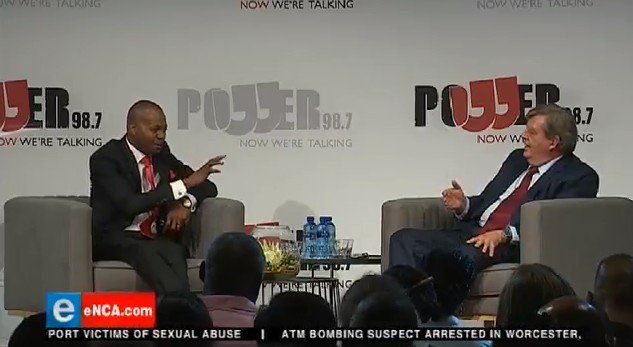 Comments made by Johann Rupert are causing a stir in South Africa, with some accusing the billionaire businessman of "arrogant racism" and others saying he just pointed out the "uncomfortable truth". Watch the full interview below.
Rupert was speaking at the annual PowerFM Chairman's Conversation, which was hosted by MSG Afrika Group Chairperson Given Mkhari and aired on eNCA last night.
Rupert's comments about the younger generation not focussing on working and saving, but rather on partying and showing off their money at clubs like Sandton's trendy Taboo and The Sands caused the biggest backlash.
He said "there are no leaders in your generation" and that he had known Black Consciousness leader Steve Biko, and Biko would never have been hanging out in a nightclub.
Rupert said:
In a sense the Afrikaaner was downtrodden. They were driven, they studied. They studied like crazy and saved like crazy. They didn't go and buy BMWs and hang around Taboo and The Sands all the time.
Some agreed. One Twitter user said:
I honestly don't understand blacks where offended when #JohannRupert said we spend money on BMW's and Taboo?‍♀️is it not true tho? our champagne and Gucci lifestyle is our own worst enemy and it's delaying our progress as a black nation.
Another said:
I really don't believe I'm defending #JohannRupert but that Taboo Statement has some truth in it.. We are too relaxed as Black People, I get that he was arrogant but read between the lines, how many of us are excited for the weekend to come so we can go party?
Some disagreed. Writer Tom Eaton tweeted:
That moment when your dad made billions selling cancer, ran for office in a party that legalized racism and entrenched poverty, left you your fortune, and then you claim your generation made it through hard work while black people are buying BMWs and going to Taboo. #JohannRupert
Rupert's father – Anton Rupert – made billions after founding tobacco company, Rembrandt. This was later split into Swiss-based luxury goods company Richemont (Swiss based) and Remgro (South African based), both of which Johann Rupert now chairs.
Rupert pointed out that it took his father 30 years of hard work before the company made any profit.
Many were outraged and called for boycotts:
We need to circulate a list of this man's companies and we need to start boycotting, at this stage I'm sure we can find black alternatives if you can't then find something that does not benefit him.
Others said:
Rupert spoke a bitter hard truth that many disgruntled black people cannot swallow. We quick to cry racism when a the truth is uttered by a White man. Black people are their own worst enemy to progress and emancipation
Carl Niehaus tweeted:
#GivenMakhari was fawning & weak & allowed #JohannRupert to get away with appalling racist arrogance. Johann is an arrogant, racist white Afrikaner. He treated Given with disdain. Not sure Given deserve better. But black South Africa does not deserve Johann Rupert's arrogance!
The Economic Freedom Fighters (EFF) – who Rupert referred to as the "red beret Vendas" who "buy their struggle uniform at pepkor" – said in a statement Wednesday (see below) that they were pleased "the ultimate face of white racism" has been exposed, and that Rupert is an "arrogant white Afrikaner who sees nothing beyond his selfish white capitalist interests".
Rupert said:
I've been accused of a lot of things and luckily for me my generation knows that I am not racist…
For a so-called "selfish" capitalist, Johann Rupert has been doing some wonderful deeds – handing over title deeds to those who've never been able to own the houses they've lived in for years. On Monday he handed over 326 title deeds to Stellenbosch, as part of a project with his wife Gaynor to sponsor 10,000 title deeds to South Africans.
On the issue of land expropriation, Rupert said last night:
When you go to land, I would rather move it to property. Land is a very emotive issue. It's emotional for the blacks and the whites and it's obvious that there must be a redress.
Response to Johann Rupert's comments on Twitter
EFF Statement:
EFF Statement on Johann Rupert and his arrogance. pic.twitter.com/SjHkvh4ymc

— Economic Freedom Fighters (@EFFSouthAfrica) December 5, 2018
Former Sports Minister Fikile Mbalula raises a positive:
https://twitter.com/MbalulaFikile/status/1070216500185833474
Johann Rupert handing over title deeds earlier this week:
Dr. Johann Rupert handing over 326 title deeds to #Stellenbosch residents, who never owned the houses they resided in for years. @cutmaker and his wife, Gaynor, will sponsor 10 000 title deeds to South Africans. @landbou pic.twitter.com/pHOK8FzX0r

— Lucille Botha (@loesilbotha) December 3, 2018
In support of Rupert's comments:
In many Townships blacks can't even finish the tenders to pave the streets, they buy cars and spend money on booze and women, when #JohannRupert says it he is a racist, we blacks are playing victim unnecessarily here, Rupert was very honest.

— Nathi (@nathinaizaa) December 5, 2018
Firstly #JohannRupert didn't say Black people specifically. Maybe we're touched by the whole Taboo & BMW thing because it hit to close to home #RupertonPOWER

— mbali. (@_MbaliNhlapo) December 5, 2018
There's absolutely nothing racist about Johan Rupert's statement
He's right black people don't save they'd rather buy German cars and party to show how successful they are #taboo #JohannRupert

— Malose Lulu Mmatli (@braceface_lulu) December 5, 2018
But guys we really don't take savings seriously. Let's stop getting addicted to the word "RACIST" when we are told truths. #JohannRupert

— KingMandlenkosi (@Mandlenkosi4) December 5, 2018
Against Rupert's comments:
#JohannRupert who inherited his father's wealth thinks that he can dismiss Tenderprenuers and insinuate that they are not real entrepreneurs.

What makes h think that he is a real entrepreneur when daddy left him everything?

The state is daddy to Tenderprenuers!#RupertONPOWER pic.twitter.com/hb3TtglHf4

— Morolong (@TowardsUhuru) December 5, 2018
#JohannRupert treated #GivenMakhari like a garden boy. Given sadly allowed this spectacle to happen on national television & radio, and made us momentarily relive #apartheid. No other selfrespecting black South African should ever allow it!

— Carl Niehaus (@niehaus_carl) December 5, 2018
According to #JohannRupert black people are lazy!?

Tell that to the MILLIONS that will be at Bree taxi rank, Mamelodi station, the factory floor, the retail store & sitting like sardines in deathtrap taxis risking their lives daily.

Yes: That's how lazy we are.#RupertONPOWER

— VT (@VusiThembekwayo) December 4, 2018
3. In part most of us are insulted because we KNOW this attitude, we've seen & heard this before.

We saw it talk to our parents in that condescending tone.
We heard talk us down in boardrooms.
And now it insults in braais and company golf days. #RubertOnPower #JohannRupert

— VT (@VusiThembekwayo) December 5, 2018
And some that were neither:
After watching last night's show, I'm convinced #JohannRupert is hated just for being rich and white and he's not willing to apologize for it.

— Prolific Pastor Sijabuliso (@sjabulisodube) December 5, 2018
@Taboo_jhb Should use their trend to further market their brand. free marketing Alert 🤗….. #JohannRupert

— Ayanda. 🍃 (@aya_mashaphu) December 5, 2018
WATCH Chairman's Conversation with Johann Rupert