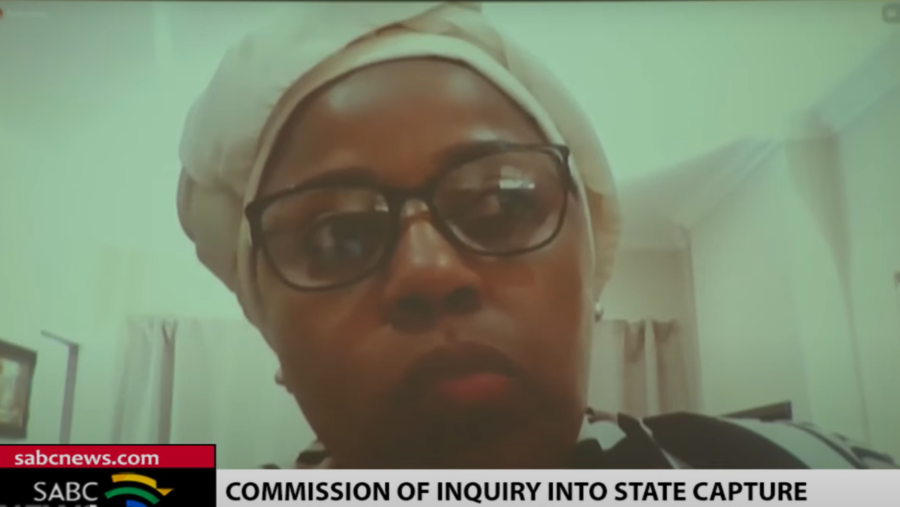 Dudu Myeni IDs Whistleblower Mr. X Despite Being Told Not To
The infamous former chairman of South African Airways, Dudu Myeni, continued her second day before the Zondo Inquiry into state capture, and after spending most of yesterday refusing to answer questions in case she incriminate herself, she today caused an uproar by identifying a whistleblower after she had been instructed not to. Evidence leader Kate […]
The infamous former chairman of South African Airways, Dudu Myeni, continued her second day before the Zondo Inquiry into state capture, and after spending most of yesterday refusing to answer questions in case she incriminate herself, she today caused an uproar by identifying a whistleblower after she had been instructed not to.
Evidence leader Kate Hofmeyr accused Myeni of trying to obstruct justice.
Myeni today began by, at length, defending her integrity, and said there was a narrative being fed to the media that she was a liar and a criminal and had a moral "inferiority complex" and there was a belief that if you were associated with former president Jacob Zuma then you were corrupt.
Yesterday, Myeni refused to answer many questions put to her by evidence leader Kate Hofmeyr, even about her CV, on the grounds that she might incriminate herself. Myeni likely faces the prospect of a criminal trial after she was declared a lifetime delinquent director in May by the Pretoria High Court, in a case brought by OUTA in connection with her management of SAA.
During today's testimony, Myeni – who is appearing via Zoom because she claimed she had been in contact with someone who had COVID – mentioned the name of someone who had given evidence at the commission under the name Mister X. Myeni mentioned his real name several times, thereby breaching the provisions of the Commissions Act.
"We submit it is a willful obstruction of the Commission," said Hofmeyr. "It reveals a disrespect for this commission and its processes. It is liable to deter future whistleblower witnesses from coming forward." She said that a charge should be laid against Myeni for the breach.
"Section 5 of the commission's Act makes it an offense for a person to willfully obstruct the commission in the performance of its function. Dudu Myeni has breached that Act of the commission." – Adv. Kate Hofmeyr, Zondo Commission Evidence Leader.

WATCH: https://t.co/i9OIAoqGOO pic.twitter.com/ByzUC6X6bl

— Newzroom Afrika (@Newzroom405) November 5, 2020
Deputy Chief Justice Raymond Zondo (video below) said he was disappointed in Myeni for doing this, especially after he had made a ruling that his identity should not be revealed. He said it would discourage other whistleblowers from giving testimony, because they feared for their lives.
Myeni reveals identity of 'Mr. X'https://t.co/nj5PFyx5FD pic.twitter.com/kuH7lbdjkX

— eNCA (@eNCA) November 5, 2020