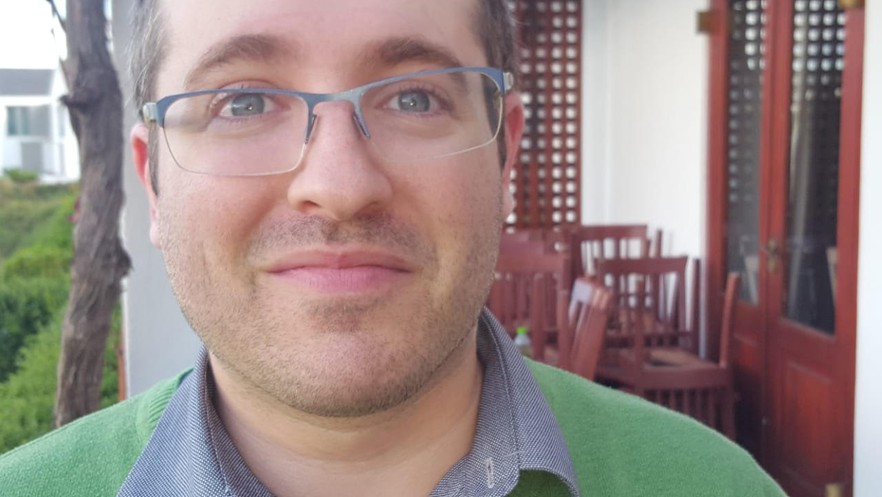 Glenn Sandler was 36 and Healthy when Covid-19 Plunged Him into Coma. Recovering Now
Glenn Sandler, 36, worked as a business intelligence analyst for Capitec. He lived with his fiancée, was able to work remotely, and, as the son of a doctor and a pharmacist, was careful to take precautions against catching Covid-19. He had no chronic conditions known to make Covid-19 cases worse. But when he caught the […]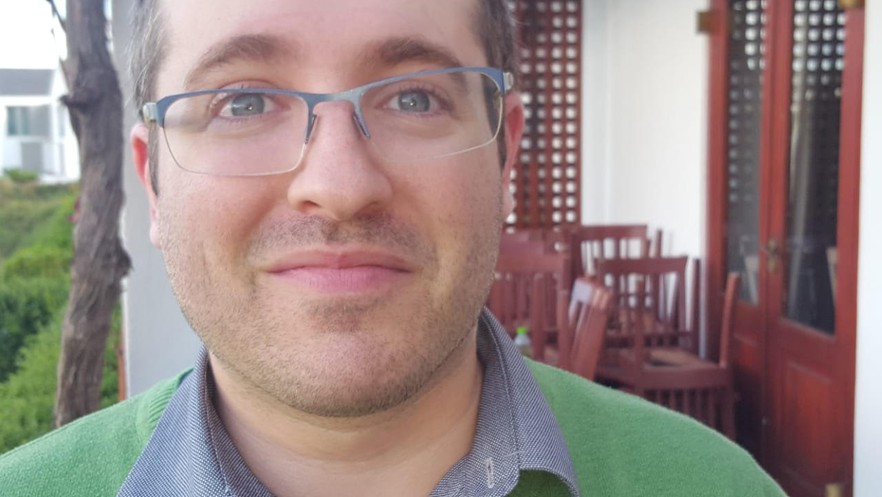 Glenn Sandler, 36, worked as a business intelligence analyst for Capitec. He lived with his fiancée, was able to work remotely, and, as the son of a doctor and a pharmacist, was careful to take precautions against catching Covid-19. He had no chronic conditions known to make Covid-19 cases worse. But when he caught the disease, it nearly killed him. His brother Justin told GroundUp the story.
On Wednesday 3 June, as restrictions were lifted to level 3 lockdown, Glenn found his family's long-time housekeeper at his doorstep. She had been working for the family for his entire life, and during lockdown Glenn had continued to pay her salary and asked her to stay at home. But she decided to visit him. When she arrived, she was weak, with flu-like symptoms. Concerned for her health, Glenn asked her to sleep at his house, and in the morning he arranged for transport to get her home.
On Sunday that week, Glenn started to feel unwell. On Tuesday, he and his family received terrible news – their housekeeper had died at the weekend.
Then Glenn started to get worse. He felt lethargic and short of breath. On Wednesday evening, he called Justin, telling him that he was struggling to breathe. Justin took his brother to the emergency room at Panorama hospital, but instead of being admitted, Glenn was taken for Covid-19 testing, and had his vitals tested too. At this stage he could still walk, though with some difficulty. Pending the result of the test, he returned home.
The following day, he got his results: Covid-19 positive.
His condition continued to deteriorate. He asked his family to keep their phones close, as his breathing was still difficult. A family member, a doctor, recommended that Glenn buy an oximeter. Oximeters are used to measure the oxygen saturation of a person's blood – this indirectly shows how a person's lungs are performing. Healthy lungs will give measurements of between 95% and 100%.
Justin visited Glenn on Thursday evening to drop off food. He could only see him from a distance, but his brother looked bad to him. Glenn complained of crackling sounds when he breathed, and he was light-headed.
The next day his condition was no better, and he was taken to the Milnerton Mediclinic hospital. He was tested, but his results, though bad, were not below the threshold required for admission. He was put on oxygen for three hours, and returned home at 2am.
On Saturday, Glenn's home oximeter gave him a reading of 82%. Below 85%, a person is considered hypoxic – and at risk for brain damage from the lack of oxygen.
At this point, and in consultation with doctors, Glenn was admitted to Milnerton Mediclinic. He was placed in a Covid ward, and placed on oxygen. He told Justin that he needed to take off the oxygen mask when he had to go to the toilet, and that this experience was like holding his breath. His lungs were X-rayed, and looked fine to the physicians, but his oxygen levels were causing concern.
For a week, his oxygen readings fluctuated from high, at 97%, to borderline hypoxic, at 90%. Justin, who was the go-between for the hospital and Glenn's family, was worried. On calls, Glenn said he couldn't breathe, even with the oxygen.
Glenn's chest was X-rayed again, and the damage was enough for his doctors to tell Justin and Glenn's family that they too were worried about his condition. He was given a test to measure the level of C-reactive protein in his blood. This shows how the body's immune system is responding, and is a marker of whether a person is at risk for a cytokine storm, when the body's immune system attacks itself. Glenn's levels were elevated.
He was also given a D-Dimer test, which measures whether a person is at risk for blood clots, which may lead to strokes or heart attacks. Glenn's levels were far above safe readings. He was administered anti-coagulants to reduce his risk of strokes.
Even under close care and constant oxygen, Glenn's blood oxygen levels continued to drop. He acquired a resistant staph infection and was put on intravenous antibiotics.
His condition declined further. His family were not able to see him, and he wasn't able to respond, so they phoned him to tell him that they loved him. The doctors came to his family with a proposal to treat him using dexamethasone. This is a steroid that works as an anti-coagulant and immunosuppressant. Dexamethasone helps keep the potentially catastrophic cytokine storm in check.
Glenn's doctors admitted that they were in uncharted territory with the drug, as they were relying on very recent unpublished results from an overseas clinical trial rather than first-hand experience. Glenn's family agreed to try it on him on 18 June. The following day, dexamethasone was approved for use in South Africa on Covid-19 patients in a critical condition. By then, Glenn was on a ventilator and in ICU.
When there was no sign of improvement in Glenn's oxygen levels. His family began to explore radical treatments, like extracorporeal membrane oxygenation, or ECMO. This treatment uses a specialised machine to oxygenate a patient's blood outside of their body, which takes all strain off the lungs and allows them to recover. There are few doctors qualified to use an ECMO machine, and the risk to the patient is high, so its use is limited to patients that are young, with no comorbidities. Glenn would qualify, but would have to be transferred to another hospital, at great risk.
Even on a ventilator working at full capacity, Glenn's oxygen levels continued to decline, almost to hypoxic levels. His doctors were worried that his throat had been damaged from the tube forcing oxygen into his lungs. There was talk of giving Glenn a tracheotomy if the damage in his throat worsened, but very few doctors are willing to risk the operation, as it has a heightened risk of Covid-19 transmission. The last-resort option of ECMO began to seem more and more palatable.
Meanwhile, Glenn's doctors decided to shift his position. Glenn had been lying supine, or on his back, and was now put in a prone position, or on his stomach. At last, his lungs' ability to oxygenate blood began to improve. Still in a coma and on a ventilator, he was kept in this prone position for 22 hours of the day, and kept supine for two hours.
The staph infection was brought under control, and the dexamethasone began to work to reduce Glenn's clotting risk. Slowly, this course of treatment worked, and the oxygenation level of Glenn's ventilator could be reduced from full strength to 70%, then 60%.
On Friday 26 June, Glenn's condition was declared stable by his doctors.
And on Tuesday 30 June, Glenn was extubated – removed from the ventilator that had been keeping him alive – and woken from the medically-induced coma. He was still on high-flow oxygen, administered through nasal tubes. As the week advanced, Glenn got stronger, and the amount of oxygen that he required was slowly reduced. At first, after regaining consciousness, he had been confused and struggled to communicate: now his mental faculties returned. He told Justin that he had vivid nightmares while under sedation, and he thought that he had died when he was raised from his coma.
By Sunday 5 July, he could be moved onto low-flow oxygen, administered by nasal prongs. On Monday 6 July, Glenn left ICU. His doctors believe he may be well enough to return home by Thursday 9 July.
Glenn's lungs has suffered huge damage from this Covid-19 infection. His doctor told the family that Glenn had suffered one of the worst cases of acute respiratory distress syndrome (ARDS) that he had encountered. ARDS is when fluid builds up in the alveoli in the lungs. Scans of his lungs show what are known as ground-glass opacities – large white spots of fluid and broken alveoli.
Glenn's recovery is likely to be long. Although patients who have been through his experience are at risk of permanent lung and brain damage as well as post-traumatic stress disorder, fortunately Glenn reports that his doctors expect him to make a full recovery. Glenn's family has had to watch his decline from afar – an experience Justin describes as like a slow-motion car crash.
Glenn has faced down a cytokine storm and survived. He is privately insured. He is young. He has doctors in his family. The level of care he can afford is high – and out of the reach of most.
Published originally on GroundUp / © 2020 GroundUp.