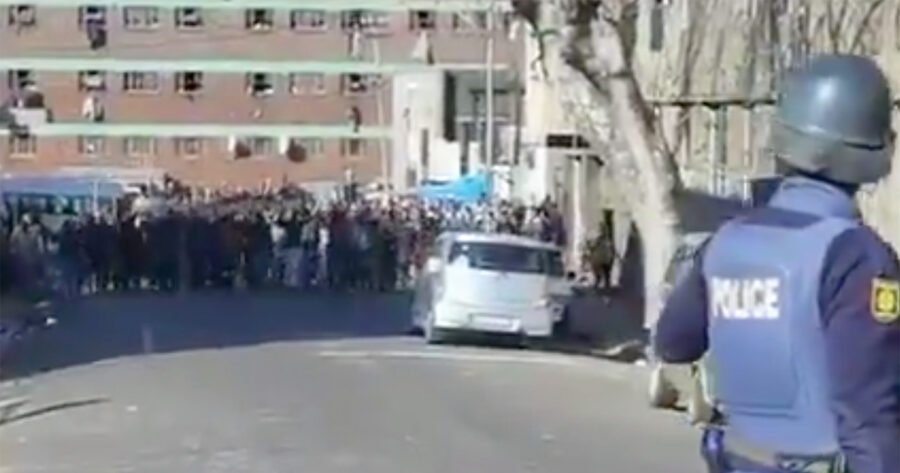 Joburg on Alert as Free Zuma Protests Spread in #GautengShutdown
At least 62 people have been arrested as protests, to demand the release of former President Jacob Zuma from prison, have spread from his home province of KwaZulu-Natal to South Africa's economic centre, Gauteng. The Johannesburg Metro Police Department has today issued alerts about violent protests in and around the Joburg CBD, as hundreds of […]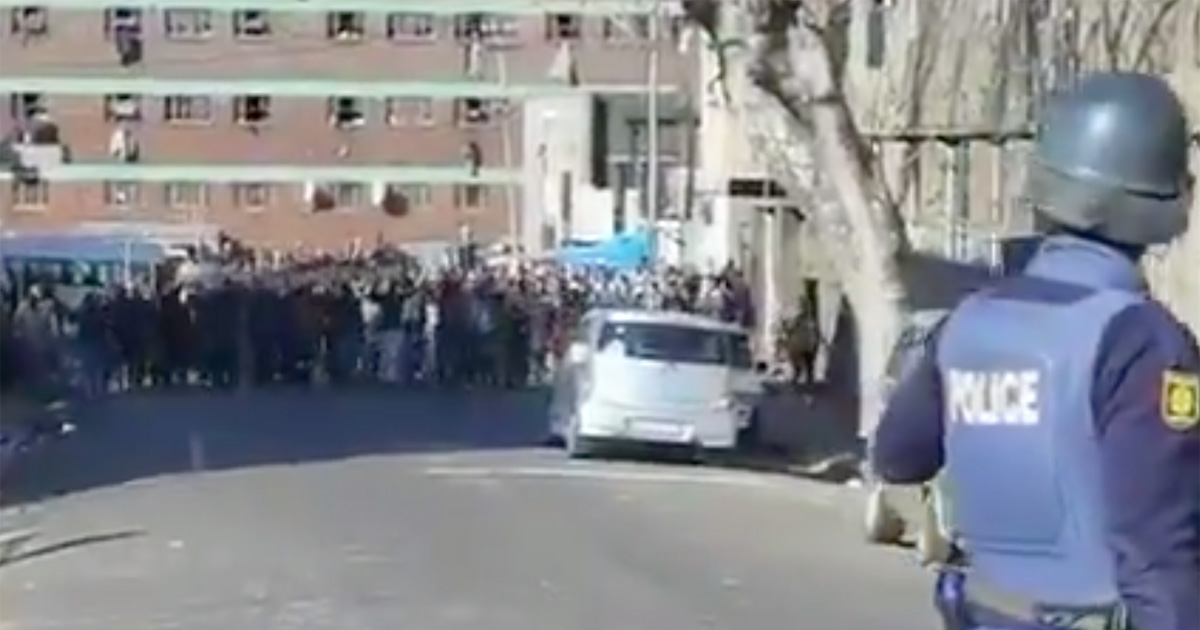 At least 62 people have been arrested as protests, to demand the release of former President Jacob Zuma from prison, have spread from his home province of KwaZulu-Natal to South Africa's economic centre, Gauteng. The Johannesburg Metro Police Department has today issued alerts about violent protests in and around the Joburg CBD, as hundreds of Zuma supporters march through the city, some burning tyres and barricading roads. Police are also investigating a possible fatality caused during the protests.
The City of Joburg tweeted on Sunday: "Sporadic protests in Jeppestown, Benrose, Denver, Berea & the JHB CBD. Several roads have been barricaded with burning tyres, rocks & debris. Protestors are marching in those areas. Officers on scene. Road users & members of the public are advised to avoid."
Authorities also said there were service delivery protests on the N1 near the Sebokeng exit. "Both the north & southbound have been barricaded with rocks & burning tyres. Officers are on scene. Road users are advised to avoid & use alternative routes."
Earlier today the City of Joburg said there had been reports of shots being fired at passing vehicles on the M2, so traffic was diverted at Maritzburg Street and Cleveland Road.
Buildings and cars have been set alight. The national SABC News team reported on Sunday that it has been robbed of equipment by protesters in Alexandra.
Protests began in KZN after Zuma entered the Estcourt Correctional facility late on Wednesday night, to serve a 15-month sentence imposed by the Constitutional Court for contempt of court. This followed Zuma's failure to appear before the Zondo Commission of Enquiry when ordered to do so.
Yesterday violence erupted in Gauteng, with #FreeZumaNow protestors looting shops last night. According to police, the criminals are opportunistic and capitalising on the anger to steal and cause damage.
Police Statement on KZN and Gauteng Protests
SAPS said in a statement today: 
"The SAPS in Gauteng and KwaZulu-Natal, working closely with their respective local Metro Police Departments, have heightened visibility and remain on high alert in response to incidents of opportunistic criminality and violent protests in the two provinces over the weekend.
"Gauteng Police working closely with the JMPD last night responded swiftly to sporadic incidents of looting of businesses and barricading of roads in Jeppe and Alexandra, and arrested 25 suspects.
"In the Jeppe policing precinct, police dispersed a group of about 300 people who had barricaded the M2 freeway. It is alleged that one group then headed to the Jeppestown where they looted a number of businesses. Seven suspects were arrested, four of whom were found inside one of the stores, while three were arrested for public violence and for being in possession of suspected stolen property.
"In Alexandra, police arrested 18 suspects – 16 of them for public violence also linked to the shooting of a police officer who was rushed to hospital for urgent medical attention. Two other police officers sustained minor injuries. The other two suspects were arrested for possession of suspected stolen property and malicious damage to property. This came as police responded to information of a group of people from Alexandra who targeted and forced entry into businesses, and started looting.
"This group of about 800 people is reported to have attacked police resulting in the shooting of police officers who have now received medical attention, with only one in hospital in a stable condition.
"Police also dispersed a group in Bramley, near Alexandra.
"In the meantime, an investigation is underway to determine the circumstances surrounding the fatal shooting of a 40-year old man who was certified dead at a local clinic.
"Meanwhile in KZN where incidents of violent protests started on Friday, the number of arrests has increased to 37 thus far. Police working closely with Metro Police have overnight, been able to disperse crowds and foil attempts to barricade roads. No further looting has been reported.
"The National Joint Operational and Intelligence Structure (NatJOINTS) is working around the clock to enhance operational capacity at provincial level in response to incidents in which people appear to be undermining the authority of the State, including the flouting of the DMA Regulations.
"A warning is issued to those circulating inflammatory messages, inciting violence and lawlessness that they refrain from doing so. The possibility of criminal charges being instituted against such persons cannot be ruled out, particularly in the event of injury or death that may come as a result of any operational response by the security forces to these incidents of violence and opportunistic criminality."
KZN Premier calls for Presidential Pardon for Zuma
KZN Premier Sihle Zikalala has issued a plea for President Cyril Ramaphosa to pardon Zuma's sentence as a solution to end the violent protests… a move the DA KZN Leader, Francois Rodgers, says is "politically opportune, conflating his role as head of the provincial executive and putting on open display his allegiance to Zuma and the ANC's RET faction."
DA eThekwini Cacaus Leader Cllr Nicole Graham has also hit out at eThekwini Mayor Thomas Kaunda for his apparent "support for violent protests", after he posted a message on FB saying "Msholozi is us" with hashtag #FreeZuma.
The protests against Zuma's incarceration have rocked eThekwini, rendering business and travel routes completely chaotic, and causing extensive damage, says Graham, calling for Kaunda's dismissal.
Jacob Zuma's Foundation has tweeted: "Dear People of South Africa Please be safe out-there. No lives must be lost. Observe regulations including masks and social distancing."
#GautengShutdown has now reached to MTN rank https://t.co/25x8tP3IzU

— Themba Ramano (@ThembaRamano) July 11, 2021
HAPPENING NOW | 📍Johannesburg #FreeZumaNow protests #GautengShutdown #KZNProtests pic.twitter.com/eoVpZ9nZaU

— Sphithiphithi Evaluator (@_AfricanSoil) July 11, 2021
The mobilization in Jozi is on another level🙆‍♂️ Now I see why it's called the centre of a revolution.#GautengShutdown #KZNProtests #FreeZumaNow #ShutDownGauteng pic.twitter.com/IBFpVXD5Bu

— Moses Nkambako (@MosesNkambako) July 11, 2021
🔴AERIAL FOOTAGE OF #FreeJacobZuma Protests in Johannesburg 🇿🇦🔴

Visuals coming in from Johannesburg 📍 as protesters 🪧 take to the streets. pic.twitter.com/n4665zoWic

— The Insight Factor (@insightfactor) July 11, 2021
https://twitter.com/Moses_Buju_M/status/1414200756954144772