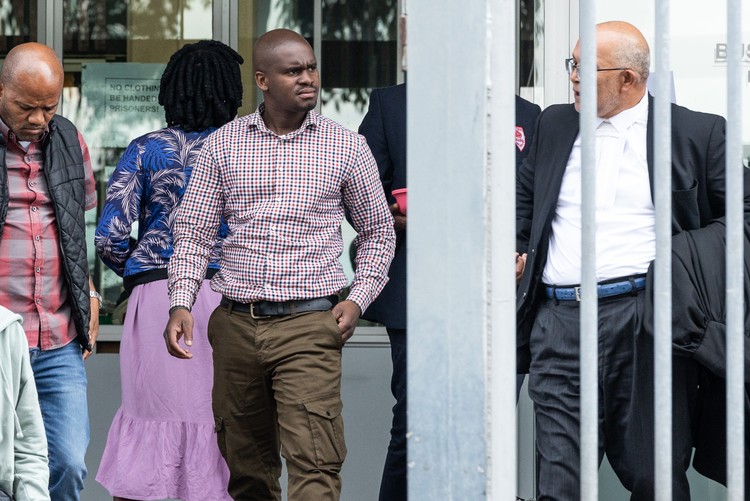 Law enforcement officer claims he shot homeless man dead in self-defence
State's witness testified that he was the one having an argument with officers that morning and that the deceased Dumisani Joxo had been defending him. By Marecia Damons The murder trial of a Cape Town law enforcement officer who shot and killed a homeless man last year kicked off in the Wynberg Regional Court on […]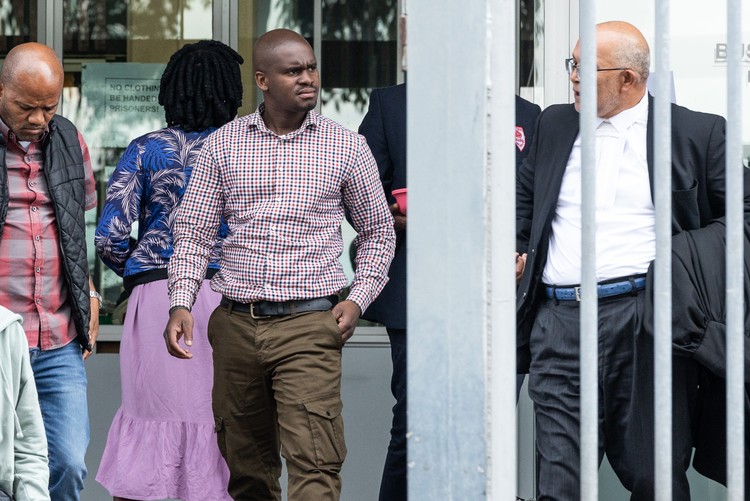 State's witness testified that he was the one having an argument with officers that morning and that the deceased Dumisani Joxo had been defending him. By Marecia Damons
The murder trial of a Cape Town law enforcement officer who shot and killed a homeless man last year kicked off in the Wynberg Regional Court on Thursday.
The state's first witness recounted in detail his version of events of the morning Dumisani Joxo was shot dead. He revealed that he was the one having an argument with officers that morning and that Joxo had been defending him.
The officer pleaded not guilty to the charge of murder and told the court, in a statement, that he had been acting in self-defence when the shot went off.
The trial is expected to continue next week.
The murder trial of a Cape Town law enforcement officer who shot and killed a homeless man last year kicked off in the Wynberg Regional Court on Thursday.

Dressed in a buttoned red-chequered shirt and dark green pants, Luvolwethu Kati took to the dock. He is accused of shooting dead Dumisani Joxo, who was homeless, on 9 January 2022 in Rondebosch.
The trial was set to begin on 13 February, but could not proceed because some of the state's witnesses were not in court. The matter returned to court on Thursday but got off to a rough start as the witnesses were absent yet again.
Magistrate Heather Paulse adjourned the proceedings. When the case resumed about 30 minutes later, prosecutor Ebrahim Arend told the court that the witnesses needed isiXhosa and Afrikaans interpreters. He said the state was ready to proceed, although all of the witnesses were not present.
In a statement, read by his attorney John Riley, Kati explained that he and a colleague had arrived at the Liesbeek River Trail, responding to a complaint that a group of homeless people were cooking a meal over an open fire. Kati said a scuffle broke out between him and another resident, and he thought that Joxo would take his pistol.
Kati admitted to firing one shot with his service pistol but told the court that he had been acting in self-defence. After firing the shot, Kati explained that Joxo then fell.
The first witness, Linda Mbuqe, testified that he was living in a makeshift structure at the Liesbeek River Trail at the time of the shooting.
On the morning of the incident, he said that Joxo told him to make something to eat so Mbuqe could take medication because he had tested positive for Covid. Mbuqe said he then boiled water in a pot over a fire and made pap. He said that's when the law enforcement officers arrived and kicked over the pot. "[The officer then] took out his pistol and held it at his right side," Mbuqe told the court.
"That's what shocked me," said Mbuqe. Joxo was in his tent at the time, he said. "After I saw what [the officer] was doing, I called Dumisani and told him to look at what's happening. This man is just putting out his firearm."
Mbuqe said he then grabbed a pick axe and walked towards Kati. He admitted that he was angry. He said that he had explained to Kati that he was hungry and needed to eat to take his medication. Kati's colleague then took the axe from Mbuqe.
At this stage, Joxo came out of his tent followed by his partner Christin Coleridge and her son. Mbuqe explained that several other residents also came to find out what happened.
Mbuqe said Joxo became upset when he heard that Kati had knocked over the pot and started swearing at him. He said Kati then moved towards him, pushed him against his cheek with one hand and pulled the trigger with his other hand. The bullet hit Joxo who was standing behind him.
"I then heard people screaming," said Mbuqe. He said he looked over his shoulder and saw Joxo on the ground with blood coming out of his mouth. Kati then called for backup, Mbuqe said.
During his cross-examination, Riley asked Mbuqe whether the fire was still burning when law enforcement arrived. Mbuqe said no.
Riley noted that in Mbuqe's statement to police, he had stated that the fire was still burning and he was still preparing porridge when the officers arrived. Mbuqe said the fire was already doused by the time Kati and his colleague arrived.
According to Riley, in Mqube's version to the prosecution, he stated that he "grabbed" the axe handle because he was angry. Mbuqe told the court that he used the handle to stand up because he was too weak because he had Covid.
Magistrate Paulse said that should Kati be found guilty of murder, he could face up to 15 years in jail as a first-time offender.
The matter was postponed. Kati's bail of R1,000 was extended until the trial resumes on 13 April.