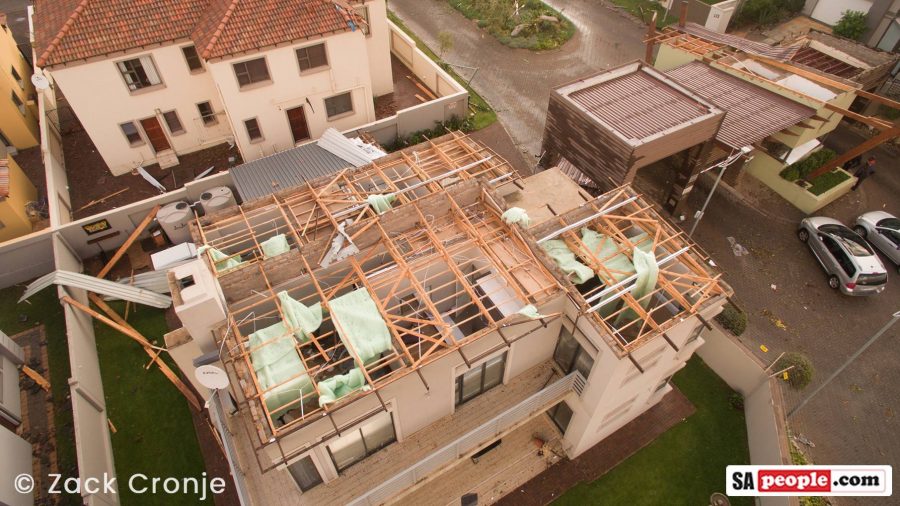 Major Hail Storm and Mini Tornado Wreak Havoc on Gauteng PHOTOS
As warned, a major storm swept through Gauteng late this afternoon…   wreaking havoc in its path. Central Johannesburg and the West Rand were hit by a massive hailstorm, as well as powerful winds that uprooted trees – and an alleged tornado which ripped through Krugersdorp, tearing the roof off Cradlestone Mall, and leaving at least […]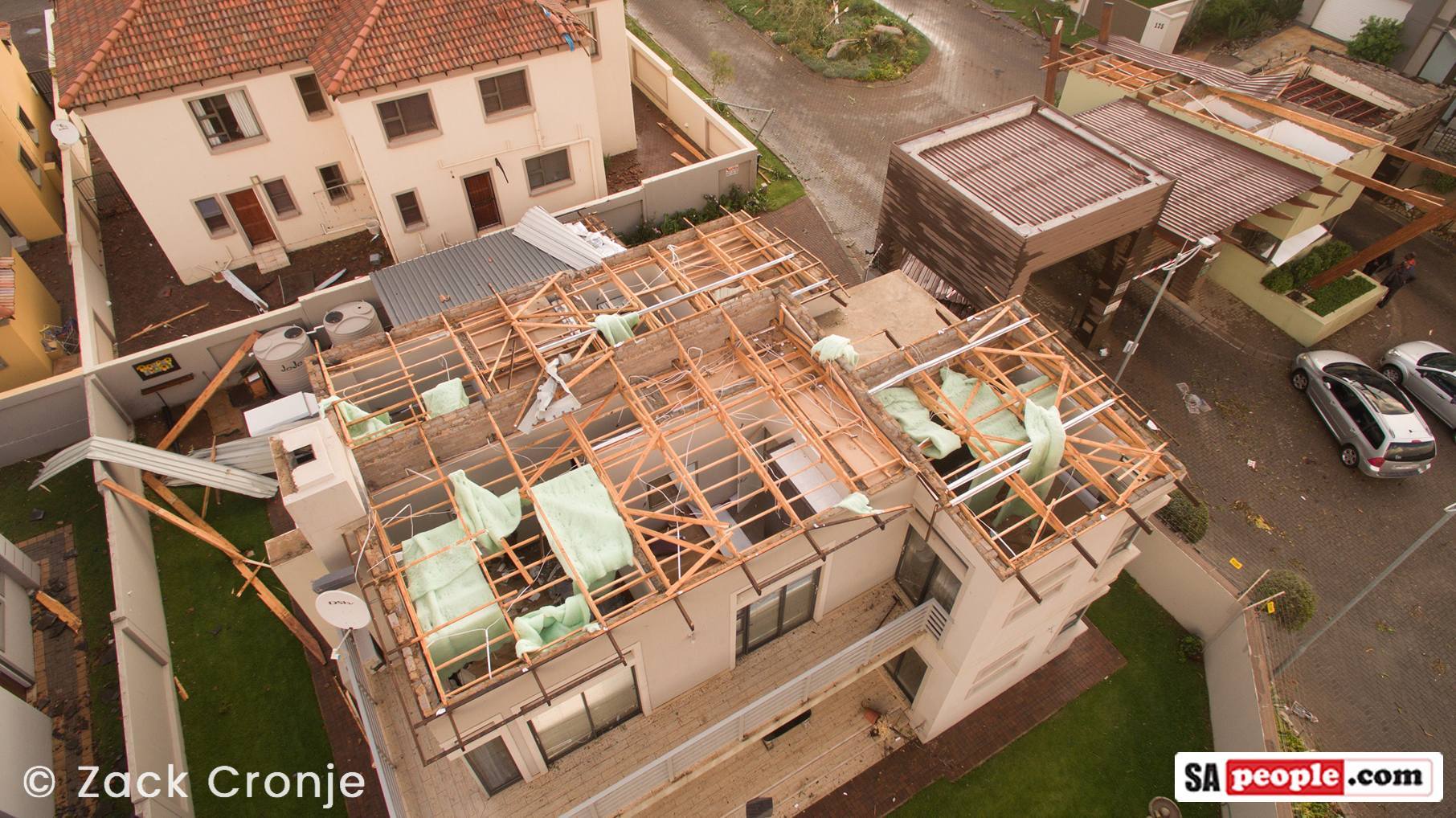 As warned, a major storm swept through Gauteng late this afternoon…   wreaking havoc in its path. Central Johannesburg and the West Rand were hit by a massive hailstorm, as well as powerful winds that uprooted trees – and an alleged tornado which ripped through Krugersdorp, tearing the roof off Cradlestone Mall, and leaving at least one person dead and two hospitalised.
@News24 weather in ruimsig#cradlestonemall pic.twitter.com/Bihsa4lISi

— Jermaine Dollie (@dollie169) October 9, 2017
Zack Cronje captured these photos including the Cradlestone Mall and Laerskool Muldersdrif after the wind and hail had done their damage. "The wind was very hard, the hardest in a long while… and it blew away all the stuff in its way."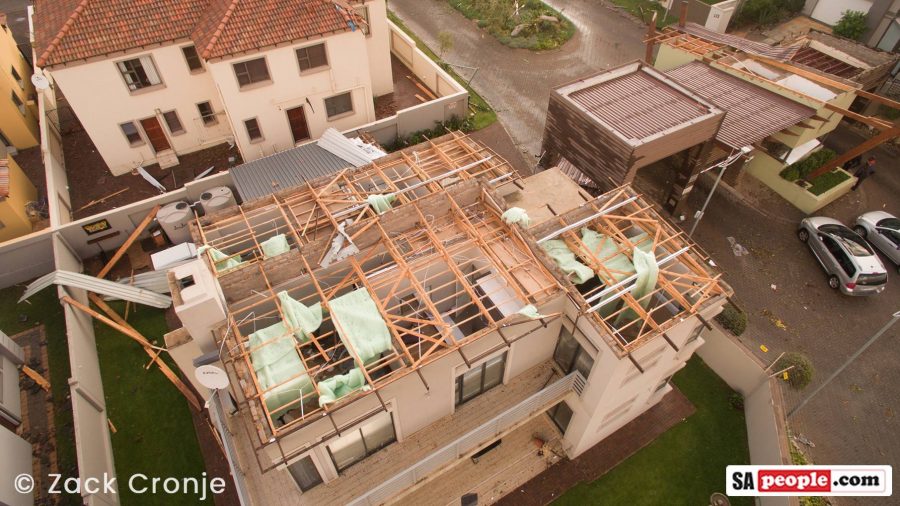 According to Netcare911 at least one person died and two had to be hospitalised in Krugersdorp as the mini-tornado hit Hillside.
#ATT Mini tornado has just swept through Sundowner near Northgate, trees blown over etc…. EMS assistance needed please and scene safety. pic.twitter.com/G6tVJxr0c1

— Cliff – That's All 🛜 (@PigSpotter) October 9, 2017
⚠ BREAKING
Unconfirmed video of the tornado near Bethulie this afternoon pic.twitter.com/TEza74wXQn

— Storm Report SA (@StormReportSA1) October 9, 2017
We just survived a tornado. #jozi #storm. pic.twitter.com/KsSemPTW51

— Christelle Colman (@StillChristelle) October 9, 2017
Tornado forming from my dash cam rivonia pic.twitter.com/je2aSJ7iR7

— 𝙆𝘼𝙃𝙑𝙀 𝙂𝘼𝙉𝙊~ 𝘚𝘰𝘶𝘭 𝘊𝘰𝘧𝘧𝘦𝘦 (@Dragonbear8) October 9, 2017
Stan Sanetra‎ and Andrea Ben captured these photos as the storm struck…
As the cloud burst over Farramere Square, Benoni:
After the storm in Benoni…
The hail was golf-ball size…
Enjoyed for a little while by these dogs… listen for the thunder…
https://twitter.com/CornelvHeerden/status/917411385574936576
A lot of water fell in a short time, leaving many cars stranded, and Jukskei Park overflowing…
After the storm. Joburg tonight…
More hail storm photos and videos on Twitter:
Hail & Flooding in Greater Joburg #BREAKING @SAfmRadio #SABCNews pic.twitter.com/xrnB5KusbW

— Ashraf Garda (@AshrafGarda) October 9, 2017
Flooding Safety Tips
*Move immediately to higher ground or stay on high ground.*Evacuate if directed.*Avoid driving through flood waters. pic.twitter.com/Bw48Dzoy5d

— GP Department of Community Safety (@GP_CommSafety) October 9, 2017
THIS IS A COMPLEX NEXT TO MINE. WTF??? pic.twitter.com/r8JjEYZ2Ow

— MantsoePout-Nomzamo (@MantsoePout) October 9, 2017
Flooding at Sandton Drive / Alice lane @JMPDSafety @PigSpotter pic.twitter.com/L4mq66zpZb

— Evan Knowles (@EvanJKnowles) October 9, 2017
📸 Some serious FLOODING on Malibongwe in Randburg. Motorists stranded, avoid area | Jason Leamen pic.twitter.com/U4NWJhEPw4

— Gauteng Weather (@tWeatherSA) October 9, 2017
@EWNTraffic power cables accross road in Diepsloot and buildings and trees flattened! Looks like heavy wind and flooding pic.twitter.com/IeQKNedgZW

— Adele (@adele_designer) October 9, 2017
#Jhbstorm @TrafficSA just got sent this vid, substation is on fire in jetpark. Most of Boksburg and surrounds will be without power pic.twitter.com/jfafJEgTUC

— 💀Dead Beat in Chief🥊 (@ted_pops) October 9, 2017