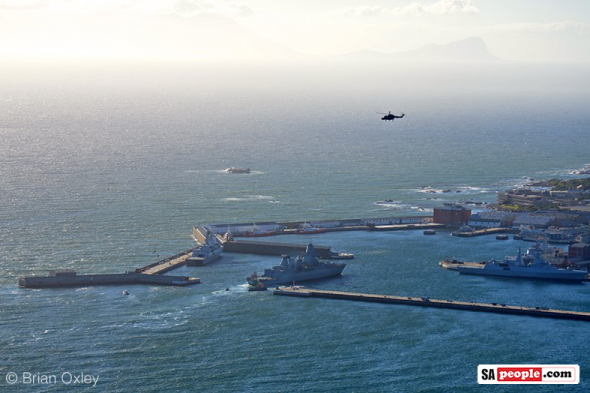 Muizenberg Fire Continues to Rage as Smoke Covers Cape Town
The fire, which started yesterday in Muizenberg, continued to rage through the night as firefighting efforts have been challenged by strong winds which rose up again at 2 am. Many roads are closed and smoke is visible over much of Cape Town. In a message to SAPeople in the early hours of the morning, local resident Rebecca Prinsloo said "I'm watching […]

The fire, which started yesterday in Muizenberg, continued to rage through the night as firefighting efforts have been challenged by strong winds which rose up again at 2 am. Many roads are closed and smoke is visible over much of Cape Town.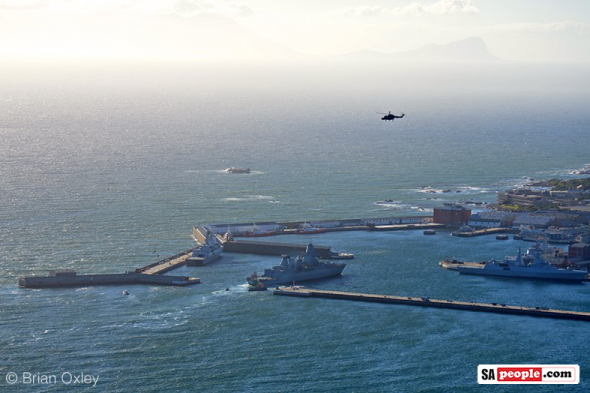 In a message to SAPeople in the early hours of the morning, local resident Rebecca Prinsloo said "I'm watching it from my doorstep and it's worse than the pictures show."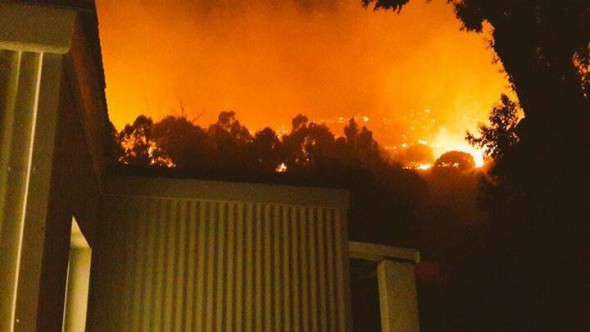 There are over 300 firefighters on the scenes today, battling the inferno. According to Volunteer Wildfire Services (VWS) there are 30 vehicles, 4 helicopters, 2 water bombers and one spotter.
Kommetjie mother Sharon Laurenson told SAPeople "it's hectic. My husband and sons had to leave Kommetjie at 5:30 am to drive to school because Ou Kaapse Weg, Boyes Drive and Chapmans are all closed. The only way out of the valley is through Fish Hoek and Muizenberg. And this wind is out of control."
Over 3,000 hectares has been burnt. This latest image from Advanced Fire Information System (AFIS) shows where the fires are: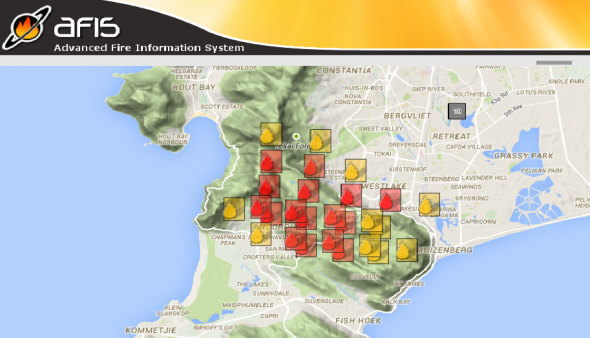 Smoke is visible throughout most of the region, as evidenced by Brian Oxley's photo above. Brian, radio DJ and CEO of wine-mark.co.za, says "it's a perfectly clear day in Cape Town but you wouldn't think so as the horrendous fires are blowing smoke everywhere. There are mountains in the distance, over at Somerset West and Hermanus. The other side of the bay is smoking for kilometres. Good luck to the firefighters."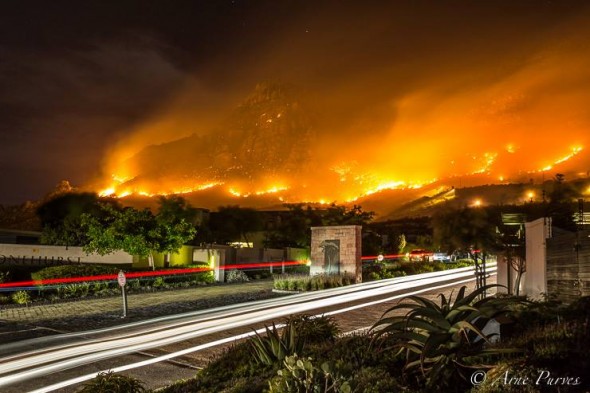 Contrary to rumours that Tintswalo Lodges had been burnt to the ground, management  issued the following statement a couple of hours ago: "In the early hours of this morning, a raging fire swept through the Table Mountain National park, engulfing our beautiful Tintswalo Atlantic in flames. No staff or guests were hurt and are all safe. Damage to our lodge is yet to be determined and a press release shall be issued shortly. Thank you to everyone for the incredible support."
Hout Bay Community Policing Forum announced that "A JOC (Joint Operation Centre) has been established at NSRI offices. Capt Lourens is the Operational Commander, Disasters Risk Management, Fire & SAPS are onsite managing & co-ordinating all."
To drop off food and drink donations, please see the drop-off points in the purple box below. 
For fire related enquiries please call 021 590 1900.
According to Cape Town Disaster Risk Management (DRM) four homes  have burnt down and three old-age homes were evacuated in Muizenberg to mass care centres which have been opened at two churches and the Fish Hoek Community Hall.
The Hout Bay Community Policing Forum has urged residents to remain calm and said that "certain areas were evacuated as a precautionary measure during the night and the relevant authorities are on scene monitoring the situation very closely."
The Forum has encouraged residents, particularly with thatch roof houses, to wet their roofs.
View UPDATE with time-lapse video of the #MuizenbergFire
Volunteer Wildfire Services
Current: ‪#‎Muizenberg‬ Mountain ‪#‎wildfire‬ (posted at 10.40am, Mon 2 March 2015)
Road closures: http://tinyurl.com/lezho4k
Please avoid the area if possible and allow emergency services access to the scene to deal with the incident.
How you can help:
1. Food/drink donations can be made at our
– Newlands Fire Base (map: http://tinyurl.com/p9uetjo)
– Lakeside Fire Station (map: http://tinyurl.com/nfe5sv2)
– Fish Hoek Fire Station (map: http://tinyurl.com/p9otkgr)
– Watchcon offices in Hout Bay (map: http://tinyurl.com/p3yed7n)
2. See our station wishlist page http://tinyurl.com/nrtzn9l
3. Pledge here – http://www.vws.org.za/?page_id=2189
4. Woolworths MySchool/Planet card – http://tinyurl.com/6lku4l8
5. Support our Trail Run Series and Awareness Day – links here
– Trail Challenge – http://tinyurl.com/pv8kbg7
– Race for Water! – http://tinyurl.com/p3og558
– VWS Awareness Day – http://tinyurl.com/kjh9r7j
Emergency numbers:
All Incidents: 112
Cape Town City Fire: 021 480 7700 (cell phone) or 107 (landline)
TMNP Hotline: 086 110 6417 or the
Newlands Fire Base: Tel: 021 689 7438 (TMNP Fires)