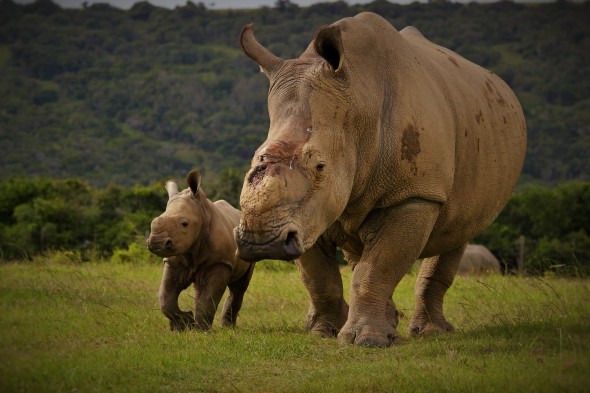 As 'Hoped' Thandi's Rhino Calf is Named Thembi
As hoped by so many people who have been following the story of Thandi – the brave rhino who survived a cruel poaching incident exactly three years ago today – her little rhino calf, whom she miraculously gave birth to recently, has been named Thembi. The name is meaningful for two reasons. Firstly, Thembi means Hope in isiXhosa. And […]

As hoped by so many people who have been following the story of Thandi – the brave rhino who survived a cruel poaching incident exactly three years ago today – her little rhino calf, whom she miraculously gave birth to recently, has been named Thembi.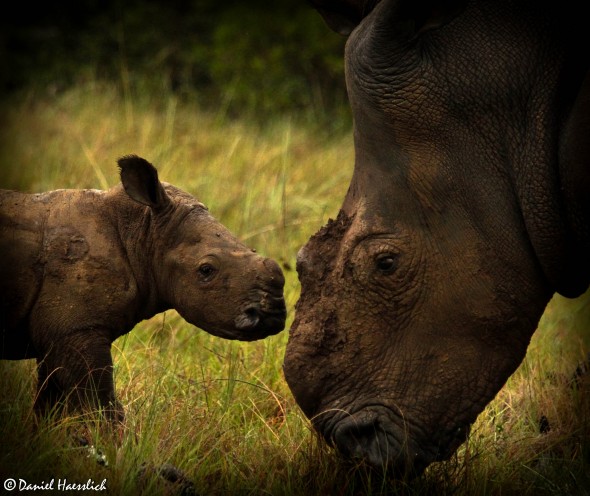 The name is meaningful for two reasons. Firstly, Thembi means Hope in isiXhosa. And this little rhino has been a beacon of hope amidst the devastating deaths of so many rhino in South Africa – 2,800 since 2012 – at the hands of poachers.
And secondly, there was another rhino that also briefly survived the incident in which a third rhino was killed on the scene. The rhino that survived was a male called Themba. He unfortunately wasn't strong enough to make it, but now with Thembi carrying the female version of his name, he will never be forgotten.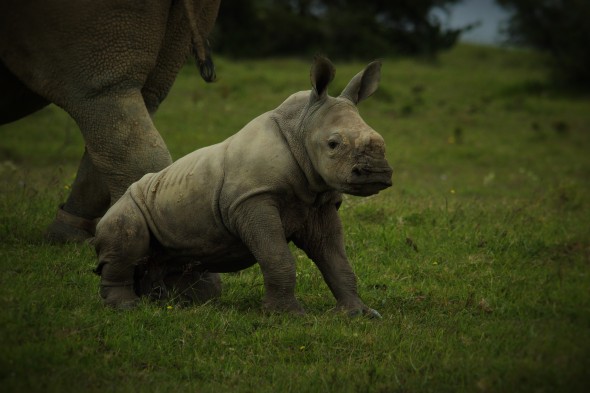 The naming of Thembi took place this morning at a small function in Kariega Game Reserve, three years to the day from when the three animals were discovered on 02 March 2012. Their horns had been hacked off with machetes and they'd been left to die by poachers.
Thandi fought to survive and with the help of vets (especially Dr William Fowlds of Investec Rhino Lifeline), volunteers, donations and multiple surgeries, she made an incredibly recovery. In December 2013 blood tests revealed the fantastic news that she was pregnant, and on 13 January this year she gave birth to a healthy female calf.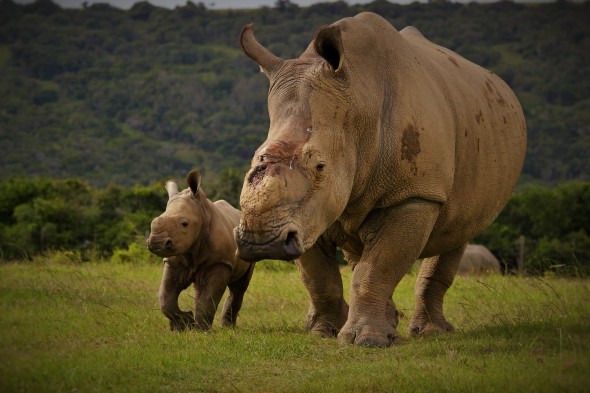 Dr Fowlds, who has led Thandi's care from the start, said today that "the name Thembi seemed to fit best given that this little calf has brought fresh hope and energy to those who struggle to secure the future of our rhino. She is a new generation of life, one I hope will never experience a poaching incident like her mother and namesake Themba."
In his moving speech, Dr Fowlds revealed that Thandi has changed his life.
"I can't say it is for the better, as I could never wish to fight a war such as this one.
"She has shown me inner strength that I must follow. She has inspired action in myself, and many around me that I must continue. She now celebrates life, and with it the hope that against all odds, we can and we will overcome the massive challenges that threaten to take the rhino species down."
Dr Fowlds said "this story has become one of the most successful awareness building campaigns that this crisis has generated to date.
"These rhino have taken the brutality of poaching into the living rooms of people all across the world and they have stirred us to action in ways that we could never have hoped for. And now, when rhino poaching is more than twice as severe as it was back then, both Thandi and little Thembi remind us about the value of life for this species."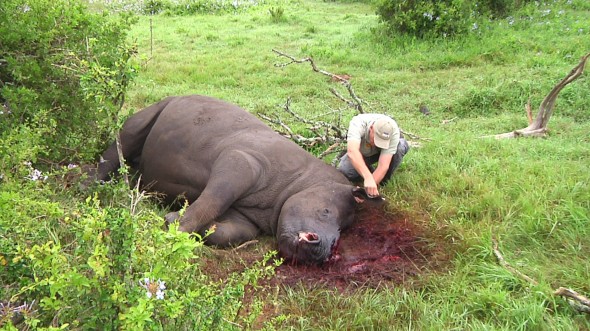 Others in attendance today, who have been inspired by Thandi, included Angie Goody (Thandi's Endangered Species Association), Carol Harnwell (Chipembere Rhino Foundation), Jo Wilmot (Rooting for Rhino), Harry Owen (For Rhino in a Shrinking World), Tracy Jeffreys (Rhino Tears), Sheena O'Keefe (Rhino Run) and Simon Jones (Helping Rhinos).
Official figures released in the first month of 2015 show we are still losing two rhinos every day in South Africa.
Watch Video – Thandi's Calf: The Rhino that should never have been Born
If you're new to Thandi's story, or haven't seen this video before with heartbreaking and hopeful footage, it's worth watching…