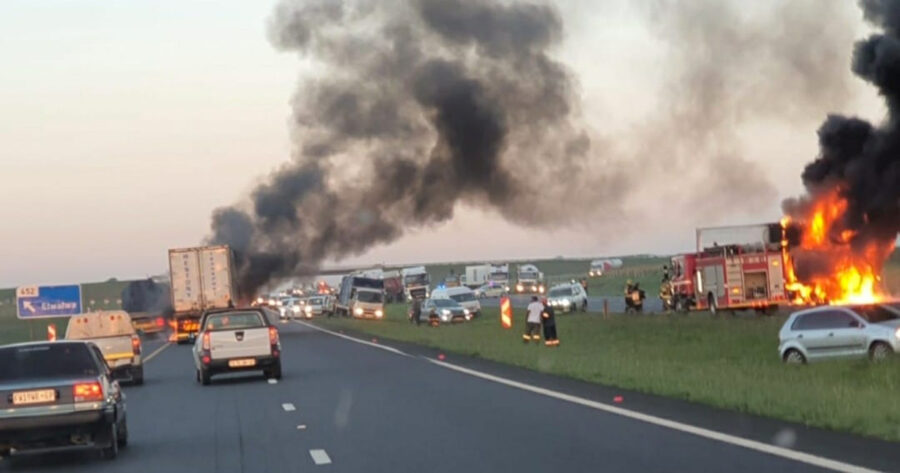 President Ramaphosa Condemns 'Bloody Lawlessness' of Truck Attacks
President Cyril Ramaphosa has condemned the recent arson attacks affecting the road freight industry in South Africa. Just this morning, another two trucks Two trucks were photographed in flames, burning at Etwatwa, near Benoni in Gauteng. At least 30 trucks have been targeted and torched since Thursday around the country, leading to the death of […]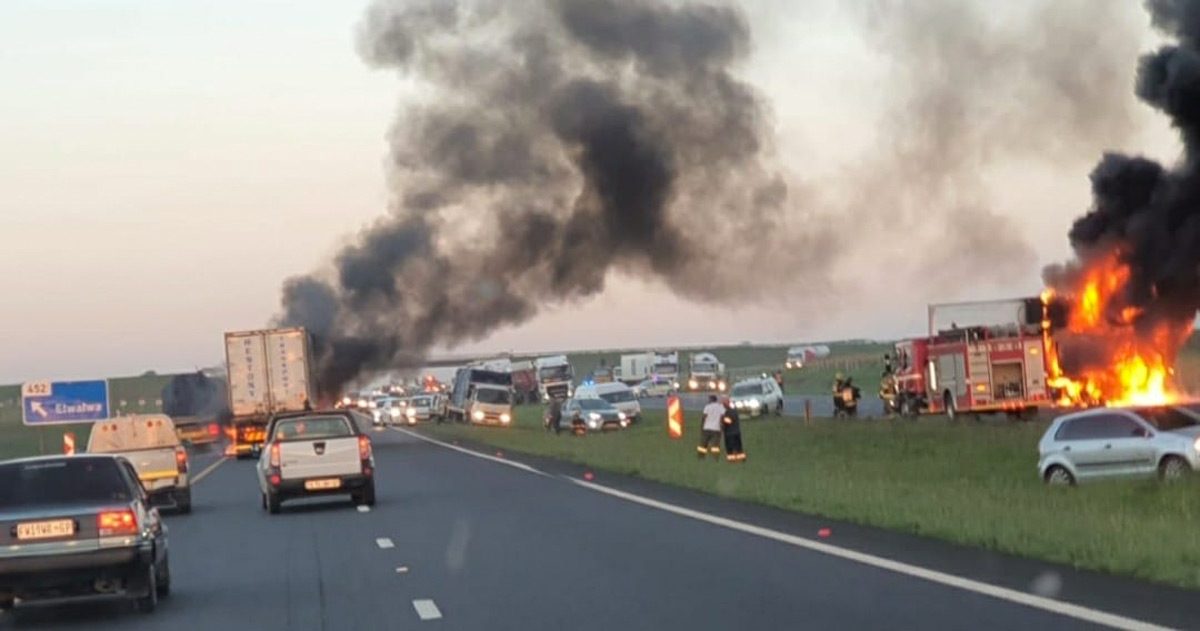 President Cyril Ramaphosa has condemned the recent arson attacks affecting the road freight industry in South Africa. Just this morning, another two trucks Two trucks were photographed in flames, burning at Etwatwa, near Benoni in Gauteng.
At least 30 trucks have been targeted and torched since Thursday around the country, leading to the death of a truck driver in Leondale, east of Johannesburg, on Monday evening. His truck was set alight and he was burnt and shot dead. At least one other driver is in hospital.
"As South Africans, we cannot possibly tolerate the mindless and bloody lawlessness with which the road freight industry is being targeted," said the President.
"We cannot tolerate this loss of life and destruction of property."
The President commended and welcomed the arrest of suspects in Gauteng in the past 24 hours following the deadly assaults on truck drivers.
Why are trucks in South Africa being attacked?
All Truck Drivers Foundation, which is behind the protest in Durban by at least 300 truck drivers, issued an ultimatum that "no truck with a South African registration should enter the harbour or be driven by a foreign national from the 1st of December 2020"
SA Long-Distance Truckers  (SALT) explained on Facebook this morning that the logic given by those behind the arson is to "burn trucks till owners comply not to hire foreign drivers from neighbouring countries". (.)
But not all trucks set alight are driven by foreigners
However, as furious keyboard warriors and arsonists blame truck owners for employing foreigners, SALT points out that many of those targeted were trucks driven by local drivers, and that some of the companies only hire local drivers "so we ask: is it really about foreign drivers if you're burning trucks that employ 100 percent local?"
SALT says they were contacted by the wife of one of the men (a local South African) who was seriously injured. Addressing the arsonists, SALT says: "So you guys that are blaming this on owners but you don't see the wrong (in what) you're doing, remember… there is a wife and children who have lost their husband and father on the road. Not to a hijacking, not to an accident but because he was driving a truck you wanted to drive. A person born and bred in the same country as you. That wife and those children will be cursing you every day because of the hardship and difficulty and pain you caused them. They will not be cursing the owners. They will be cursing you…"
President Ramaphosa concerned by effect of violence on economy
President Ramaphosa has offered his sincere condolences to the families and colleagues of drivers who have lost their lives through the intimidation and violence perpetrated by criminals; and wished those drivers who have sustained physical injuries and psychological trauma during these incidents a speedy recovery.
President Ramaphosa also expressed his concern about the effect of this violence on owners and employees of the affected trucking companies and the economic disruption caused by these acts as the country focuses on rebuilding the economy.
The President has directed Ministers of Employment and Labour, Transport, Home Affairs and Police to submit a report on this matter.
The Presidency said the President is confident that perpetrators in all parts of the country will be arrested and charged.
Sources include SALT, SAPeople and The Presidency