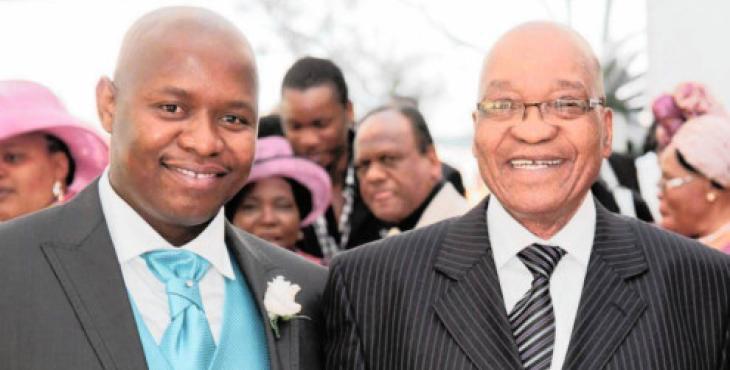 President's Son Says Thuli in "Panic Mood", Pravin a "Cry Baby" and South Africans Need to Wake Up & Smell the Coffee
The South African President's son, Edward Zuma, has released a media statement accusing Finance Minister Gordhan Pravin of being a "cry baby", and outgoing Public Protector Adv Thuli Madonsela, and her "handlers" as being in "panic mood". Supporting his father, the President's son also took part in a radio interview late Thursday evening on Power […]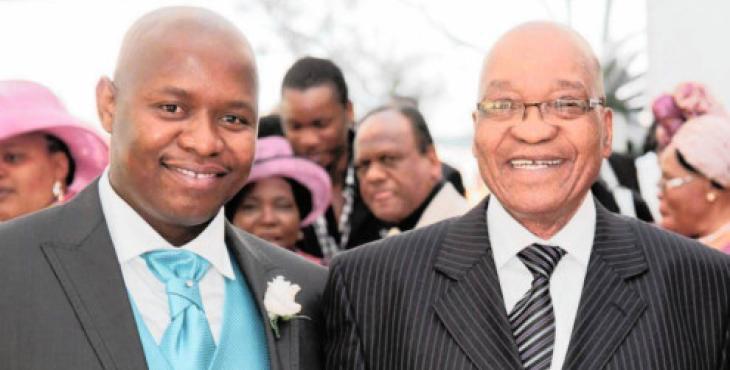 The South African President's son, Edward Zuma, has released a media statement accusing Finance Minister Gordhan Pravin of being a "cry baby", and outgoing Public Protector Adv Thuli Madonsela, and her "handlers" as being in "panic mood".
Supporting his father, the President's son also took part in a radio interview late Thursday evening on Power 98.7, ending the interview with the words "chickens will come to roost"… although nobody on Twitter seemed too sure what he meant by that.
At the end of the media release, he said "Let every South African wake up and smell the coffee, our country is being sold to the highest bidder right now." Read Edward's full statement below.
Meanwhile former Finance Minister (for a minute) Des van Rooyen – who is now Co-operative Governance and Traditional Affairs Minister – has reportedly joined President Zuma in applying to court to interdict Madonsela from releasing her report on State Capture by the Gupta family.
According to local reports, his matter will be heard next Friday which would ruin Madonsela's intention to release the report at 2pm Friday 14 October, her final day as Public Protector.
The Democratic Alliance (DA) says Zuma's State Capture interdict shows he "has something very serious to hide".
When a social media user asked Madonsela why she is "rushing" the report, she tweeted back: "Section 3 (2) of the Executive Members' Ethics Act, sir." 
UPDATE 11.30am Friday 14 Oct: Madonsela will NOT release the state capture report this afternoon. Her lawyers have reportedly informed the High Court in Pretoria that she will not release the report today.
Edward Zuma's full statement: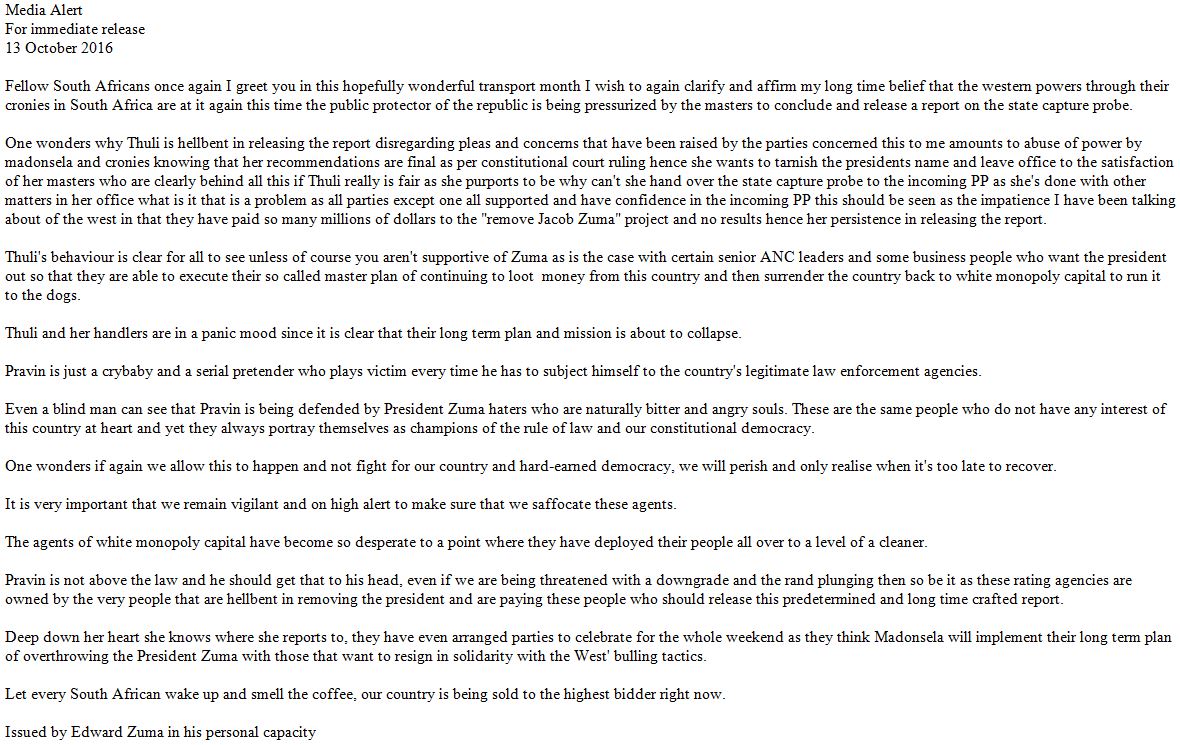 Afrique du Sud: "Je défendrai mon père avec ma vie" : Edward Zuma https://t.co/WDE4Qh5tRr pic.twitter.com/rVNli4Lw06

— VAC RADIO (@vac_radio) September 25, 2016
Edward Zuma slams 'cry baby' Pravin in statement pic.twitter.com/xhj80LAQSq

— City Press Online (@City_Press) October 13, 2016
PODCAST] In case you missed it #POWERPerspective @JJTabane
Link:
[PODCAST] In case you missed it #POWERPerspective @JJTabane
Link:https://t.co/V1tN3LL6qk

— POWER 98.7 (@Powerfm987) October 13, 2016