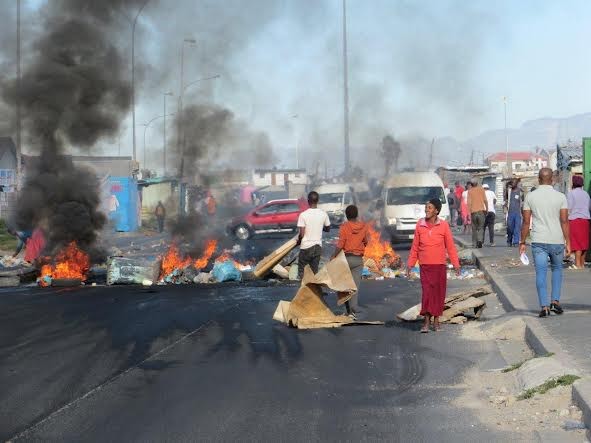 Protesters Block Main Road in Cape Town, Demanding Electricity
"Councillors fool us during election campaigns". By Vincent Lali. Protesters blocked two main roads in Khayelitsha, Cape Town on Monday, demanding electricity and a change to rubbish collection services. They say they have been waiting many years for electricity. They want the company which is contracted to the City of Cape Town to rotate supervisors […]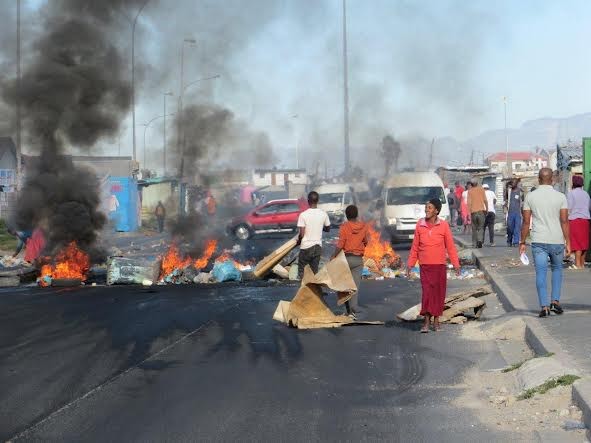 "Councillors fool us during election campaigns". By Vincent Lali.
Protesters blocked two main roads in Khayelitsha, Cape Town on Monday, demanding electricity and a change to rubbish collection services.
They say they have been waiting many years for electricity.
They want the company which is contracted to the City of Cape Town to rotate supervisors and cleaners so as to give more people a job.
The City said it would organise a meeting.
Shack dwellers burned tyres and rubbish on Japhta Masemola Road in Cape Town on Monday demanding that the City of Cape Town install electricity in Lansdowne Road informal settlement in Khayelitsha on Monday.
The fire forced motorists to turn back and taxi drivers to drop their passengers off before they reached their destinations.

When the police came, the protesters ran into their shacks beside the road. Each time the police left, the protesters returned to start the fires again.
Lansdowne Road community leader Chrizelda Makeleni said the shack dwellers had been living there for 15 years and were tired of waiting for electricity.
"Councillors fool us and say they will give us electricity if we vote for them during election campaigns," she said. "When they take charge of the ward after the elections, they blame the absence of electricity here on the previous councillors."
Households connect their wires to nearby RDP houses to get electricity and pay R500 to the house owners monthly, she said. "In some cases ten families connect their wires to one electricity box. The owners say the box trips and disconnects their wires and refuse them electricity for the whole week even though they have paid."
Food rots in the fridges when the boxes trip, she said.
Makeleni said the protesters also wanted the City to hire more janitors to clean their toilets.
"Currently only two janitors clean our toilets. Since Lansdowne Road is made up of 170 families, they struggle to clean them properly. We want at least two more cleaners," she said.
Samela Desemela said she uses candles to light her shack and a paraffin stove to cook and boil water.
"After I light the candle, I must watch over it to ensure it doesn't burn my shack along with my kids. I don't have money to pay house owners for their electricity because I don't work," she said.
Earlier in the day, shack dwellers from Lansdowne Road Island and other Khayelitsha settlements including Island, Msindweni, Endulwini and a section of Backstage had protested about cleaning in their areas. They burned tyres and blocked Baden Powell Drive at about 4:30am.
Community leader Nonceba Ndlebe said she and the shack dwellers want Mega Ndira, the refuse collection company which contracts to the City, to rotate the employment of cleaners and supervisors to give new people a chance at a job.
Mega Ndira is responsible for collecting rubbish in Island, Msindweni, Lansdowne Road, Endulwini and a section of Backstage.
Ndlebe said Mega Ndira uses one group of cleaners and supervisors for three years. "We want the jobs to rotate. We are all hungry and faced with unemployment," she said. "We want officials from the city and Mega Ndira to meet us and account."
Meanwhile, she said, rubbish was piling up in the area.
The City said a meeting had been scheduled with the contractor. The municipality had sent its own team to collect rubbish. "However, the community threatened the team who had no other option but to move away from the area."