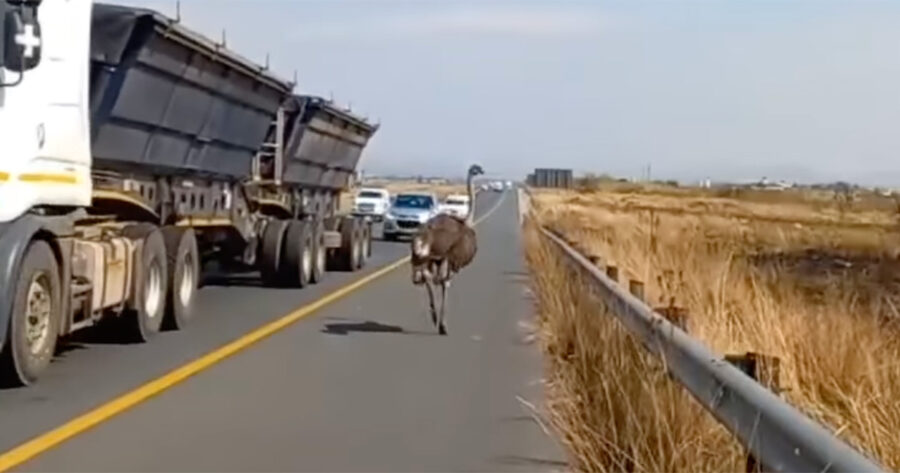 Runaway Ostrich Sadly Dies After Running Along South African Freeway
A runaway ostrich, which was filmed running along a highway in South Africa this morning, has sadly passed away. According to local reports, the animal succumbed to stress which was not helped by metro police allegedly not assisting rescuers. According to witnesses the ostrich was on William Nicol Drive, but was later located on the […]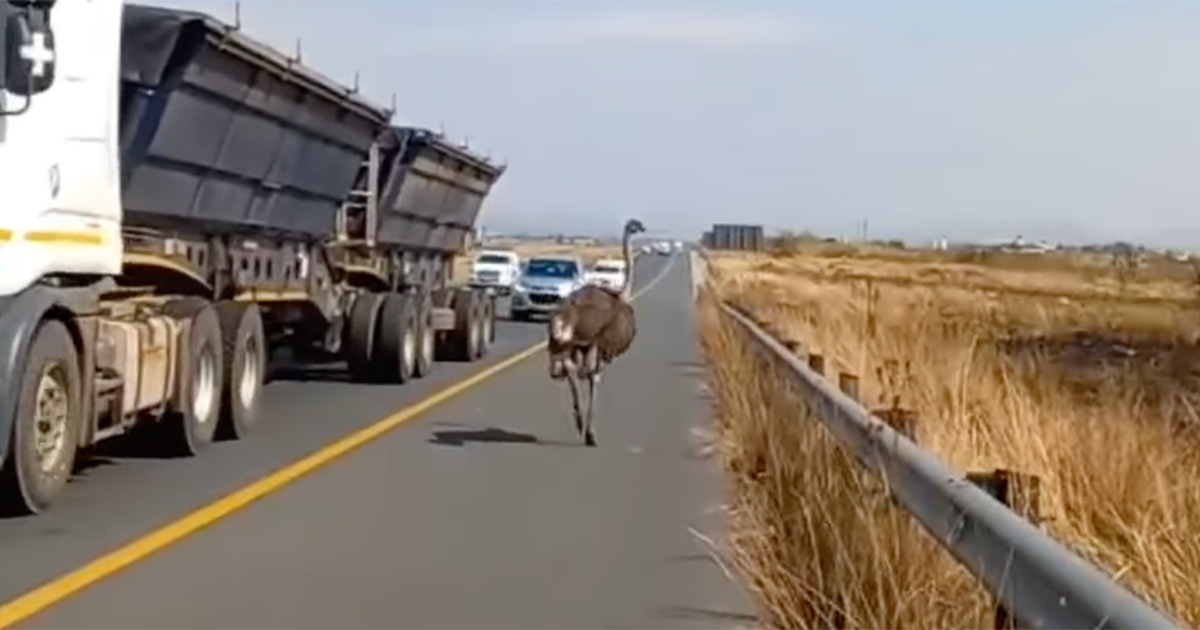 A runaway ostrich, which was filmed running along a highway in South Africa this morning, has sadly passed away. According to local reports, the animal succumbed to stress which was not helped by metro police allegedly not assisting rescuers.
According to witnesses the ostrich was on William Nicol Drive, but was later located on the N14 highway alongside Diepsloot.
Owl Rescue Centre said it had been called out to rescue the ostrich and managed to track her down. Their plan was to try keep her away from the freeway so as not to cause a serious accident. However, as can be heard and seen in the video below, the ostrich kept inexplicably returning to the freeway.
Unfortunately, while following the ostrich – on the wrong side of the road – the rescuers came across a metro police roadblock whom, they say, "we asked really politely if they could assist, first by closing the freeway to traffic, and secondly in helping herd her to a safer areas as there were eight officers".
Tragically, there appears to have been a communication breakdown. The officers not only declined to assist but told the rescuers "we shouldn't let our animals run freely on main roads and also not to travel up one ways".
The Owl Rescue Centre says: "We did try explain that it isn't our animal and that we're just the wildlife rescuers; and that it's imperative we all need to prevent a 70kg ostrich from going through someone's windshield at 120km per hour.
"But sadly they had more important business to attend to… apparently."
After approximately three hours, the rescuers managed to catch and restrain the runaway ostrich. They immediately called their vet – Dr Rob Campbell – who was on standby, to come and sedate her "as ostriches suffer notoriously from capture myopathy".
Sadly, whilst they were on the phone, the female ostrich collapsed.
The rescuers attempted CPR on her for 20 minutes but unfortunately lost her.
"The stress of being on that highway for six hours, and the stress of the rescue was just too much for her," said the Owl Rescue Centre. "So yeah, tough day, wasn't our proudest moment. Sorry guys."
WATCH Runaway Ostrich on South African Highway
William Nicol this morning! True story! 👀 pic.twitter.com/RtTvy8F149

— Gilly (@GillianYoungBe1) July 28, 2022