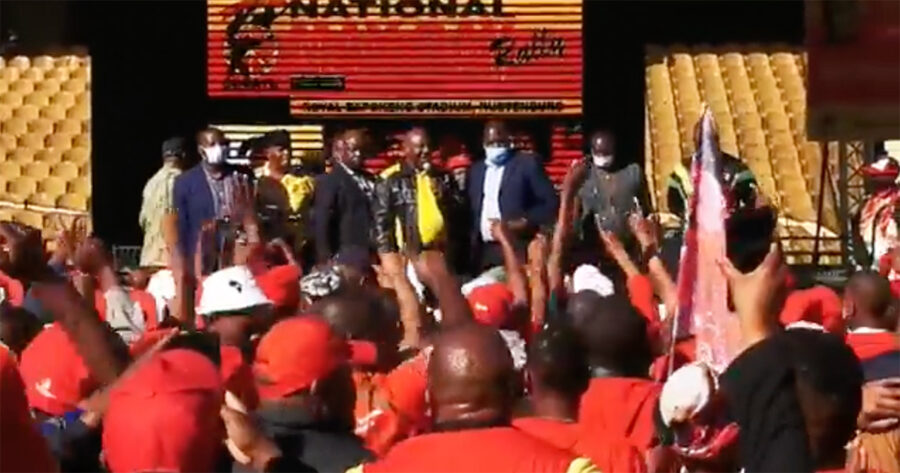 Rustenburg: North West Remains on High Alert Following May Day Rally 'Disruption'
POTCHEFSTROOM – The Provincial Joint Operational and Intelligence Structure (PROVJOINTS) in North West said on Sunday night that it was remaining on high alert following the "disruption" of the May Day rally at the Royal Bafokeng Sport Palace, outside Rustenburg, on Sunday afternoon, 01 May 2022. The disruption led to President Cyril Ramaphosa leaving the […]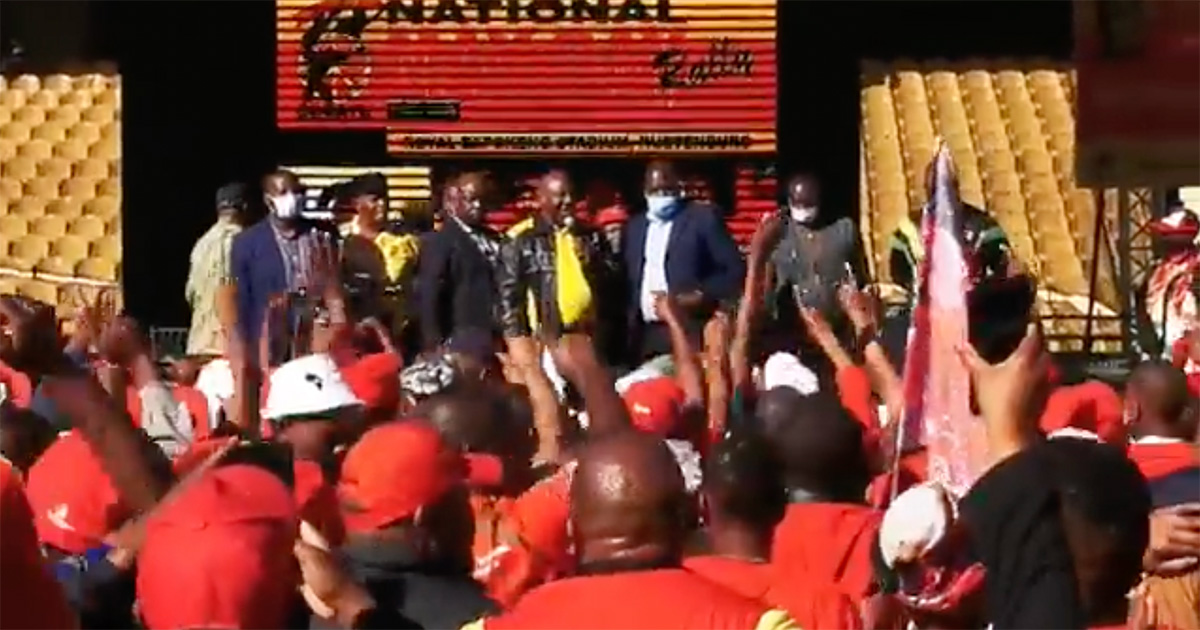 POTCHEFSTROOM – The Provincial Joint Operational and Intelligence Structure (PROVJOINTS) in North West said on Sunday night that it was remaining on high alert following the "disruption" of the May Day rally at the Royal Bafokeng Sport Palace, outside Rustenburg, on Sunday afternoon, 01 May 2022. The disruption led to President Cyril Ramaphosa leaving the stadium and the event ultimately being called off.
The South African president was escorted out of the stadium after basically being chased away by workers at the COSATU May Day celebrations. Some were chanting: "you must go".
The President had been expected to address those gathered (not many) on behalf of the ANC and share the stage with labour federation's president Zingiswa Losi and the SACP general- secretary Dr Blade Nzimande, but he was forced to abandon plans as the rally descended into chaos, fights broke out in the stadium and some workers stormed onto the pitch and went to the podium.
"The situation is currently stable with no reports of injuries, loss of lives or damage to property," said the South African Police Service on Sunday evening.
Former DA Leader Mmusi Maimane tweeted late Sunday: "What happened in Rustenburg today was an indication that the ANC has lost the youth of this nation and the workers of this nation."
The Chairperson of the PROVJOINTS, Lieutenant General Sello Kwena said he was disappointed by the "conduct of those behind the disruption and consequent abandonment of the event".
While Cosatu said no action will be taken against those workers who disrupted the celebration, General Kwena cautioned that decisive action would be taken against anyone who breaks the law or threatens the safety and security of law abiding citizens in the province.
According to the SABC, hundreds of NUM-affiliated Sibanye Stillwater mineworkers have been on strike for almost two months, demanding a R1,000 salary increase (the employer is only offering R800). The workers were demanding that Ramaphosa address their issues.
So COSATU booked the whole stadium for Ramaphosa to address 120 people who are not happy to see him😂😂😂 #Rustenburg pic.twitter.com/FuKYA35bK1

— Mmadikgosi Matshego (@Mmadikgosi_23) May 1, 2022
This is the transport that saved Cyril Ramaphosa from Rustenburg Royal Bafokeng Stadium. Under EFF Government the same transport will take him to Jail for what he did in Marikana. pic.twitter.com/Xy4dewgXNQ

— Battalion 54 (@54Battalion) May 1, 2022
As we commemorate Workers Day today in Rustenburg, let's reflect on the events of today's Mineworkers Disruptions of COSATU's rally.
You have limits how far a lie would continue.
Those who thought poor South Africans are fools, look no further pic.twitter.com/Md2fJaTxLQ

— Herman Mashaba (@HermanMashaba) May 1, 2022
Things are not looking good for Cyril Ramaphosa in Rustenburg,

Ramaphosa is being rejected.

We will never forget what he did in #marikana

Cyril is being chased away by mine workers he's not welcome here in Rustenburg pic.twitter.com/LHJFs27MKT

— Em-Jay🇬🇦 🇿🇦🇿🇦 (@Josias_maabane) May 1, 2022
🤣🤣🤣Apparently President Cyril Ranko Ramaphosa is here in Phokeng Rustenburg at Royal Bafokeng Stadium to address thousands of empty chairs during.

ANC is dying painful death 🤣🤣🤣

A whole President failing to attract local citizens. #mayday#EFFMayDayRally pic.twitter.com/RHb35CdLk1

— Em-Jay🇬🇦 🇿🇦🇿🇦 (@Josias_maabane) May 1, 2022
Rustenburg workers never disappoint. "Never went a single year without increment during President Zuma". Told people ages ago that there's nothing special about cyril. It's just only #thumaminaMediaGroup hype pic.twitter.com/rYRs6UCjFH

— Peter MA (@pmatsepane) May 1, 2022
President Cyril Ramaphosa chased away by workers at a Workers' Day event in Rustenburg on Sunday 1 May 2022. "You must go!" They chanted. pic.twitter.com/zdBTnp4YZ4

— Dr. Noah (@NMarutlulle) May 1, 2022
WATCH Ramaphosa addresses workers' concerns