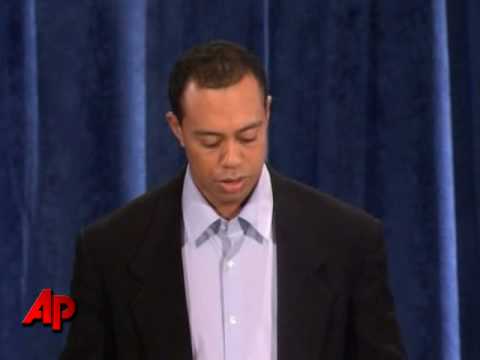 Ernie slams Tiger
Ernie Els has branded Tiger Woods as 'selfish' for making his 13-minute apology speech today, rather than waiting until Monday. Tiger's 13-minute grovelling apology speech came on the third day of the Accenture Matchplay Championship in Arizona, stealing attention away from this year's biggest golfing event so far (although Ernie's outburst has certainly helped pull […]

Ernie Els has branded Tiger Woods as 'selfish' for making his 13-minute apology speech today, rather than waiting until Monday.
Tiger's 13-minute grovelling apology speech came on the third day of the Accenture Matchplay Championship in Arizona, stealing attention away from this year's biggest golfing event so far (although Ernie's outburst has certainly helped pull some attention back to it!).

The South African golfer ranted to Golf Week magazine: "It's selfish. You can write that. I feel sorry for the sponsor. Mondays are a good day to make statements, not Friday. This takes a lot away from the golf tournament."
It just so happens that the sponsor – Accenture – was the first sponsor to drop Woods after his multi-affair skandaal hit the media. So was his announcement made today as a deliberate ploy at revenge? Apparently not. It appears it was a scheduling problem with his ongoing 'behaviour treatment' therapy.
Els also said "it's like Tim (Finchem, PGA tour commissioner) has lost his head. He wants Tiger back in the worst way and so he lets this go on. I mean, we all want to see Tiger back, but this doesn't look good."
According to a letter from Finchem to the PGA board, "Tiger's therapy called for a week's break at this time during which he has spent a few days with his children and then will make his statement before returning. Accordingly, there was very little flexibility in the date for the announcement."
An Accenture spokesman also confirmed that Woods' agent had notified them about Woods' plan and it was ensured that his statement came outside of the tournament's TV window.
While some golfers agreed with Ernie's sentiment, there has already been a backlash on the internet with some bloggers saying Ernie wouldn't be earning so much if Tiger hadn't raised the sport's profile. And others have pointed out that if Tiger hadn't made his statement in the middle of the Accenture tournament, most people wouldn't have even known it was occurring – so it's been to the sponsor's advantage. Yet others have called for Ernie to change his views which were made before he knew that Tiger had to return to therapy on Saturday.
Watch Tiger's apology here:
httpvh://www.youtube.com/watch?v=uc02ZEPJuF8