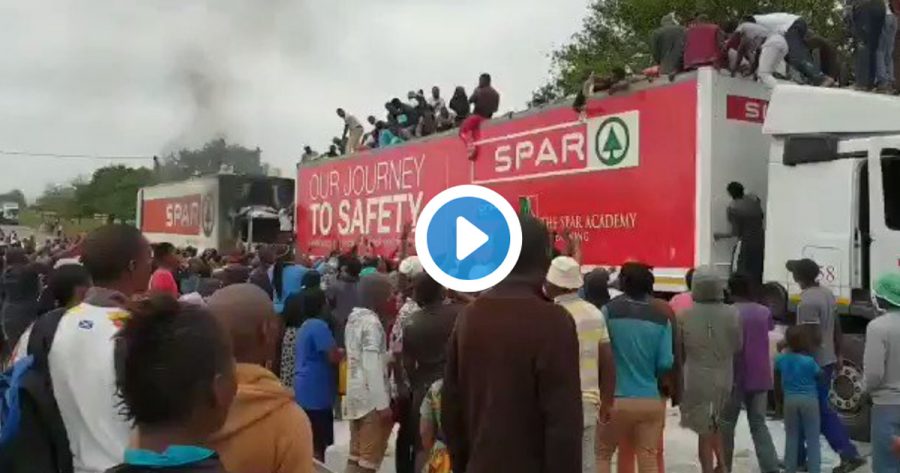 Trucks Torched, Looted and Traffic Stopped by Mooi River Protesters
At least three trucks (some reports say five) were torched near Mooi River Plaza on Easter Monday in KwaZulu-Natal, South Africa, causing traffic chaos and blocking thousands of holiday makers returning from Durban to Johannesburg. UPDATE 30 APRIL 2018: 18 Trucks Torched, 35 Damaged, 54 Arrested in Mooi River Protests, South Africa The N3 was completely […]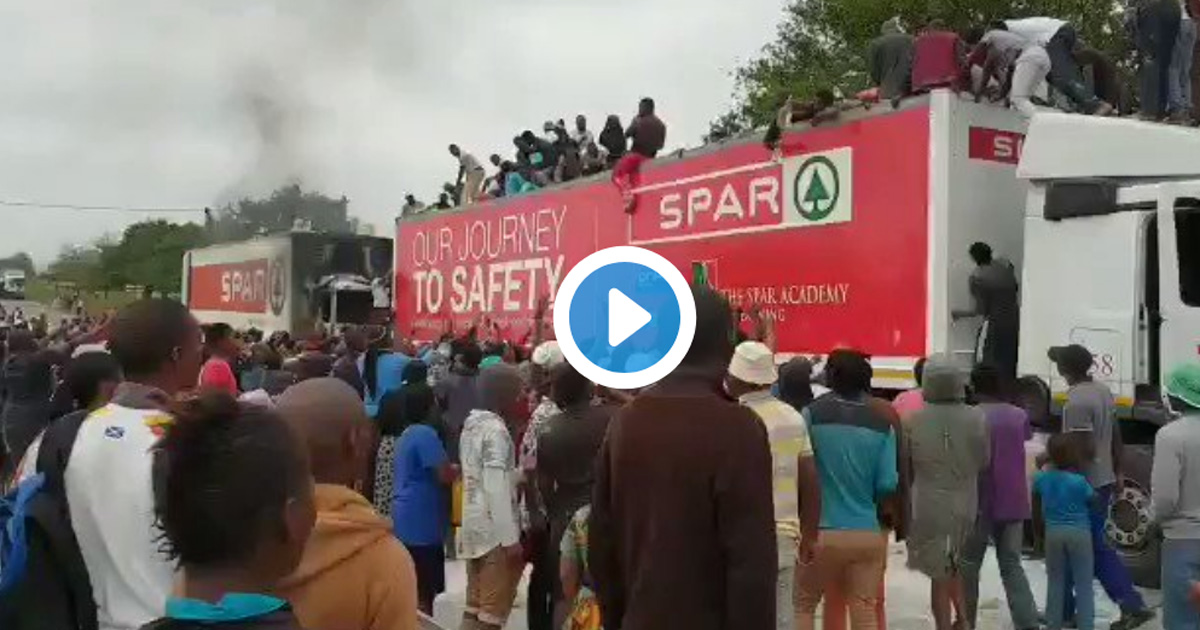 At least three trucks (some reports say five) were torched near Mooi River Plaza on Easter Monday in KwaZulu-Natal, South Africa, causing traffic chaos and blocking thousands of holiday makers returning from Durban to Johannesburg. UPDATE 30 APRIL 2018: 18 Trucks Torched, 35 Damaged, 54 Arrested in Mooi River Protests, South Africa
The N3 was completely closed after a petrol tanker was set on fire in the early hours of the morning. The alternative route – the R103 – was also closed.
The violent protests led many South Africans commenting on social media to say these should not be called protesters but vandals; and witnesses said they have been looting, rioting and causing anarchy. Several videos on Twitter showed protestors looting from trucks as they are burning.
Tyres were also burnt and rocks were thrown at cars.
Reports varied about the cause of the protests. The SABC said they were service delivery protests, but according to a KZN police spokesperson speaking to News24, the protesters deliberately targeted trucks as their complaint was about not being employed by the local truck owners.
Witnesses said police used rubber bullets to disperse the crowd. SA Police Minister Bheki Cele, and senior KZN police officials, travelled to Mooi River to visit the scene.
The N3 Toll Concession said the North bound (Joburg bound) route is now opened, and the South bound (Durban bound) slow lane has been opened. "However there are extensive backlogs that are still clearing. We appreciate your patience," they tweeted. The backlog stretched at least 6km at times.
Motorists travelling from Durban are advised to take the R33 Pietermaritzburg to Greytown, then the R74 Greytown to Colenso, and then Colenso back to the N3. The route may take up to an hour longer, but will avoid the backlog around Mooi River. N3 Toll officials recommend that holidaymakers delay their trip home if possible.
UPDATE 30 APRIL 2018: 18 Trucks Torched, 35 Damaged, 53 Arrested in Mooi River Protests, South Africa
Mooi River Protests / Looting Videos On Twitter:
Chaotic scenes as protesters burn truck and traffic stops at #Mooiriver #Traffic #jhbtraffic #durbantraffic pic.twitter.com/c2nU1NmV1Y

— Reevin Frank (@ReevinFrank) April 2, 2018
https://twitter.com/The_New_Age/status/980694154585001984
https://twitter.com/TrafficSA/status/980698620923207680
LOOTING: like #hermanus last week, will ANYBODY be arrested or jailed after these scenes in #mooiriver this morning? Was anybody seriously hurt? What was the protest about? Who was behind it? @SAPoliceService @myanc https://t.co/2yZNStikf5

— Neal Collins (@nealcol) April 2, 2018
#mooiriver Looted goods now pre-cooked. Rubber bullets. @SAPoliceService attempting to clear the main @N3Route between Durban and Jozi. Another great advert from @southafrica tourism @derekhanekom #katieprice pic.twitter.com/OH8XG0DHBU

— Neal Collins (@nealcol) April 2, 2018
5 trucks petrol bombed so far #MooiRiver #N3 pic.twitter.com/aae7EgMqd8

— Nathaniel Bricknell (@NDBricknell) April 2, 2018
Just managed to get past #MooiRiver via some serious back roads. If you haven't left Durban yet, DON'T! The highway is an absolute mess. pic.twitter.com/x4dm5RLaQo

— Instagram: @roxyburger (@roxyburger) April 2, 2018
45 seconds to witness anarchy and chaos in #mooiriver… @southafrica's three 24-hour news channels showing sport and political analysis. Unbelievable. https://t.co/2xr0idOIvt

— Neal Collins (@nealcol) April 2, 2018