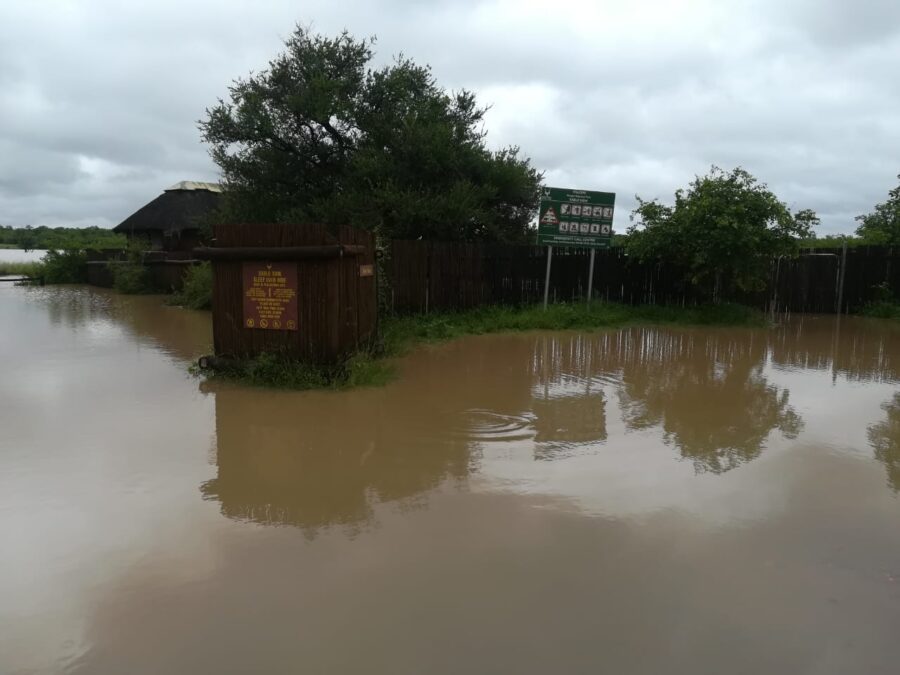 WATCH Kruger Camps Evacuated as Downgraded Cyclone Eloise Brings Floods
The South African National Parks (SANParks) has begun evacuating and closing camps, as it warns that the situation with Tropical Cyclone Eloise approaching is creating flood conditions in the Kruger National Park, despite the cyclone being downgraded to a tropical depression. The heavy rains and powerful winds of up to 130km/hour have already caused devastation […]
The South African National Parks (SANParks) has begun evacuating and closing camps, as it warns that the situation with Tropical Cyclone Eloise approaching is creating flood conditions in the Kruger National Park, despite the cyclone being downgraded to a tropical depression. The heavy rains and powerful winds of up to 130km/hour have already caused devastation in Mozambique where the storm made landfall, over-turning cars, uprooting trees and tragically leaving several dead.
On Sunday evening, SANParks issued a short statement, saying: "⚠ WARNING! ⚠ There is a possibility of flooding in Skukuza, Shingwedzi and Letaba; we urge everyone to be vigilant as the situation deteriorates. Disaster management are monitoring the situation closely."
SANParks said: "The situation is deteriorating in the South of Kruger National Park with rivers flowing strongly. Advice is for people to be extra cautious and stay indoors instead of being on the road. Stay away from low lying bridges and gravel roads. Do not drive into roads with a no entry sign.
"There might be a need to evacuate if the situation deteriorates further. Guests should cooperate with the disaster management people."
Some evacuations have already begun as the Kruger heeds scientists' advice to be proactive. (Watch the interview below with SANParks spokesperson Isaac Phaahla.)
Some bushveld camps, like Shingwedzi, were already evacuated yesterday in preparation for rising rivers. On Sunday morning, as Tropical Storm Eloise hit Mozambique, the Kruger National Park tweeted that "all gravel roads around Mopani closed, 66mm rainfall. Boulders, Shipandani not accessible. Mopani to Phalaborwa road closed, guests will have to please drive via Letaba to Phalaborwa."
Limpopo province has been hard hit, with Limpopo Tourism Agency saying: "Parts of the George's Valley were closed this morning but the road has since been opened." The Agency reported that there had been warnings of trees falling on the Makgobaskloof Pass and that a low lying bridge in Mopani had flooded.
Looking ahead, the South African Weather Service says: "We are still expecting a lot of rainfall in the eastern parts, but please note the alert for flooding in the Western Bushveld for tomorrow (Monday)."
A Yellow level 3 warning for disruptive rain and localised flooding has been issued for the south-western Bushveld of Limpopo and north-eastern parts of the North West.
A Red level 10 warning has been issued by SAWS for "Disruptive Rain leading to widespread flooding and damages to roads, bridges, informal and formal settlements, danger to lives due to fast flowing streams, very poor driving conditions, communities not accessible or cut off, widespread disruption to transport routes and travel services along the escarpment and south-eastern parts of Limpopo, the eastern Highveld, escarpment and Lowveld of Mpumalanga and the north-eastern parts of KwaZulu-Natal."
@SAWeatherServic continues to warn communities in Limpopo to stay safe indoors or high lying areas and avoid travels, particularly areas where bridges are flooded as rains fall on the north-eastern parts of the province. #DepressionEloise 📸Nthambeleni pic.twitter.com/eDMWU5frzm

— Limpopo Tourism Agency (@golimpopo) January 24, 2021
Pioneer Dam is overflowing.#TropicalCycloneEloise pic.twitter.com/cw5pCMK56Z

— Kruger National Park (@SANParksKNP) January 24, 2021
WATCH VIDEO: Camps in the Kruger National Park evacuated
The interview about the Kruger National Park starts at around 4'10"