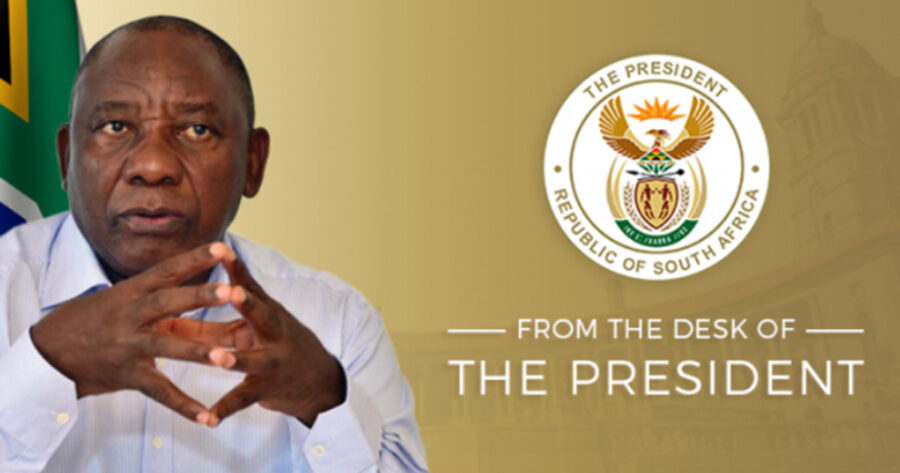 SA's Vaccination Campaign to Prioritise Most In Need, Repeats President
With South Africa gearing to receive its first consignment of COVID-19 vaccines, President Cyril Ramaphosa has reiterated that government's mass vaccination campaign strategy would reach all corners of the country, prioritising those most in need. The President emphasised the commitment in the latest edition of his weekly newsletter on Monday. The President said that in […]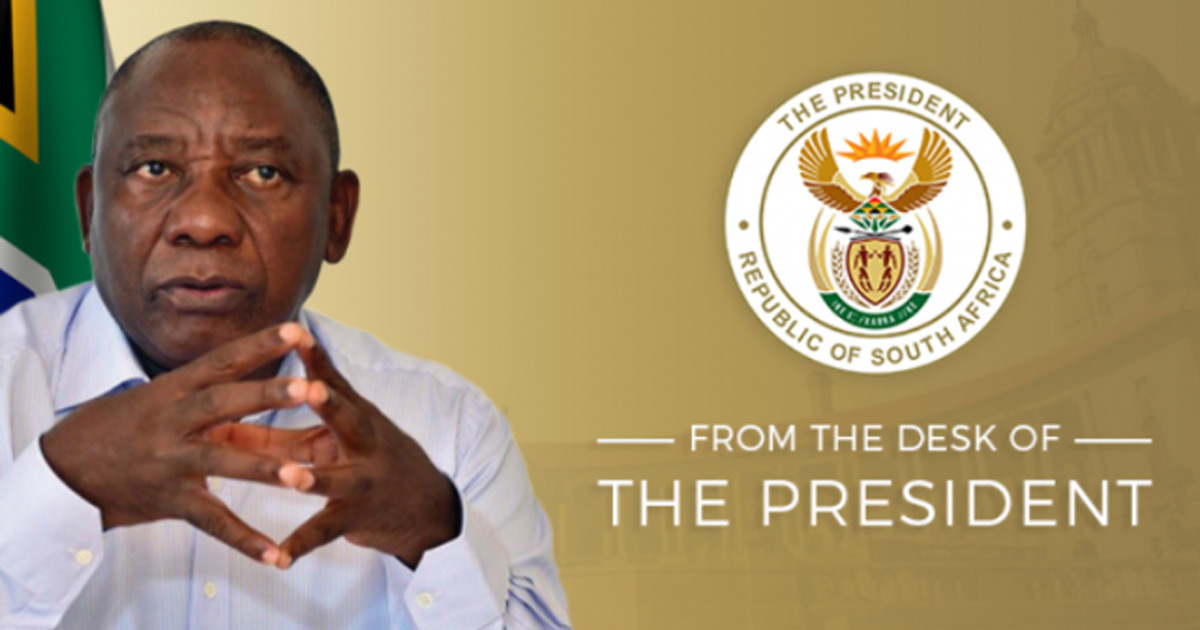 With South Africa gearing to receive its first consignment of COVID-19 vaccines, President Cyril Ramaphosa has reiterated that government's mass vaccination campaign strategy would reach all corners of the country, prioritising those most in need.
The President emphasised the commitment in the latest edition of his weekly newsletter on Monday.
The President said that in coming weeks, the country will receive a batch of 1.5 million Astrazeneca vaccine doses from the Serum Institute of India, the world's largest vaccine producer. (Health Minister, Dr Zweli Mkhize, said earlier this month that South Africa would receive one million doses of the vaccine in January, with the rest in February.)
The President said the arrival will signal the start of a mass vaccination campaign that will be the most ambitious and extensive in the country's history.
"It will reach all parts of the country and will be phased to ensure that those most in need are prioritised. The first vaccines to arrive will be provided to health care workers, who will be targeted in the first phase.
"The second phase will include essential workers, teachers, the elderly and those with co-morbidities. The third phase will include other adults in the population," President Ramaphosa said.
The rollout strategy will be implemented in partnership with the private sector, civil society, traditional leadership, the religious sector and others.
"It is vital that this is a society-wide campaign, in which everyone is involved and no-one is left behind," he wrote.
"A year after the novel coronavirus started spreading around the world, the arrival of the vaccine gives great hope for our country's social and economic recovery – and, most importantly, for the health of our people."
Protracted negotiations to secure vaccine doses
The President said given the unprecedented global demand for vaccine doses, combined with the far greater buying power of wealthier countries, South Africa had to engage in extensive and protracted negotiations with manufacturers to secure enough vaccines to reach the country's adult population.
"South Africa has engaged closely with the global COVAX facility and the African Union's Vaccine Acquisition Task Team as part of the collective effort to secure vaccines for the world's low- and middle-income countries. The doses that South Africa will receive through its participation in these initiatives, together with the agreements being made directly with manufacturers, are expected to ensure that the country has sufficient vaccines to contain the spread of the virus," he said.
"From the moment the Coronavirus first reached our shores in March last year, we have acted swiftly and decisively, and informed by the best available scientific evidence, to save lives and protect livelihoods. Through the measures we have taken, we have been able to contain infections, protect our health system and prevent an even greater loss of life," said the President.
He said: "Understanding that vaccines are essential if we are to overcome the pandemic, government has been working, both through multilateral initiatives and direct negotiations with manufacturers, to ensure South Africa can make the best use of vaccines when they become available".
Government was unable to be transparent because of non-disclosure terms
Regarding concern that government has not been sufficiently transparent about these efforts, President Ramaphosa said as government did with the announcement on the Serum Institute, the details of deals with manufacturers will be released as and when negotiations are concluded and SA is released from the communications terms of the non-disclosure agreements.
"This is commonplace in such circumstances, and most governments have had to comply with similar restrictions," he said.
"We recognise that it is important that the public must be kept abreast of developments on vaccine acquisition at all times. And government must be held to account for all the decisions it makes in this regard."
Throughout the pandemic, he said, government has been open and transparent with the South African people on the health measures it is taking to secure the safety of people.
"We have sought to explain all our decisions, to listen to people's concerns and to continuously update the country on the state of the disease," he said.
All of us need to not allow the spread of rumours, fear and mistrust
He added: "All of us need to be part of this national effort and not allow the spread of rumours, fear and mistrust. False information and fake news can and does put lives at risk. We all need to work together to build confidence in the vaccine, to demonstrate its effectiveness and its safety – and to emphasise its vital importance in overcoming this deadly disease".
Government will improve channels of communication
For its part, he wrote, government will work to improve all its channels of communication, to keep the public regularly informed on the development of the vaccination programme, to provide information that is accurate and factual, and to continue to engage with and listen to the broad range of voices in society.
"We have a massive task ahead of us, probably far greater than any of us has ever undertaken before. But if we work together, if we support and trust each other and if we keep the lines of communication open, we will certainly succeed," said the President.
AfriForum approaches court urgently about Ivermectin
Meanwhile AfriForum has brought an urgent court application against the South African Health Products Regulatory Authority (SAHPRA) and Dr Mkhize, to ensure that ivermectin developed for human consumption is available to doctors who want to prescribe it to treat COVID-19. SAHPRA has until now failed to approve applications by doctors – which were brought in terms of Section 21 of the Medicines and Related Substances Act – to have ivermectin approved for the treatment of COVID-19 patients.
It is requested in the court application (among others) that:
The failure of SAHPRA to approve the Section 21 applications be reviewed and set aside and that the court approves the Section 21 applications;
A declaratory order that ivermectin is a safe drug for the use of humans, subject to it being properly administered in a controlled manner under the management of a treating medical practitioner; and
A declaratory order that qualified medical doctors and pharmacists are entitled in terms of Section 14(4) of the Medicines Act to compound medicine, on the prescription of a medical practitioner, which includes Ivermectin.
Ivermectin is listed by the WHO as an essential medicine
"We find ourselves in extraordinary circumstances. People die every day and healthcare practitioners are inundated," says Barend Uys, AfriForum's Head of Research. "Everyday costs more lives. Under such circumstances the potential risks and benefits of a decision should be weighed with urgency, and actions should be decisive. Ivermectin is listed by the World Health Organization as an essential medicine, and it has been proven safe – also in children. Studies undertaken in among others the US, Argentina, India, Egypt and Spain all show that ivermectin has the potential to treat COVID-19 and reduce deaths. The balance between risk and benefit is evident; this is why we are taking these steps to ensure its availability."
Dr Theo de Jager, Chairperson of the Board of Saai, added: "Farmers are currently the largest consumers of veterinary medicine that contains ivermectin. More and more people are using these products, however, which causes challenges to farmers in terms of availability and affordability. Saai has a direct interest in the welfare of family farmers, their families and their workers. We are supporting the effort to urgently ensure the availability of ivermectin that is fit for human consumption."
South Africa's Covid-19 Recovery Rate is  87%
South Africa recorded 8 147 new COVID-19 cases on Sunday, along with 300 related deaths. The country has now reached 1 412 986 confirmed infections, while the death toll now stands at 40 874.
"Our recoveries now stand at 1 230 520, representing a recovery rate of 87%," said Dr Mkhize.
Of the latest fatalities, 105 are in the Western Cape, 70 in KwaZulu-Natal, 45 in Gauteng, 43 in the Eastern Cape, 15 in Free State and 14 in the North West.
Meanwhile, six occurred in Mpumalanga and two in the Northern Cape.
South Africa has 141 592 active cases, with the hardest-hit province including KwaZulu-Natal with 48 482 patients who are currently battling COVID-19. Elton John has extended his condolences for the loss of a top SA doctor in KZN.
KwaZulu-Natal is followed by the Western Cape with 25 901 active cases, Gauteng 21 941 and 13 682 in Free State.
The information is based on the 7 993 126 tests, of which 46 119 were performed since the last report.
The World Health Organisation is reporting 97 464 094 confirmed global cases of COVID-19, including 2 112 689 deaths, to date.
Sources include: AfriForum press statement, SAnews.gov.za