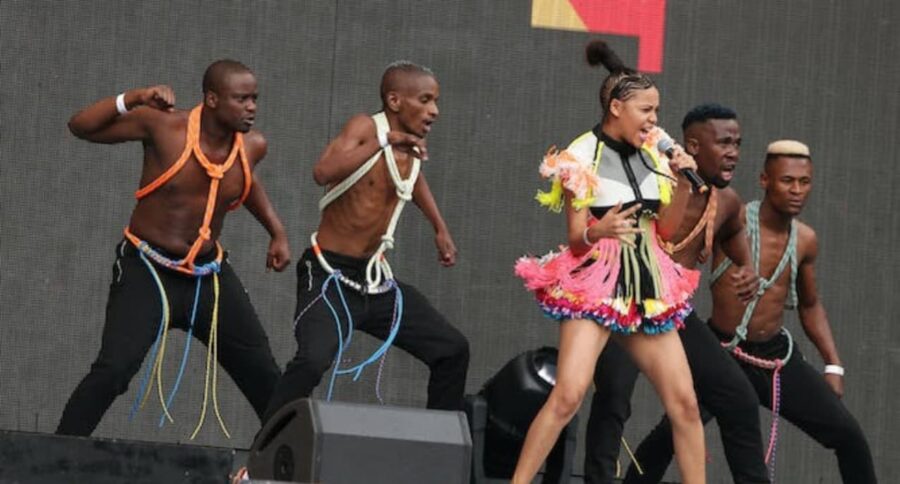 Sho Madjozi: the pop star using traditional culture to shape a fresh identity for young South Africans
Costume, hair and dance allow her to modernise Tsonga culture – and help shape youth identity.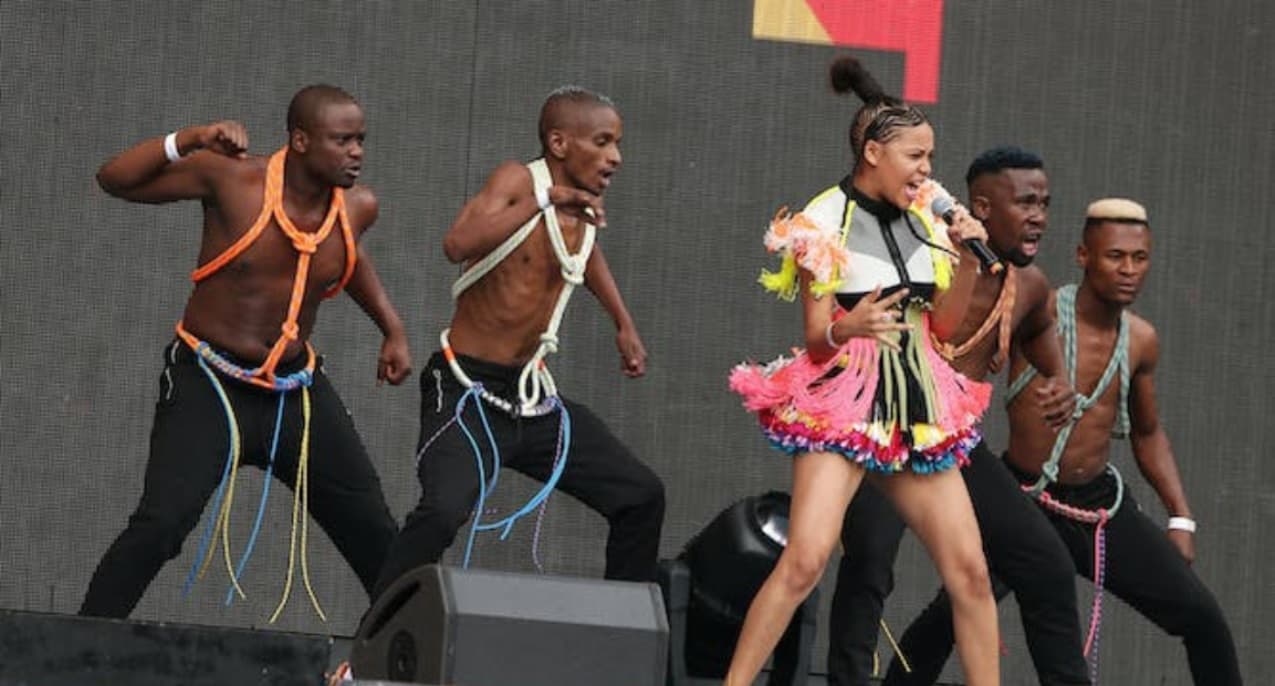 South African rapper Sho Madjozi is a bold and colourful presence in pop culture, as famous for her catchy lyrics as for using traditional clothing and dance in a fresh way.
The musician, actress and poet is also one of very few young South African artists working in a minority language, Xitsonga. With 12 official languages in South Africa, Xitsonga is the first language of only about 4.5% of the population, mostly in the rural northern province of the country called Limpopo. The Tsonga people also live in neighbouring Mozambique, Zimbabwe and Eswatini.
Yet, in 2019, "village girl" Sho Madjozi burst onto the world stage with her hit song John Cena, winning a BET award in the US for Best International Newcomer. By 2021 she had established herself as best female artist at the South African Music Awards.
But Sho Madjozi is about more than music. She's also about setting trends – through reinventing Tsonga costumes, hairstyles and dance. She's done this in a way that helps shape her region's cultural identity.
Cultural identity is not something that's fixed. Identities change, transcending time, place and history. Sho Madjozi shows how this happens when she mixes the authentic culture of the Tsonga people with popular global culture to produce a unique – or hybrid – identity and performance style.
We recently published a research paper that analyses this. We place her as an artist whose work demonstrates a fascinating interface between the "authentic" (Tsonga culture) and the "hybrid" (an innovative new voice, with innovation and novelty being central to the global culture industries).
We conclude that by merging popular and traditional cultures, Sho Madjozi is the latest in a long line of young African artists who help shape youth culture identity. In the process she shines a light on a lesser-known ethnic group, keeping traditional knowledge alive so that others may learn from it and be inspired by it.
Who is Sho Madjozi?
Sho Madjozi was born Maya Christinah Xichavo Wegerif, from a biracial union between her Swedish father and Tsonga mother. This provides a further fascinating framework for the idea of authenticity and hybridity in her work.
In South Africa, colonialism and apartheid suppressed indigenous cultures. Apartheid, introduced by a white-minority government, was a policy based on separate development for different racially categorised people. The law banned sexual relations between people categorised as black and white. Yet people fell in love across the colour lines.
Sho Madjozi's mixed parentage creates a hybrid form of identity because of historical processes of cultural contact, transformation and change among different peoples of the world.
As if to underscore the in-betweenness of her cultural heritage, a considerable part of her youth and childhood was spent in Senegal in West Africa. This also demonstrates the notion of circulation that characterises the contemporary Afropolitan (a generation that is both African and cosmopolitan).
Sho Madjozi chose proudly to adopt a Tsonga signature style in her stage career. She says that, for her, blackness means "not erasing everything that I am … and never accepting a form of beauty where it's as far away from me as possible".
She makes it clear that a pure native identity is simply no longer available. In its place comes a moving map of cultural images and an ever-changing sense of self.
Costume, hair and dance
Characteristically, Sho Madjozi adapts and reinterprets the Tsonga tinguvu skirt, commonly called the xibelani skirt as it's used to perform the traditional xibelani dance. The xibelani skirt is gathered in the waist, accentuated at the top of the hips and consists of many layers of fabric that create a distinctive volume when the wearer dances in it.
Sho Madjozi reinterprets this skirt. She pairs it with modern fashion items, sometimes shortening it or making it longer, reinventing its form. This contrasts and merges indigenous culture with fashion, tradition with modernity, and the local with the global.
She also incorporates vibrant Tsonga colours (pinks, yellows, purples, blues and greens) in her creative reinterpretations of costumes. She does the same with her hair, weaving bright Tsonga colours into it, adorning it with beads, and experimenting with traditional accessories in her cornrows.
The xibelani dance is also central to Sho Madjozi's act. It's native to Tsonga women, where girls learn it to celebrate their heritage and perform it on special occasions. Xibelani means "hitting to the rhythm". The dancer shakes their hips, exaggerated by the skirt, with the whole body following. This is often accompanied by hand clapping and whistling.
Sho Madjozi's colourful and iconic redesigns of Tsonga costume are signs of what it means to be Tsonga in southern Africa today. She uses popular urban youth culture to spread Tsonga xibelani culture in a national space.
She does so in a time when young South Africans often find themselves grappling to retain traditional cultural values in an ever-changing and fast-paced globalising world.
Why this matters
Traditional costume often represents old ways that resist change. Sho Madjozi's innovations around xibelani speak differently. Through her performances, social media image and public profile, she rises above conventional attitudes that often perceive minority ethnic groups as the conservative gatekeepers of unchanging cultures.
She presents Tsonga tradition and culture at the cutting edge of positive identity formation. She does so in ways that inspire, attract and convince other young South Africans to embrace local cultures in their own construction of urban identities.
She acts as a cultural agent for the transmission of positive change and values across ethnic, national and international boundaries.
ALSO READ: WATCH: Little boy steals the show with his DANCE moves
Sho Madjozi embodies the words of Taiye Selasi, the young British-born, US-based writer, photographer and cultural activist of Nigerian and Ghanaian origin. Selasi says:
What distinguishes (Afropolitans) is a willingness to complicate Africa … we seek to comprehend the cultural complexity, to honour the intellectual and spiritual legacy, and to sustain our parents' cultures.
Owen Seda, Associate Professor in Performing Arts, Tshwane University of Technology and Motshidisi Manyeneng, Lecturer in Costume Theory and theatre costumer, Tshwane University of Technology
This article is republished from The Conversation under a Creative Commons license. Read the original article.