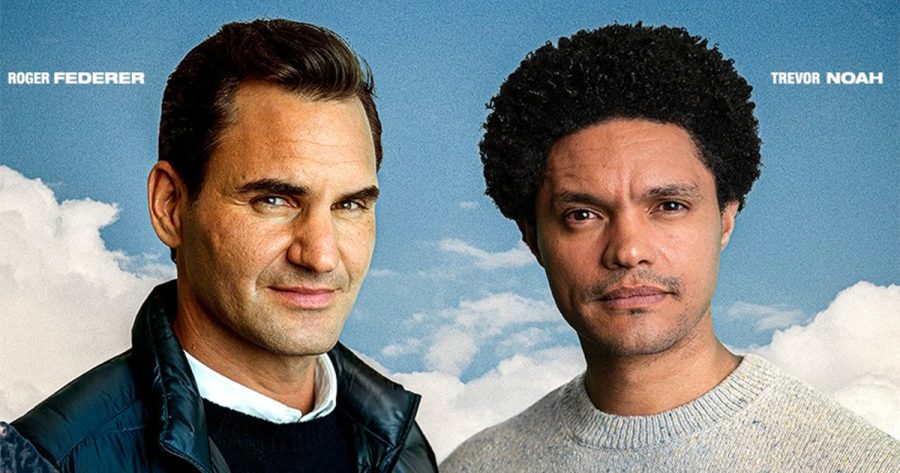 Trevor Noah and Roger Federer team up for Switzerland in Ride of a Lifetime train movie
South African comedian Trevor Noah and legendary tennis player Roger Federer have teamed up to create a movie that will promote Roger's homeland, Switzerland. Trevor posted a poster of the new film on social media, saying: "A little train adventure with my favorite travel buddy Roger Federer! Stay tuned: Our ride of a lifetime movie […]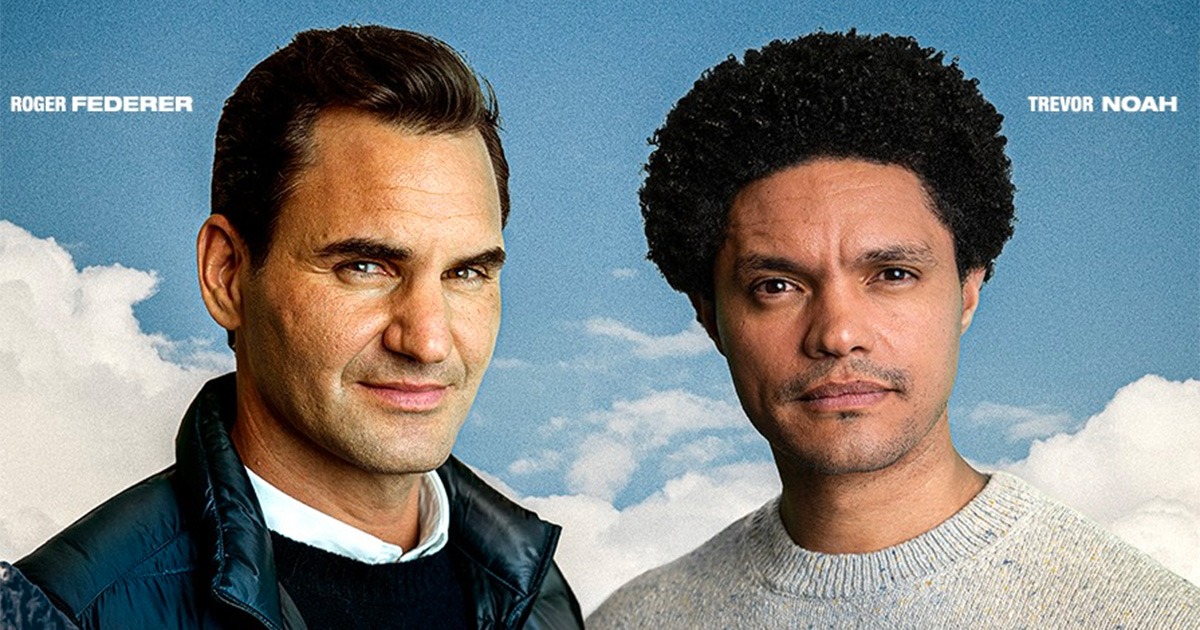 South African comedian Trevor Noah and legendary tennis player Roger Federer have teamed up to create a movie that will promote Roger's homeland, Switzerland.
Trevor posted a poster of the new film on social media, saying: "A little train adventure with my favorite travel buddy Roger Federer! Stay tuned: Our ride of a lifetime movie hits the screens on March 30th on YouTube. ? Switzerland. #ineedswitzerland #grandtraintour"
During an interview with Roger on The Daily Show last year, Trevor pointed out for those in the audience that didn't know that he and Roger have a lot in common: "We both are half Swiss, half South African. (Swiss fathers and SA moms – Patricia Noah and Lynette née Durand.) We both speak multiple languages." They've also both established Foundations that help increase and improve education for children in Africa.
Amidst a lot of laughter, Roger also revealed they "both play tennis", and in fact hold the record for the world's highest attendance at a tennis match (a charity match in Cape Town they participated in with Bill Gates and Rafa Nadal). "I played for over 20 years," joked Roger, "but to break the record I needed you!" To which Trevor replied: "We have between us 20 Grand Slam titles, it's crazy!"
Since Roger retired from professional tennis, his focus is on his family (wife Mirka and their twins – 8-year-old boys and 13-year-old girls) as well as his philanthropy, clothing line, mentoring kids… and promoting Switzerland.
Roger has already produced a few films for Swiss Tourism, including one with Robert de Niro, and with Anne Hathaway. Watch below.
Next up is the docufilm with Trevor to increase tourism in the country, called The Ride of a Lifetime.
During the recent interview with Roger, Trevor recalled how one of the world's greatest tennis players ever had reached out to him during his comedy tour in Switzerland and graciously offered to show him around.
"You're one of the best tour guides of Swiss tourism," Trevor tells Roger. "I learned from you. I put stuff in the show."
Trevor's trip to Switzerland last year had been super special. He said in May 2022: "Switzerland ?? what a surreal experience this was for me. I've always dreamed of visiting my father's country but never dreamed I would do it like this."
Trevor thanked Roger for being not only a great ambassador for Swiss tourism, but also for the sport of tennis… "and honestly, you're a great ambassador for human beings. Thank you for everything you've done…"
WATCH Roger Federer and Trevor Noah
Watch from 15'45" to hear the South African and Swiss references. Or watch it all to enjoy the 20-time Grand Slam champion Roger reflect on his 24-year professional tennis career, his emotional final doubles match with Rafael Nadal, and the time security wouldn't let him into Wimbledon.
WATCH Roger Federer and Anne Hathaway in Grand Tour of Switzerland
This Swiss ad has had over 100 million views!!
WATCH Roger Federer in No Drama with Robert de Niro for Swiss Tourism
Trevor Noah's Off the Record tour dates
If you're in the US, Germany, France, the UK or South Africa – don't miss Trevor Noah on tour. Book here. Trevor will be in South Africa between 31 August and 15 September. Tour dates are:
AUG 31, 2023
GRAND WEST CASINO & ENTERTAINMENT WORLD
CAPE TOWN, SOUTH AFRICA
SEP 1, 2023
GRAND WEST CASINO & ENTERTAINMENT WORLD
CAPE TOWN, SOUTH AFRICA
SOLD OUT
SEP 2, 2023
GRAND WEST CASINO & ENTERTAINMENT WORLD
CAPE TOWN, SOUTH AFRICA
SOLD OUT
SEP 3, 2023
GRAND WEST CASINO & ENTERTAINMENT WORLD
CAPE TOWN, SOUTH AFRICA
LOW TICKETS
SEP 9, 2023
DURBAN INTERNATIONAL CONVENTION CENTRE
DURBAN, SOUTH AFRICA
LOW TICKETS
SEP 10, 2023
DURBAN INTERNATIONAL CONVENTION CENTRE
DURBAN, SOUTH AFRICA
SEP 12, 2023
SUNBET ARENA
PRETORIA, SOUTH AFRICA
SEP 13, 2023
SUNBET ARENA
PRETORIA, SOUTH AFRICA
LOW TICKETS
SEP 14, 2023
SUNBET ARENA
PRETORIA, SOUTH AFRICA
SOLD OUT
SEP 15, 2023
SUNBET ARENA
PRETORIA, SOUTH AFRICA