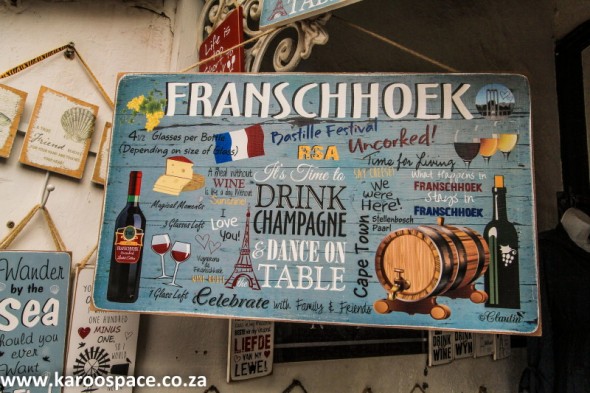 Karoo Keepsakes Goes to Franschhoek
The Franschhoek Literary Festival is one of the Groot Menere of all South African litfests. As authors of the Karoo Keepsakes series, my wife Jules and I normally hang out at smaller gatherings, like the Richmond Boekbedonnerd affair, the Schreiner Karoo Writers Festival at home here in Cradock and WordFest in Grahamstown. In fact, we'll […]

The Franschhoek Literary Festival is one of the Groot Menere of all South African litfests. As authors of the Karoo Keepsakes series, my wife Jules and I normally hang out at smaller gatherings, like the Richmond Boekbedonnerd affair, the Schreiner Karoo Writers Festival at home here in Cradock and WordFest in Grahamstown.
In fact, we'll do a pop-up book show for just about anyone who asks us, because it's fun to show people our photographs and tell them our quirky Karoo stories.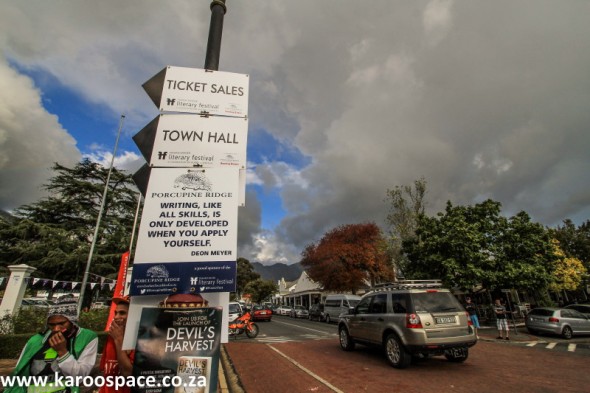 Story & Pix by Chris Marais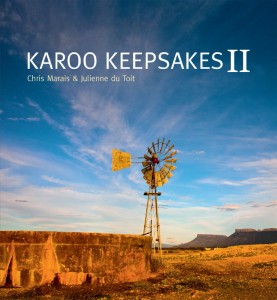 We give a slide show and then hustle books in the parking lot afterwards – like a couple of true Karoo smouse.
So this year we were invited down to the Land of Corn and Wine (Western Cape) and, like two Huguenots on speed, we packed the bakkie full of books, grabbed a guitar and sped down to Franschhoek before they changed their minds.
The route we take to the Cape is, arguably, the most magical road trip in South Africa.
You leave Cradock, hang a left to Graaff-Reinet and head south past Aberdeen to Willowmore, stopping at every early-light-windmill along the way.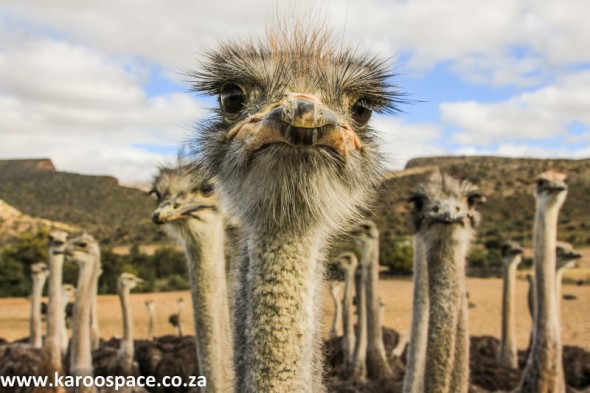 At Willowmore you drink a cappuccino at Sophie's Choice, compliment that biker in the corner on his shiny Harley and take the road west to De Rust.
You sleep over in Prince Albert, meet a few ostriches on the way and hit the R62 the next day. And don't ever forget to stop at the Smitswinkel Padstal about 30km west of Oudtshoorn for one of their superb omelettes, with a view of the Red Mountains in the distance.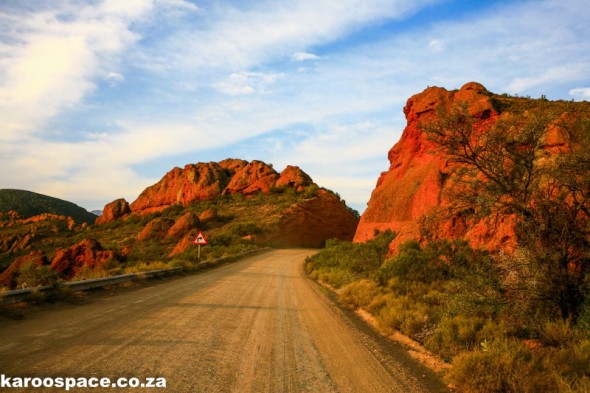 Eventually, as we topped the ridge of the Franschhoek Pass and looked down at the village below, we did the Huguenot thing and decided to settle here.
And, in fact, we did – for a week. We fell easily into the coffee culture, the sidewalk-dining, the friendly pace of Franschhoek and the autumn vibes of the vineyards.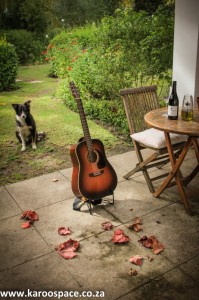 Our Karoo shows were all sold out. They'd booked us a quaint little movie house that seated 30 people and another six up the aisles – if they sat on the steps.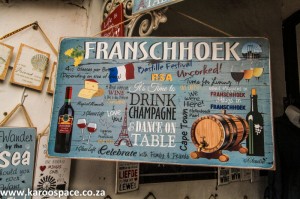 You have to believe that the people who come to these shows have seen the world. They're mostly Old Money, mossy heads and adventurous.
And, judging from the reaction to some of our landscape material, I think they're all going to be doing road trips to the Karoo this year. Hopefully, they'll be using Karoo Keepsakes I and II as travel companions.
So we networked, drank wine, ate cheesy things and talked books all week.
And then we headed home along the N2 to Swellendam, hung a left through the Tradouw Pass and had an impromptu photo session with a very languid baboon troop at roadside.
After a long day's drive we topped the Wapadsberg Pass and looked out over the Karoo Heartland, our back yard. And it had taken on the golden brassy tones of winter already.
Soon we would be back with our German Shepherd (long-hair variety), lighting a fire in the lounge and toasting a week in the Land of Corn and Wine with a soothing mug of camomile rooibos tea. Home sweet home.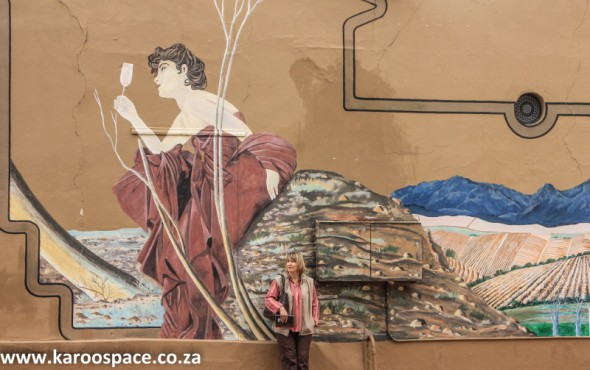 Chris and Julie are launching their Karoo E-Bookstore at the end of June, when they will be presenting five Karoo books. Look out for them on www.karoospace.co.za.