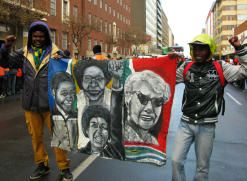 Women in the struggle remembered
The courageous women who marched to the Union Buildings on 9 August 1956 in protest against pass laws were honoured for their contribution in a colourful ceremony on the same day 57 years later, in Tshwane. These days, 9 August is National Women's Day, and although its aim is to contribute to the empowerment of […]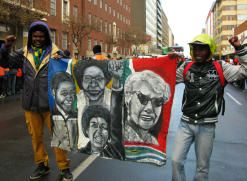 The courageous women who marched to the Union Buildings on 9 August 1956 in protest against pass laws were honoured for their contribution in a colourful ceremony on the same day 57 years later, in Tshwane.
These days, 9 August is National Women's Day, and although its aim is to contribute to the empowerment of women in today's society, its roots lie back in 1956 when 20 000 women sought to deliver petitions to then prime minister JG Strydom, and express their outrage at the demeaning legislation that forced black people to carry permits, or passbooks, when travelling outside their townships or designated areas.
Even earlier, women a century ago protested in the Free State against the imposition of pass laws – those 1913 protests were led by Charlotte Maxeke.
In 1956, the Union Buildings march was co-ordinated by the Federation of South African Women and led by Lillian Ngoyi, Helen Joseph, Rahima Moosa and Sophia Williams-De Bruyn – the only one of the four leaders who is still living.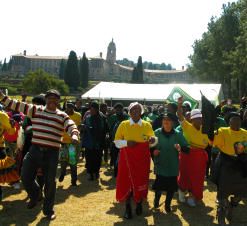 Women throughout the country had put their names to these petitions indicating their anger and frustration at having their freedom of movement restricted by the hated official passes.
Reliving the women's march
Gauteng MEC for agriculture and social development, Nandi Mayathula-Khoza, led hundreds of women, young people and community members on a 3.5-kilometre walk to the Union Buildings, the seat of the South African government.
They relived the day by walking the same route as the women of 57 years ago.
Mayathula-Khoza was joined by MEC for community safety, Faith Mazibuko and the MEC for sports, arts, culture and recreation, Lebogang Maile.
The theme for this year's celebration was Unity in Action for Women's Socio-Economic Empowerment.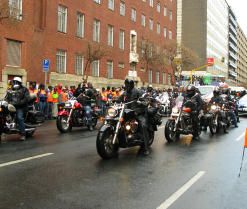 At the Union Buildings, Mayathula-Khoza, on behalf of Gauteng premier Nomvula Mokonyane, addressed the crowd who had already gathered to celebrate Women's Day.
Mayathula-Khoza said gender based violence, poverty and joblessness remained the three biggest challenges facing women today.
"Sexual violence against women and rape remains a huge challenge in our society. Poverty and poor living conditions have added to women's vulnerability to violence and increased risk of contracting sexually transmitted infection," she said.
Mayathula-Khoza said the government had strengthened victim support through the existing 200 victim empowerment centres, which offer psycho-social and medico-legal support services, among others.
"We have continued placing focus on the Ikaya Lethemba Centre, as we appreciate the positive role the centre has played in helping abused women and children recover and get back on their feet again," she said.
Fighting against patriarchy
Tshwane mayor Kgosientso Ramokgopa said the fight against patriarchy was not yet over and was manifesting itself differently.
"We must restore the dignity of our people and that's why the struggle of women still remains important," he said.
Ramakgopa also implored young women to stay away from so-called sugar daddies, citing that they destroyed lives.
Maile said the sacrifices made by the courageous women in 1956 had made it possible for the nation to make pilgrimages to the Union Buildings to honour their efforts.
"Through their commitment, these women are role models for all women and have been a voice for some of our most at risk and marginalised people," said Maile.
The march was followed by performances from leading South African female singers, including Nadine, Mafikizolo, Rebecca and Zahara.
By: Rudo Mungoshi
Source: www.mediaclubsouthafrica.com