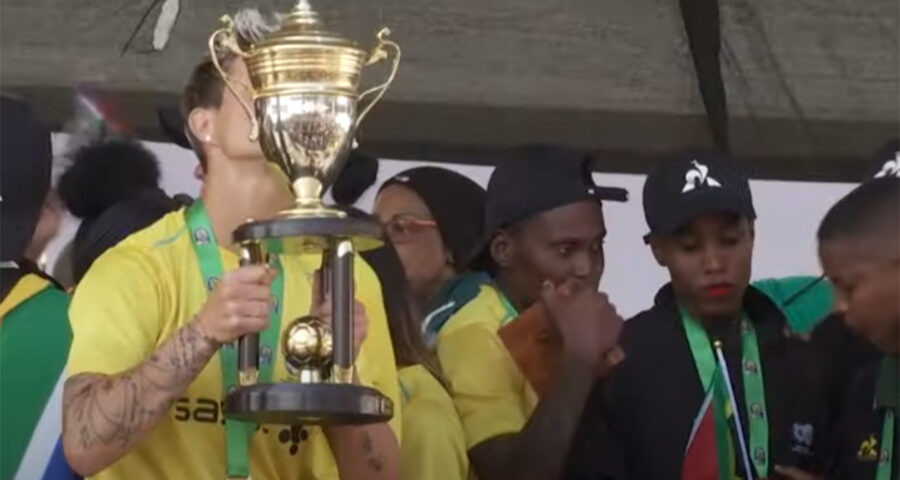 Bafana Bafana's Desiree Ellis Tells Carte Blanche: Women's Football Is On The Rise
Since her playing days, Desiree Ellis had always dreamt of lifting the coveted Women's Africa Cup of Nations with Banyana Banyana. But for years, the women's national football side was a team largely ignored and unsupported… Champions of Africa Later appointed the national women's coach, Ellis kept trying until years of dedication and perseverance culminated […]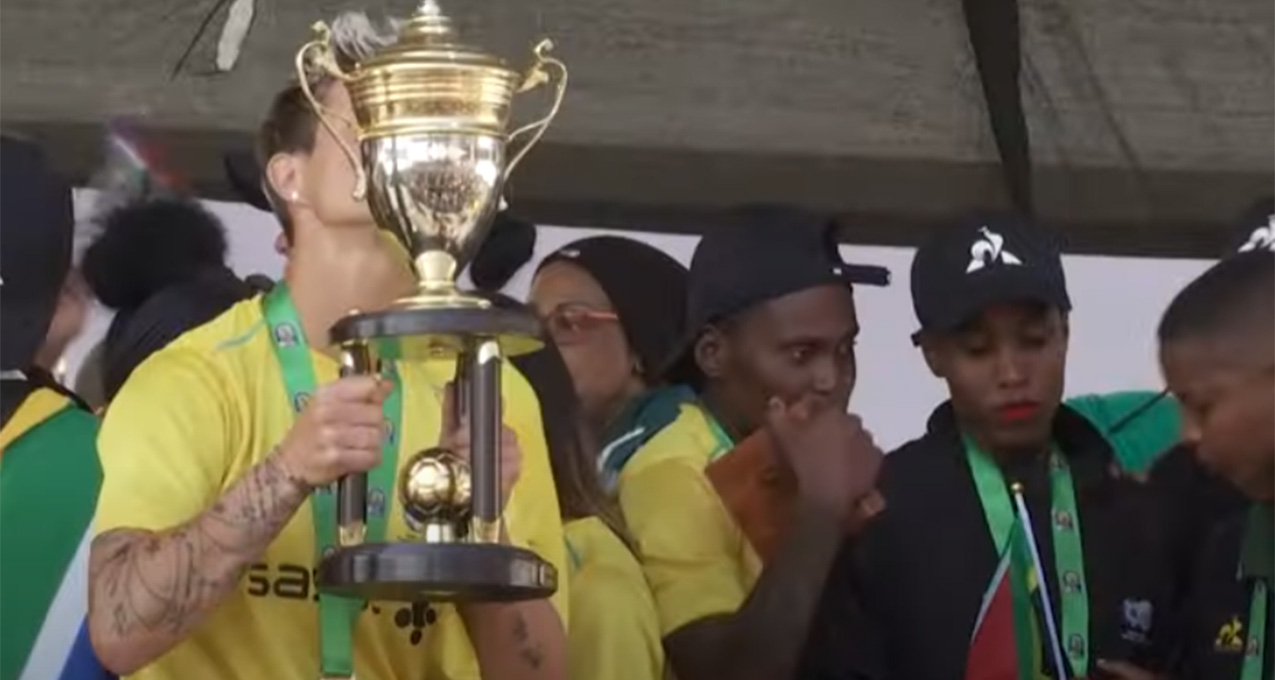 Since her playing days, Desiree Ellis had always dreamt of lifting the coveted Women's Africa Cup of Nations with Banyana Banyana. But for years, the women's national football side was a team largely ignored and unsupported…
Later appointed the national women's coach, Ellis kept trying until years of dedication and perseverance culminated in one spectacular night in July when Banyana Banyana finally were crowned the Champions of Africa! Now, the women's game is gaining momentum the world over, evidenced by the record-breaking crowds at the recent European Championships in England. Could our African triumph herald a new dawn for women's football in South Africa? (Producer: Diana Lucas | Research: Siniketiwe Hlanze | Presenter: Claire Mawisa). John Webb, Executive Producer of Carte Blanche says:
"I remember well that afternoon in the stands at FNB Stadium: Bafana Bafana thumped Tunisia on their way to ultimately winning the Africa Cup of Nations. Those were better days for our men's team, now a shadow of their former selves, unable to qualify for World Cups or win anything substantive. And as they've slipped into sporting oblivion, our national women's team, Banyana Banyana, is filling the void. Surely, they deserve pay parity and a professional league in return."
Watch the show overseas | Watch in SA on DStv Now
https://youtu.be/tJrn2X4HVFA
Also on Carte Blanche this Sunday  28th August
Imagine getting arrested and sent to prison for something you didn't do. That's the horrifying fate of some remand detainees being held in South Africa's most notorious maximum-security prisons. They say police are failing to properly investigate allegations before sending people to jail, with some landing behind bars after a single spurious complaint. For many, there's no recourse. Are the police being used to settle personal scores? And could you be next? Carte Blanche investigates. (Producer: Joy Summers | Research: Laura Byrne | Presenter: Derek Watts)
Watch the show overseas | Watch in SA on DStv Now
https://youtu.be/lUQyO2yvNyI
This month marks ten years since the massacre at Marikana, where police shot and killed 34 striking miners. Despite the findings of an independent inquiry, no one within the police has been held accountable. Yet, evidence suggests police abuses didn't end on the day of the shooting. In the weeks after the massacre, scores of miners were arrested, many claiming they were assaulted or tortured. Never-before-seen documents now reveal how police management unilaterally exonerated 77 officers implicated in these assaults and torture cases. Ten years on, there is every indication that the brutality at Marikana, and the lack of accountability that followed, is systemically rooted within the culture of the police service. No clearer is that demonstrated than in CCTV footage captured on the streets of New Germany north of Durban showing the premeditated killing of a defenceless suspect. (Producer: Daneel Knoetze | Presenter: Macfarlane Moleli)
Watch the show overseas | Watch in SA on DStv Now
https://youtu.be/aMOK40zWMD8
You can watch CARTE BLANCHE on Sunday 28 August in South Africa on DStv Now or stream it overseas in most countries from 30 August if you're abroad.
Watch the show overseas | Watch in SA on DStv Now
If you're in SA – you can watch Carte Blanche on DStv Now.
If you're overseas – you can watch #CarteBlanche from Tuesdays, and thousands of other popular local South African shows & movies by subscribing to Showmax International now. You can try it FREE for 14 days. 
HEAR it All
Sami Hall Says
Sami Hall grew up wanting to be a star. But she soon realised the road to fame isn't always straightforward. As adulting pushed her dreams aside, she turned to TikTok to give her inner actress a voice. Little did she know this was exactly what would place her in the comedic spotlight.
The Night Shift
Even for the most highly trained emergency specialists in Mitchells Plain's trauma centre, the caseload is becoming nearly unbearable. We're given an all-access pass to see what happens behind the frontline on a Saturday evening.
Welcome to Funny Farm
There's a market for everything at Funny Farm, an informal settlement in Alberton, Gauteng. Anything from drugs to weapons and, in some cases, even children, are for sale. We go inside this criminal cesspool.
Carte Blanche is on M-Net & M-Net HD [101], 28 August 2022  at 19:00 & again on M-Net Plus 1 [901] at 20:00
***
Please note: Carte Blanche is only available to international Showmax subscribers in Andorra, Australia, Austria, Belgium, Denmark, Finland, France, Germany, Greece, Iceland, Indonesia, Ireland, Italy, Liechtenstein, Luxembourg, Malta, Monaco, Netherlands, New Zealand, Norway, Portugal, San Marino, Spain, Sweden, Switzerland, United Kingdom. Not all titles are available in all territories. Showmax brings you the best South African series and movies, from the classics to the latest releases, from complete box sets to kids' favourites.