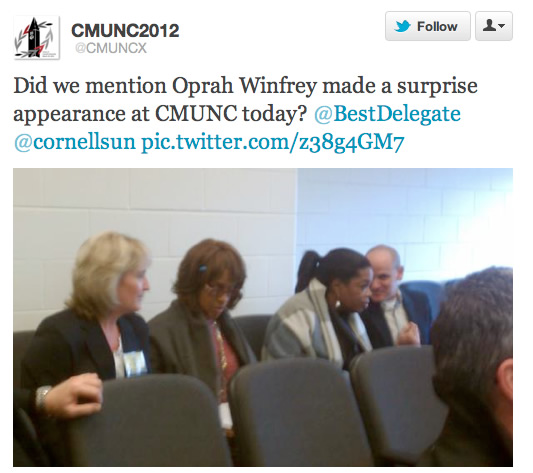 Oprah Surprises with Student Support
Oprah Winfrey paid a surprise visit to Cornell University, in New York, over the weekend to support two of her South African students who were taking part in a debate. Cornell was hosting the annual Cornell Model United Nations Conference (CMUNC), and Oprah decided at the last minute to turn up and watch her students […]

Oprah Winfrey paid a surprise visit to Cornell University, in New York, over the weekend to support two of her South African students who were taking part in a debate.
Cornell was hosting the annual Cornell Model United Nations Conference (CMUNC), and Oprah decided at the last minute to turn up and watch her students from the Oprah Winfrey Leadership Academy for Girls…which created a logistical nightmare for the organisers, but one they were proud and delighted to 'endure' judging by their excited tweets.
The organisers were only informed 30 minutes beforehand that Oprah would be present. According to Richard Kang, CMUNC's secretary general "calming the students down was a big thing. We have 600 high school students here, and they were really excited to see the super, super celebrity."
On the whole Oprah sat at the back of the debate rooms to avoid causing distraction (see photo), and let the debaters do their debating.
She later tweeted "2 of my girls are on team. Proud moment" and on Monday she spoke about the students and the boarding school she founded in South Africa, on CBS (see video below).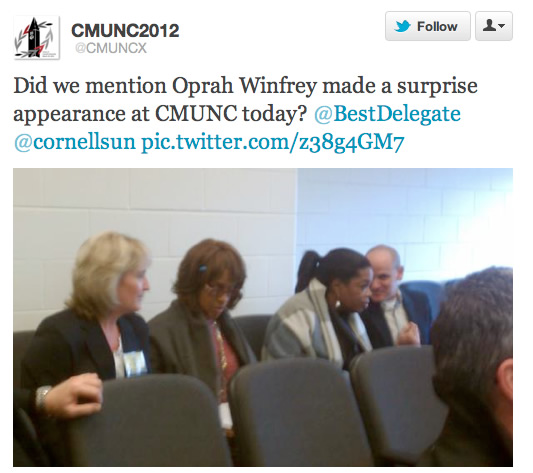 This was the tenth year of the annual high school model UN conference.
According to the CMUNC website, "CMUNC encourages awareness about international issues through high-level discussion and debate in a wide array of historically, geographically, and topically diverse committees. Attracting delegates from across the United States, Canada, South Africa, China, and elsewhere around the globe, CMUNC has grown dramatically in size since its inception. Today the conference is proud to host over six hundred fifty students annually."
Watch Oprah talk about her students and the Oprah Winfrey Leadership Academy for Girls (it starts at about 11:38):