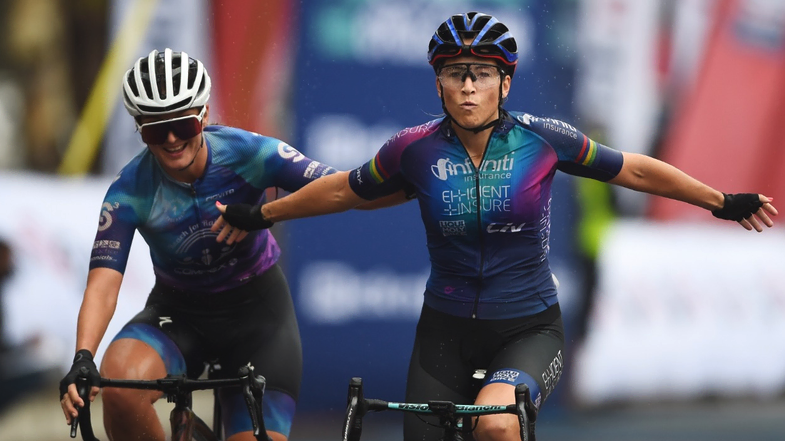 Cycle Tour Hat-Trick for Kim Le Court De Billot in Cape Town
Kim Le Court De Billot (Efficient Insure Infiniti) won her third Cape Town Cycle Tour, while 22-year-old Marc Pritzen (Honeycomb) took his first win in the elite men on a day when wet weather swept the region. The Mauritian Le Court De Billot won the 78km women's elite event in 2hr 8min 5sec ahead of […]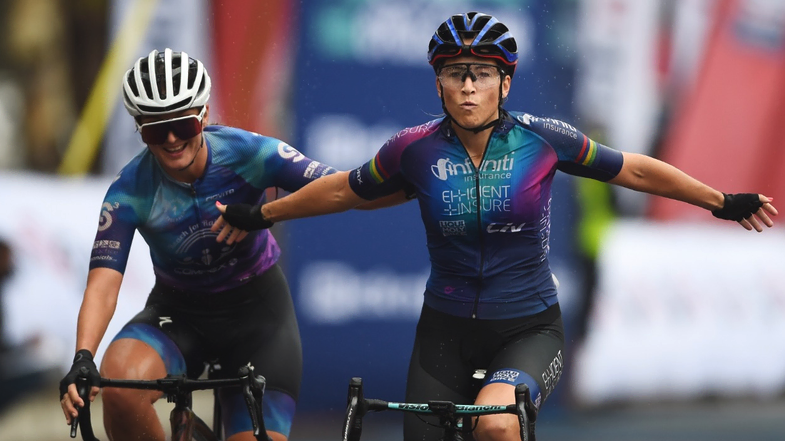 Kim Le Court De Billot (Efficient Insure Infiniti) won her third Cape Town Cycle Tour, while 22-year-old Marc Pritzen (Honeycomb) took his first win in the elite men on a day when wet weather swept the region.
The Mauritian Le Court De Billot won the 78km women's elite event in 2hr 8min 5sec ahead of former SA road champion Hayley Preen (Reach For Rainbows) and mountain biking star Candice Lill.
"It was probably my most exciting Cycle Tour yet. I knew coming into today that the women's field was really strong and this Cycle Tour was probably the best Cycle Tour to win," Le Court De Billot said. "It was great to win in front of my whole family as well."
For Pritzen, he said: "Winning this race is the dream. I've won many races in South Africa but this is the biggest one. The weather suited me because I like it when it's wet. So when I woke up this morning I knew that this was my best chance at winning."
Women's Race – Cape Town Cycle Tour
In the women's race it was first Lill and then Le Court de Billot that opened up the race as they headed down through Ocean View and Masiphumelele.
The two were eventually caught by the bunch on the lower slopes of Chapman's Peak but again split the group on the climb. By the time the women reached Hout Bay the lead group had swelled again but Preen attacked up Suikerbossie and took both Le Court De Billot and Lill with her. Lill then tore up the hill to open up a gap on the rest of the field.
The three worked together until the final kilometre before Le Court De Billot's sprinting saw her add to the titles she won in 2018 and 2021.
Men's Race – Cape Town Cycle Tour
The 2021 SA road champion Pritzen won the men's 109km event in 2:37:55 ahead of German cyclo-cross pro Sascha Weber (Madmacs) and HB Kruger.
The men's race saw a large group, including Pritzen, pull clear early but the numbers thinned out as they climbed Chapman's Peak and then Suikerbossie.
By the time they reached the top of Suikerbossie, Pritzen, Weber, Kruger and Byron Munton had formed a decisive breakaway.
In the final kilometre Munton blinked first and it was Pritzen who came through strongest in the race for the line.
Source: TeamSA