Down the !Gariep River by kayak
The !Gariep River – which is also known as the Orange – is South Africa's longest river, at over 2 000km, and it takes 61 days to paddle from source to sea. We know this because three men stepped out of their kayaks in mid-March after completing the trip. In what has been billed […]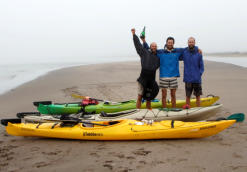 The !Gariep River – which is also known as the Orange – is South Africa's longest river, at over 2 000km, and it takes 61 days to paddle from source to sea. We know this because three men stepped out of their kayaks in mid-March after completing the trip.
In what has been billed as the first eco-census of the !Gariep, the three – from the University of Cape Town (UCT) – James Puttick, Sam Jack and Ian Durbach, came back with some "pretty weird calluses", but more importantly, with valuable data.
The 2 125km river starts in the high mountains of Lesotho on the eastern side of the continent, where it is known as the Senqu. It creates the borders of several provinces, cutting through the centre of Northern Cape, and separating South Africa from Namibia before it empties into Alexander Bay on the Atlantic Ocean – on the western coast of southern Africa.
Averaging 40km a day, after two months it was good to paddle on to the beach and smell the salty air of the Atlantic Ocean, say the three. "The last few kilometres were a lovely paddle through lifting mist and fog in the soft dawn light, with the smell and roar of the Atlantic growing slowly stronger," they say on their blog, Senqu2Sea.
"We must have arrived at the changing tide, because we were able to paddle right up to the river mouth, being washed ashore for the final time by small wavelets. A few local fishermen were already at their business nearby. As we hauled our boats ashore it didn't feel as if anything was out of the ordinary."
The expedition, called Senqu2Sea, was supported by UCT's Plant Conservation Unit, the Mazda Wildlife Vehicle Fund, and the National Research Foundation's South African Environmental Observation Network (SAEON). Puttick and Jack are biologists, with masters' degrees in botany and conservation biology, and Durbach is a statistician, with a doctorate in statistics.
"My research has mainly focused on a specific species (the Aloe dichotoma or the quiver tree) in the arid south-western parts of southern Africa, but I have a broader interest in ecological systems," says Jack.
Puttick is busy with a PhD thesis focusing on an assessment of land cover change and its causes in Eastern Cape and southern KwaZulu-Natal. He is also a skilled photographer. Durbach's chief interests are in multi-criteria decision analysis and behavioural decision making. More recently,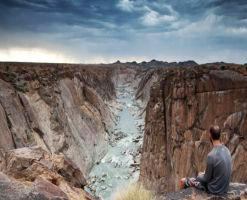 his focus has shifted to applied statistical problems in the fields of energy and ecology.
On the trip, Puttick was responsible for the photographic component of the data collection and for recording the daily list of animal (mainly bird) sightings. Durbach was responsible for recording locality and descriptive information for a number of things, including weirs, bird sightings and water abstraction points, and helping with diatom sampling. Jack was responsible for diatom and isotope sampling, and recording of certain location information, such as 2km river photo intervals, fishing and mining activity and general navigation.
Puttick returned with a vast collection of dramatic and beautiful photographs which document the river at 2km intervals and from various elevations along its banks, capturing the surrounding landscape, its geology and flora.
Memories and mishaps
With virtually no paddling experience, the three have stepped out their boats with enough stories to last a long time – such as an unusual sighting. Late one night they were woken to thrashing sounds coming from the river. The light of their torches revealed the heads of dozens of large barbell, their mouths open above the water. "We'd seen this phenomenon at our camp below the Kum-Kum Falls, and had debated whether it might be some form of migration, perhaps to deeper water," says Durbach on the UCT website.
"However, the aggressive splashing and herding formation in the direction of the shallows suggested some kind of pack-hunting strategy. Indeed, closer inspection revealed numerous smaller fish hiding in the shallowest water between rocks and pebbles."
Other memorable experiences include paddling up to a herd of gemsbok swimming across the river, only their heads and horns visible. There were minor mishaps, especially when facing rapids with names like Sjambok, Rollercoaster and Rocky Horror. Despite this, they had only one disaster, when Jack's and Puttick's kayaks sustained tail damage in a weir. Luckily for them, a local manufacturer of plastic water tanks fixed their boats promptly.
Samples taken
In all, 61 diatom (water algae) samples were collected every 40km along the river, 53 isotope or water samples were taken from the Senqu and !Gariep rivers, over 1 400 GPS locations of interest were charted, including places where water was extracted for irrigation, mining or human consumption. Ornithological data consisting of daily bird lists as well as more detailed locations of selected species like goliath heron, giant kingfisher and African fish eagle, were also recorded.
The results of the diatom samples will only be available at the end of the year. These were taken for a SAEON project led by Dr Jonathan Taylor at North West University. Roger Diamond, who leads an oxygen isotope project in UCT's department of geology, will study the water samples to get a picture of the different conditions in the tributaries during rainfall highs and lows.
The photographic record of the river is important as a baseline for future researchers to return and reproduce the images, noting the changes over a specified period. As it is, the river is not in its original state as a seasonally dry river because the periodic dams along it have meant it flows all year round. Each photograph has a GPS position to provide a good visual baseline for assessing the impact of broader climatic changes as well as policy decisions on the management of the river on the surrounding vegetation.
The data collected on bird sightings will be integrated with other existing ornithological data sources like the South African Bird Atlas Project. While parts of the !Gariep are quite densely populated and hence well represented in terms of bird sightings, the new data should prove particularly useful in improving the reliability of information in the relatively under-populated western portion of the river.
Water quality changed significantly along the length of the river, the researchers noted, with extremely silted samples collected in parts of Lesotho after heavy rains suggesting unchecked erosion. Silted water also posed challenges for their drinking needs, and water took several hours to filter every day. "We had to plan camps so that they were positioned near side channels where we could get less silty water. Even when this was the case, we had to filter water on a daily basis for cooking and drinking," explains Jack.
Challenges
Other challenges were head winds, particularly on the dams they had to cross, where there was no current to push them along. Wind on dams also meant big waves which slowed down progress. They solved this by paddling close to shore where it was less windy, or waiting for calmer conditions.
Portaging dam walls or waterfalls was hard work, they say, involving several trips to carry gear and food, then dragging the boats over rocks and down steep river banks. The heat, particularly below Augrabies Falls in Northern Cape, was "difficult to describe". They "struggled to stay cool and had many sleep deprived nights because it was just too hot to relax!" The temperatures often went above 40°C.
Navigation through the diffuse sections above and below the falls was sometimes slow and tricky. They learned patience and made full use of GPS technology. "It also made us appreciate the normal single channelled river when we finally made it through the tangle of reeds!"
Plastic touring kayaks were used, which have ample storage capacity. This meant that the three could carry enough food for about a week to 10 days, allowing them to restock from towns that were closer to the river. "Our longest stretch without a proper resupply was probably the initial section from Qacha's Nek to Aliwal North, which was about 10 days."
Alien vegetation
The team noted alien vegetation along a good deal of the river. The upper reaches of the Senqu are heavily invaded by silver wattle or Acacia dealbata, and black wattle or Acacia mearnsii. To a lesser degree, grey poplars or Populus spp have colonised the river banks in patches. Black poplars are also visible down the river, near to the !Gariep Dam. "These species are root succouring and extremely hard to eradicate."
After the !Gariep and Vaal river confluence in Northern Cape the team noted a dominance of Prosopis glandulosa (mesquite), and occasional blue gums, or Eucalyptus spp. "Prosopis remains dominant, to the same degree as Acacia dealbata (ie impenetrable thicket lining the riverbanks) for much of the middle and lower course of the river. It only drops out when conditions become hyper-arid in the Richtersveld [in the Northern Cape] and on the desert plains to the west."
Jack finds the aliens problematic. "As a botanist, I see the prevalence of alien species along the riverbank as an ugly scar of human short-sightedness and mismanagement. I wonder what the banks would have looked like before the alien species took hold."
But he cautions that the aliens do perform a valuable function to those living along the river. Cattle find shelter from storms or midday heat under the shade of the trees, and the pods provide fodder for them. The branches provide building material or firewood in areas that are usually barren of trees. "While I would rather the trees were not there, I think it is important to consider the benefits [they] provide," he says.
Quiet moments
As for quiet moments on the trip, they took a day off every week or two, to catch up on data recording, updating their diaries, or planning for the following day. They would generally relax in the late afternoons after the day's trip. A pot of coffee would be made, and the conversation would be about the day past. "There was very little serious conversation and most of the time we were joking about this or that."
Yet those days off were often their busiest times as they had to compose blog entries, sort photographs, mend or service equipment, and resupply. Charging of GPS equipment, mobile phones, cameras and laptops was done with the aid of a solar charger. This works by charging a battery, which stores energy, which can then be transferred to the devices. Power from the Eskom national grid was still required from time to time, and was used when they stayed at a campsite. There were few rest days when they would get to bed before midnight.
"Southern Africa is full of adventurous potential, and friendly people, should you need some help with directions. We live in a corner of the world where you can get lost, and find yourself, just as easily. What's more, it doesn't need to involve a huge financial outlay, or a massive carbon footprint," they say on their website.
"So next time you're in need of some rejuvenation, go beach camping up the West Coast, go walking in the Cape mountains, or go cycling on some quiet farm roads. There are rich memories out there to be made, and the stars will light your way (except in Alexander Bay)…"
By: Lucille Davie
Source: www.mediaclubsouthafrica.com