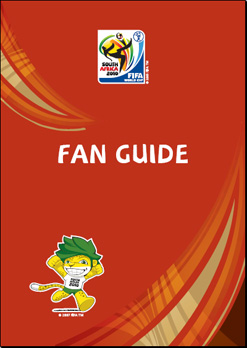 Get the World Cup Fan Guide
With just over 40 days to go until kickoff, the 2010 Fifa World Cup Organising Committee has released a comprehensive, easy-to-read and colourful 92-page guide to the tournament, packed with practical information on stadiums, host cities, fan parks and much more. There's useful information on everyday matters such as banking and food, as well as […]

With just over 40 days to go until kickoff, the 2010 Fifa World Cup Organising Committee has released a comprehensive, easy-to-read and colourful 92-page guide to the tournament, packed with practical information on stadiums, host cities, fan parks and much more.
There's useful information on everyday matters such as banking and food, as well as tips on safety and staying healthy. The guide also has advice on transport – road, rail and air – as well as accommodation and communication.
The section on stadiums is particularly useful, with maps showing how to get to each stadium, where to buy tickets, the nearest airport and transport nodes, as well as detailed layout plans of all of the stadiums indicating gates and seating. Also provided are rules on stadium conduct and items prohibited in the stadiums.
The handbook also explains the history of South Africa, and has a nifty guide to South African slang.