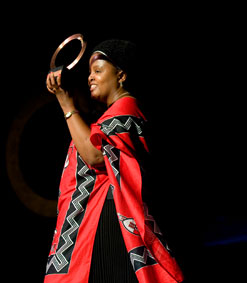 Swazi Attorney wins Green Nobel Prize
by Janine Erasmus Swaziland's Thuli Brilliance Makama is one of six recipients of this year's prestigious Goldman Prize for outstanding environmental work. The Goldman Environmental Prize, often referred to as the Green Nobel Prize, is the most generous award of its kind, and one of the most coveted by champions of the earth. Makama, an […]

by Janine Erasmus
Swaziland's Thuli Brilliance Makama is one of six recipients of this year's prestigious Goldman Prize for outstanding environmental work.
The Goldman Environmental Prize, often referred to as the Green Nobel Prize, is the most generous award of its kind, and one of the most coveted by champions of the earth.
Makama, an environmental lawyer, joins five other laureates from regions around the world who have been honoured for their fearless work in saving the planet, ranging from stopping the harvesting of shark fins in Costa Rica, to elephant conservation in Cambodia and sustainable agriculture in Cuba.
The other winners are involved in protection of sensitive ecosystems in Poland, and the welfare of livestock on large-scale industrial farms in the US.
The award ceremony took place at the San Francisco Opera House in late April 2010.
Previous winners include renowned Nobel Peace Prize laureate Wangari Maathai from Kenya (1991), environmental activist Sven "Bobby" Peek of South Africa (1998), and the courageous Silas Kpanan' Siakor of Liberia (2006), who uncovered evidence that former president Charles Taylor funded his 14-year-long civil war with profits from rapacious logging. The UN banned all exports of Liberian timber as a result.
Established in 1990 by philanthropist Richard Goldman and his wife Rhonda, the Goldman awards are made annually to six winners from the major geographic areas of Africa, Asia, Europe, North America, South and Central America, and Australasia. Each prize is worth US$150 000 (R1.1-million) and is awarded unconditionally.
To date, 139 people from 79 countries have taken the honours. Nominations are submitted by environmental organisations and individuals from around the world, and are confidential. They are reviewed by an international panel of jurists, who choose the winners.
The jury includes Goldman himself, his sons John and Douglas, and daughter Susan Gelman, all vice presidents of the Goldman Foundation. Anwar Fazal, former advisor to the UN Development Programme in Malaysia, former Costa Rican environment minister Alvaro Umaña, British environmental journalist Geoffrey Lean, and Yolanda Kakabadse, former president of the International Union for the Conservation of Nature, are also on the panel.
Winners don't only receive the cash prize, but also gain priceless international exposure for their causes, including media conferences and meetings with influential political, financial and environmental leaders.
Speaking at the ceremony, Goldman expressed his admiration for the courage and determination of the winners. "Their commitment to fighting for a better future illustrates the perseverance of the grassroots environmental movement around the world.
Taking on the big guns
The go-getting Makama works in the public interest, and is the only such legal specialist in her country. She received her BA (Law) and LLB degrees from the University of Swaziland and later completed an MSc in environmental assessment and evaluation with the London School of Economics.
Makama is a director of Yonge Nawe, an NGO based in Mbabane, a position she has held since 1996. Yonge Nawe (siSwati, meaning "you too must conserve") is an organisation that campaigns for environmental justice. She is also a partner in the Environmental Law Alliance Worldwide, a global network of activists, and the organisation that nominated her for the Goldman Prize.
She was deservedly honoured by the Goldman Foundation for winning a three-year legal battle which resulted in environmental NGOs being able to officially have their say in the process of environmental policy decisions.
The Swazi Environment Authority Act had been amended in 2002 to allow for representation on its management board of at least one relevant NGO for any decision-making. However, the environmental minister deliberately ignored the decree and excluded all NGOs.
This left Makama no option but to bring the matter before the bench, not only because the minister was breaking the law, but also to prevent a precedent from being set. She challenged the minister in the Swazi High Court, saying that her management board was illegal.
The court made its ruling in April 2009. "It took three years of back and forth before we got the decision," Makama told the Discovery Channel's Planet Green portal, "but the court finally agreed with us. We see this as a victory because we find ourselves struggling – not only in my organisation but in a number of organisations – to get information from government."
Fighting for the people
Makama continues to fight against the forced relocation without compensation of rural people from their traditional lands to make way for commercial operations, such as tourist-luring game parks, and the often brutal treatment of communities by reserve owners.
At great personal risk to herself and her staff, Makama is currently taking on a private company called Big Game Parks, which owns and operates several reserves in the landlocked kingdom. This company is protected by a royal amendment of the Game Act which grants its rangers immunity from prosecution for any action, as long as that action is deemed to be for conservation purposes.
Makama wants Big Game Parks to be held accountable for forced evictions off traditional land now owned by the company, and ongoing harassment and even murder of suspected poachers, who in many cases are just destitute people trying to feed their families after losing their land and means of growing crops.
She cites the case of young Musa Gamedze, who in 2008 was shot and killed at his home, in front of his wife and children, after being accused of poaching. Gamedze is just one of a number of such victims.
However, King Mswati III, who has the power over the Swazi Parliament and the judiciary, made the legislative change himself and now the company claims his protection. Communities bordering company-owned land, who are largely uneducated, are politically powerless, and fear for their safety.
They have placed their hopes in Makama and her organisation, but the legal process is slow. A date for a hearing has not yet been set, although papers were first filed four years ago.