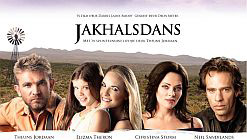 Jakhalsdans Afrikaans movie a hit
by Bongani Nkosi Jakhalsdans, a new South African film, has become an almost instant box office hit, setting new standards for the Afrikaans-language movies. The feature film, which opened in South African cinemas on 23 April, earned R600 000 (US$80 123) in its opening weekend, making it the most popular Afrikaans motion picture since the […]

by Bongani Nkosi
Jakhalsdans, a new South African film, has become an almost instant box office hit, setting new standards for the Afrikaans-language movies.
The feature film, which opened in South African cinemas on 23 April, earned R600 000 (US$80 123) in its opening weekend, making it the most popular Afrikaans motion picture since the release of Lipstiek Dipstiek in November 1994.
"We are thrilled to see that South Africans are enjoying our film," producer Anton Ernst said in a statement. "Saturday's box office was practically double what we took on Friday, which is the first positive sign of consumer uptake for a film."
According to the newly established company Indigenous Film Distribution, Jakhalsdans made 7% more sales after its release than Bakgat – an Afrikaans teen comedy brought out in 2008.
It had 34% more attendances than the 1998 film Paljas; 74% more than the 2007 hit comedy Poena is Koning; and 59% more than Die Storie van Klara Viljee, a drama released in 1988.
Jakhalsdans is the 18th full-length Afrikaans feature film to make it to the big screen in South Africa between 1980 and 2010, said Indigenous Film Distribution.
During its weekend debut Jakhalsdans was the best-performing title at 17 of the 35 cinemas to screen it, including the notable NuMetro North Park, Ster Kinekor Cape Gate, Ster Kinekor Brooklyn Nouveau and Ster Kinekor Kolonnade.
It's currently up against international hits such as Bounty Hunter, a romantic comedy starring Jennifer Aniston, and Tooth Fairy, also a comedy, featuring Dwayne "The Rock" Johnson and Ashley Judd.
"The film is performing countrywide from Klerksdorp, to Worcester … and Johannesburg, which is very encouraging," said Helen Kuun, CEO of Indigenous Film Distribution.
"This level of opening weekend takings makes it the best performing local feature film released this year," she said.
Filmed in scenic Loxton
Jakhalsdans was shot and set in Loxton, a tranquil town in the Northern Cape province's Karoo region. It's a story about teacher Mara Malan, played by Elizma Theron, who's hell-bent on saving the local school, which her five-year-old daughter attends. Through various means Malan manages to raise R500 000 ($66 749).
"I've always had a great love for the remote, brooding landscapes of the Karoo," said film director Darrel Roodt.
Theron, a popular local singer, joins fellow muso Theuns Jordaan in a lead role, while top South African model Christina Storm and accomplished actor Neil Sandilands complement the stellar line-up.
Roodt is no stranger to success either: his previous title, Yesterday, was nominated for a 2005 Academy Award in the best foreign language film category. It starred Leleti Khumalo of the 1992 hit film Sarafina!
" [Jakhalsdans] provided a wonderful opportunity for me to work with stars like Theuns Jordaan and Elizma Theron, and to create a love story that is quintessentially South African," he said.
"It's something completely different from the comedies which have dominated the Afrikaans language local film industry over the past few years and it's encouraging to see that audiences are responding to it."