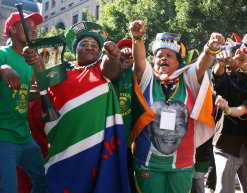 God Bless Africa
Now that the Springboks have departed for New Zealand to do battle at this year's Rugby World Cup, the call has gone out to South Africans to brush up on their rendition of the national anthem. The beloved tune merges two anthems and five languages: Nkosi sikelel' iAfrika Maluphakanyisw' uphondo lwayo, Yizwa imithandazo yethu, Nkosi […]

Now that the Springboks have departed for New Zealand to do battle at this year's Rugby World Cup, the call has gone out to South Africans to brush up on their rendition of the national anthem.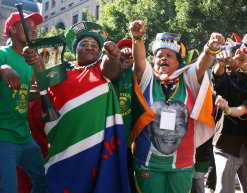 The beloved tune merges two anthems and five languages:
Nkosi sikelel' iAfrika
Maluphakanyisw' uphondo lwayo,
Yizwa imithandazo yethu,
Nkosi sikelela, thina lusapho lwayo.
Morena boloka setjhaba sa heso,
O fedise dintwa le matshwenyeho,
O se boloke, O se boloke setjhaba sa heso,
Setjhaba sa South Afrika – South Afrika!
Uit die blou van onse hemel,
Uit die diepte van ons see,
Oor ons ewige gebergtes,
Waar die kranse antwoord gee,
Sounds the call to come together,
And united we shall stand,
Let us live and strive for freedom,
In South Africa our land.
Translation
This is the official translated version of the national anthem. The first stanza is in isiXhosa and isiZulu, the second is in Sesotho, the third is in Afrikaans and the last stanza is in English.
The translation is as follows:
God Bless Africa
Raise high her glory
Hear our prayers
God bless us, we her children
God protect our nation
End all wars and tribulations
Protect us, protect our nation
Our nation South Africa – South Africa
Ringing out from our blue heavens
From the depth of our seas
Over our everlasting mountains
Where the echoing crags resound
Sounds the call to come together…
Brief history of the national anthem

In 1994 then-State President FW de Klerk proclaimed that South Africa would have two national anthems. They were the unofficial anthem Nkosi Sikelel' iAfrika and the official The Call of South Africa, which also had an Afrikaans version titled Die Stem van Suid Afrika.
Two years later a condensed and combined version of Nkosi Sikelel' iAfrika and The Call / Die Stem became the country's national anthem.
Die Stem van Suid-Afrika is a poem written in 1918 by CJ Langenhoven, and set to music in 1921 by the Reverend ML de Villiers. It was adopted as South Africa's official national anthem in May 1957, five years after the English version had been accepted for official use.
The first verse and chorus, as well as the music, of Nkosi Sikelel' iAfrika were composed in isiXhosa in 1897 by Enoch Sontonga, a Methodist teacher and lay preacher. Seven additional stanzas in isiXhoza were later added by the poet Samuel Mqhayi, and a Sesotho version was published in 1942 by Moses Mphahlele.
The song has since been translated into numerous African languages, including Swahili, and is a part of the national anthems of Zambia, Tanzania and Namibia.
Source: www.mediaclubsouthafrica.com