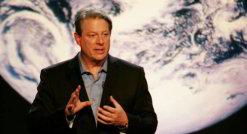 Gore to address SA conference
Some of the world's most intelligent minds will share their leadership strategies and insights into global financial, economic and management issues at this year's Discovery Invest Leadership Summit, taking place at the Sandton Convention Centre on 21 September. This year's event is the third edition. Speakers at the inaugural event in 2009 included Sir Richard Branson, […]

Some of the world's most intelligent minds will share their leadership strategies and insights into global financial, economic and management issues at this year's Discovery Invest Leadership Summit, taking place at the Sandton Convention Centre on 21 September.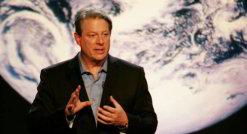 This year's event is the third edition. Speakers at the inaugural event in 2009 included Sir Richard Branson, Canadian writer Malcolm Gladwell and local businesswoman Wendy Luhabe.
The following year featured Discovery CEO Adrian Gore, American thought leader Nassim Taleb, academic and doctor Mamphela Ramphele and former New York mayor Rudy Giuliani.
This year, Al Gore, former US vice president and notable opinion leader on climate change, is confirmed as the headline speaker.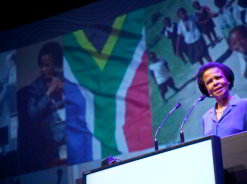 Co-recipient of the 2007 Nobel Peace Prize, Gore is a committed environmental activist, and his bestselling book An Inconvenient Truth was turned into an Academy Award-winning documentary. He also won a Grammy Award in 2009 for the audio book version. In 2007 he was a runner-up for Time magazine's person of the year.
On the local front, Graça Machel and Maria Ramos are included in the distinguished line-up.
Machel, the third wife of former president Nelson Mandela, is internationally respected in her own right as a champion for women and children.
She is currently a member of The Elders, a group of world leaders that includes Mandela, Bishop Emeritus Desmond Tutu and former UN secretary-general Kofi Annan. She still works tirelessly in her home country of Mozambique to address human rights issues there.
Ramos is the CEO of South Africa's Absa banking group, a Barclays subsidiary. In 2009 she was named as one of Fortune magazine's top ten female global leaders. Ramos is married to former finance minister Trevor Manuel.
Thought leaders to speak
The list of speakers also includes New York economics professor Nouriel Roubini, who made Foreign Policy magazine's Top 100 and Global Thinkers lists in 2010. Foreign Policy is currently owned by the Washington Post Company.
Also taking to the podium are bestselling author Ricardo Semler, MD of Brazil's Semco S/A group; Chris Anderson, editor-in-chief of Wired magazine and author of The Long Tail and Free; and Dan Ariely, professor of psychology and behavioural economics at Duke University, and a New York Times bestselling author.
In 2007 Anderson was named as one of Time's most influential people, while Ariely is the founder of the Center for Advanced Hindsight, and is a former MIT lecturer.
Semler, who received an MBA from Harvard Business School at 21, is globally respected for his business management policies, and in 1990 was named the Latin American businessman of the year by The Wall Street Journal America Economia.
Source: www.mediaclubsouthafrica.com