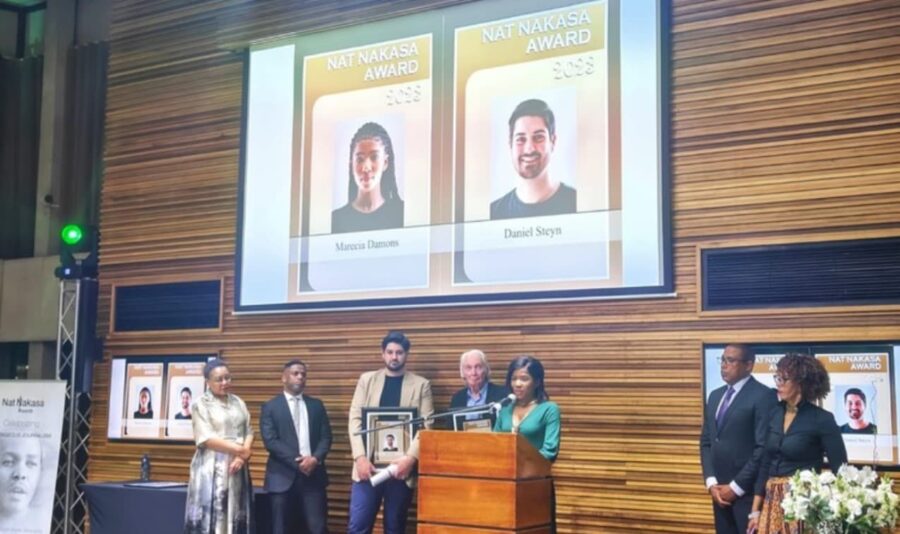 GroundUp reporters win prestigious journalism award
Marecia Damons and Daniel Steyn win 2023 Nat Nakasa Award for Thabo Bester prison escape story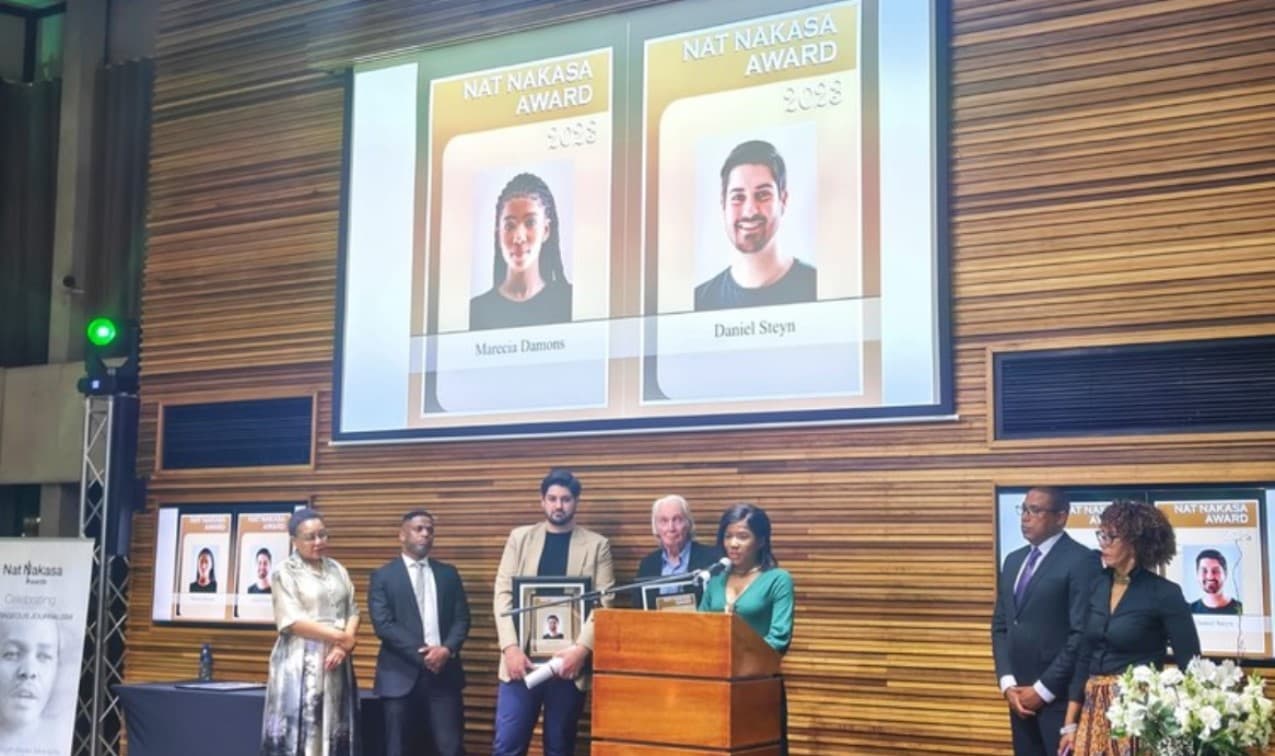 Marecia Damons and Daniel Steyn, GroundUp's lead journalists on the Thabo Bester prison escape story, won the 2023 Nat Nakasa Award for Media Integrity on Saturday night.
Anton van Zyl, publisher of the Limpopo Mirror and Zoutpansberger newspapers, who has worked extensively with GroundUp exposing Lottery corruption as well as other stories, won this year's Nat Nakasa Award for Community Media.
Dunisani Ntsanwisi, owner of Nathavhela newspaper, won the Stephen Wrottesley Award for his service to the media industry.
The awards are hosted annually by the South African National Editors Forum (SANEF).
A team effort
Their award citation states that Damons and Steyn "rocked the boat of corruption" at Mangaung prison. GroundUp exposed that Bester had escaped from this prison with the help of Nandipha Magudumana. Because of these reports, Bester and Magudumana were apprehended in Tanzania, nearly a year after the escape, and brought back to South Africa where they and officials at the prison, who allegedly helped them escape, are now on trial.
The Bester stories were a group effort. James Stent extensively assisted Damons and Steyn, analysing the evidence that they escaped and that Bester ran a business scamming celebrities while in prison and after his escape. Chris Gilili, Kimberly Mutandiro and Masego Mafata assisted with collecting information in Johannesburg. Barbara October, Alide Dasnois and Brent Meersman edited the articles.
By republishing our stories, the country's big publications played a vital role in bringing the Bester story to public attention, which finally compelled the authorities to act.
The stories we published on Bester, as farfetched as they may have seemed, were taken seriously by the big publications. They republished our articles on Bester with the confidence that they were accurate and fact-checked. This is because of years of effort at GroundUp to produce quality news by both staff reporters and freelancers. This is also only possible because of our administrative and management staff, including the staff of our former parent organisation Community Media Trust, who daily continue to help GroundUp run efficiently. We also have an excellent board that makes sure we stay focused and well-governed.
Judge Edwin Cameron's decision to ask GroundUp to investigate what happened to Bester is an example of how media and honourable state officials need to depend on each other to correct wrongdoing. (Disclosure: Cameron is also a board member.)
A question that must be asked though is what consequences there will be for the top G4S officials responsible for the prison, for the top brass in the police and Department of Correctional Services, who mostly failed to do their jobs for ten months, and the justice and police ministers who presided over this debacle.
Community newspapers are essential
Van Zyl, the winner of the community award, has been the driving force in the Association of Independent Publishers' sustainability committee. His two newspapers publish vital community news, often as hard-hitting as the big national stories, but with fewer resources and in riskier circumstances.
Here is an example of the kind of work van Zyl has done: In 2019 he made a Promotion of Access to Information Act (PAIA) request to the Makhado Municipality to determine how the municipality had disposed of a public park in Louis Trichardt. A three-year battle ensued through the Magistrates' Court and High Court before van Zyl finally prevailed, setting an example, and perhaps even a precedent, for how Magistrates' Courts can be used to speed up the process of obtaining PAIA requests with belligerent respondents. The story is told here.
Service to the media industry
Besides running a Xitsonga newspaper in Limpopo — no easy task, Ntsanwisi has been a consistent advocate for the needs of community newspapers, and heavily involved in leadership roles in both SANEF and the Association of Independent Publishers. The award citation highlights his role in SANEF's community media digitisation project and the inaugural SANEF indigenous languages seminar.
Nat Nakasa and Stephen Wrottesley
Nakasa was born in Lusikiki in 1937 and became assistant editor of Drum magazine. He was a prominent journalist and writer during the apartheid era. He died in exile in 1965.
The annual award in his name is given to journalists for courageous and brave journalism. It also recognises ethical conduct and the highest standards of media practice. Read more about Nakasa here.
ALSO READ: State rubbishes Magudumana's claim that Thabo Bester kidnapped her
Wrottesley, according to SANEF's website, was the chief of staff for Independent Newspapers, a respected journalist and one of SANEF's founding members. He died in a car accident in Cape Town in 2003 at the age of 47.