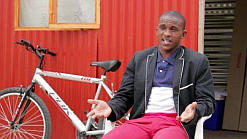 Inspiring Youngster creates Medical Express
Sizwe Nzima, a young entrepreneur from Khayelitsha in the Western Cape, has started an innovative business that is helping to solve overcrowding at public health facilities, while also improving the lives of people who rely on chronic medication. Instead of standing in long queues for hours, Nzima's Iyeza Express collects chronic medication from local clinics […]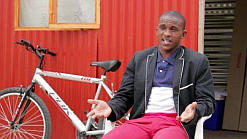 Sizwe Nzima, a young entrepreneur from Khayelitsha in the Western Cape, has started an innovative business that is helping to solve overcrowding at public health facilities, while also improving the lives of people who rely on chronic medication.
Instead of standing in long queues for hours, Nzima's Iyeza Express collects chronic medication from local clinics and delivers them by bicycle to Khayelitsha residents, at their homes.
Recognising a need
His idea to create the business came about after reading a newspaper article about clinics struggling to cope with patients queuing for hours to pick up chronic medication.
"I used to collect medication for my grandma for three years and experienced first-hand what happens," he says, adding that it isn't only elderly people who are affected.
The majority of people who queue for their medicine are able-bodied and waste time that could have been spent at work. "These were people who would happily pay for affordable delivery of their medicine, allowing them to save their sick leave – if they get any – for days when they are really ill," he says.
He was aware of non-profit charity organisations that collect medicine for bed-ridden and elderly people, but there wasn't a similar service for working people.
"I thought to myself that I must do something and that surely there must be a need for a service that would streamline the process," he explains. "I realised it will also take the load off public health facility workers."
Solutions for South Africa's challenges
Nzima and his two business partners are social entrepreneurs at heart, and his goal is to find solutions to the problems in his community, and in doing so make a contribution to improving the economy.
"We are all about social change and we are coming up with business ideas that can change society, help our community and uplift the economy," he says.
"Business isn't just about making money, but also about bringing about positive change."
Less overcrowding, better health, more jobs
Nzima decided to establish the Iyeza Express service, launching the pilot earlier this year in May. The business has only been up and running for a few months, but the response from residents has been positive.
"The service encourages people to go to work and stay healthy as they aren't tempted to stop taking their life- saving medication because they have run out," he says. "What I'm doing is helping to improve people's quality of life and life expectancy."
The business is saving time and money for his clients, but it is also creating much needed jobs for young people who know their way around Khayelitsha's network of streets.
The service operates within Khayelitsha, using bicycles to transport medicines. "This is the most cost effective way and keeps the service affordable, and it is environment-friendly," Nzima says.
Clients pay a small fee of R10 (US$1.1) per collection, and medicines are currently collected from Michael Mapongwane Hospital and the Site B District Hospital.
Nzima has about 40 clients at the moment, but he anticipates that this number will increase as the community still needs build trust in his service. Next year he hopes to take the service to other parts of Cape Town, but his long term vision is to expand the business nationally.
"For me, this is a national problem and it needs a national solution. The sky is the limit," he says.
Formalising the service
Nzima is working to get official approval from the authorities at Khayelitsha clinics to collect medicines for patients. The Department of Health in the province allowed him to conduct surveys at health facilities to find out what people think about his service, what they need and how he can improve it.
"Hopefully, if I get permission, I can collect in bigger volumes," he says. "People at the health facilities are starting to get to know me. Sometimes I've been chased away, but I am overcoming these barriers."
A call to South Africa's youth
Nzima's novel approach to finding solutions for South Africa's problems is getting him noticed. He recently took part in a panel discussion on business training at the Youth Entrepreneurship Conference and Expo, held earlier this month at the Bellville Campus of the Cape Peninsula University of Technology.
The young entrepreneur, who also completed a six-month intensive business training course at the Raymond Ackerman Academy, was nominated as one of the seed funding winners in the South African Breweries Innovation Awards. Nzima was one of 24 finalists selected from over 200 applications, and one of six chosen to receive seed funding.
"I couldn't believe it. My business was only starting out; while others were going for at least two years already," he says.
He believes that young people have what it takes to be change makers in South Africa and the world, by developing economically viable business solutions that can also bring about positive change in society.
"Young people should be the innovators. Every young person needs to decide how they are going to use their power for good," he says.
Nzima and his business partners are also involved in setting up other projects, such as a recycling business and an initiative to educate people about gangsterism.
"Making money is good, but you have to give something back. This is also what they taught us at the Academy," he says.
"I believe young people have the power to change the world, if the youth can understand this, they will stop focusing on things like drugs and crime. We can change the world, make it safer and improve our economy in this way."
By: Wilma den Hartigh
Source :www.mediaclubsouthafrica.com