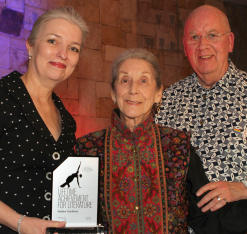 Homegrown artistic talent honoured
The winners of the ImpACT awards for excellence in arts and culture were announced by the Arts & Culture Trust (ACT) at their 15th annual ceremony on 9 November. The initiative recognises South Africa's top young artistic professionals, and among those lauded were The Muffinz for music and singing, Phillip Dikotla for theatre and fashion label Ozlo South […]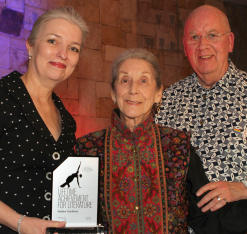 The winners of the ImpACT awards for excellence in arts and culture were announced by the Arts & Culture Trust (ACT) at their 15th annual ceremony on 9 November.
The initiative recognises South Africa's top young artistic professionals, and among those lauded were The Muffinz for music and singing, Phillip Dikotla for theatre and fashion label Ozlo South Africa for design.
At the same event, the ACT Lifetime Achievement winners were announced. Awards were given this year to four veterans of South African arts and culture: Welcome Msomi for theatre, Jonas Gwangwa for music, Andrew Verster for visual arts and Nadine Gordimer for the inaugural literature honour. They now join the distinguished company of previous lifetime achievement awardees such as Mimi Coertse, Miriam Makeba, John Kani and Gcina Mhlophe.
ACT is an independent organisation aiming to create and sustain funding for the development of the arts. It has recognised and honoured over 350 individuals and groups since its start in 1998.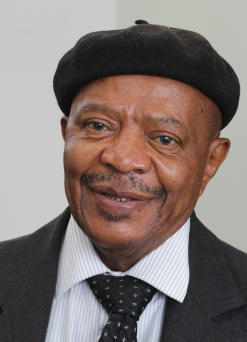 ACT CEO Pieter Jacobs believes that "it is vitally important to cast a spotlight on the work of individuals and/or groups which have had a significant impact."
He adds that it's important for the arts industry to have benchmarks to refer to, which will stimulate development and the desire to achieve, and highlight the role that arts and culture plays in society.
Artistic pioneers
The accomplishments of these four veterans have created a resounding benchmark for excellence for their local and international peers and heirs to emulate.
Welcome Msomi is the founder and director of Izulu Dance Theatre and Music Company, and an artist who has proven to be an entrepreneurial genius in his global expansion.
The playwright, choreographer, director and businessman is best known for his play uMabatha, an adaptation of Shakespeare's Macbeth which has been performed at the Royal Shakespeare Company's Aldwych Theatre. The play has also been staged in Italy, Zimbabwe and throughout America, including an off-Broadway season in 1978.
His work has been critically acclaimed, possibly most notably by former president Nelson Mandela, who was so moved by uMabatha that he wrote a personal review on it in 1991. Msomi's relationship with Mandela has continued through the years, with the playwright directing Mandela's 75th, 77th, 78th and 80th birthday celebrations.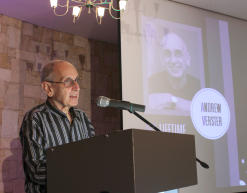 Msomi's interests do not merely lie on foreign grounds and the ACT board of trustees made a point of praising him for his commitment to the development of the arts in rural and urban areas in South Africa.
The term "Nobel laureate in literature" is enough to describe the contributions of Lifetime Achievement Award winner Nadine Gordimer. Gordimer is no stranger to accolades – along with the prestigious Nobel Prize in 1991, she was the joint winner of the sought-after Booker Prize for Fiction in 1994, the 2002 Commonwealth Writers' Prize for the best book from Africa, and the French Legion of Honour in 2007, among many others.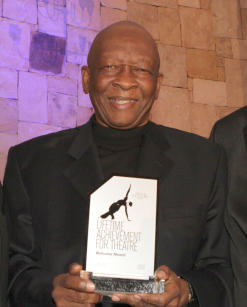 Gordimer is an honorary member of the American Academy of Arts and Sciences, a Fellow of the Royal Society of Literature and the patron of the Congress of South African Writers. She has at least 15 honorary degrees.
The veteran author is known for her anti-apartheid activism, and during the struggle years hid African National Congress leaders in her own home. She also fought against the censorship and banning of her controversial work during the apartheid era, and consequently served on the committee of South Africa's Anti-Censorship Action Group.
Along with her political interests, Nadine Gordimer also involved herself in HIV/Aids causes and in 2004 organised 20 major writers – including five Nobel laureates – to contribute to a fundraising book, Telling Tales, for the Treatment Action Campaign.
She has received ACT's highest praise because of her inspirational literature and philanthropy and her strength in the face of adversity. Earlier this year, responding to questions about an attack in her home, Gordimer said: "I have failed at many things, but I have never been afraid" – a sentiment that can be applied to her life's work.
The highest international standards
Soweto-born Jonas Gwangwa is known for his international standing within the music industry as well as his influential role in the evolution of South African jazz.
Gwangwa started his music career as a self-taught trombonist who later attended the Manhattan School of Music while in exile. He is an award-winning composer who has composed scores for the 1980 Liz White-directed version of Othello, Cry Freedom in 1987 and the 2004 documentary on Walter and Albertina Sisulu.
He performed in 1965 in the Sound of Africa concert at Carnegie Hall, sharing the stage with the late Miriam Makeba as well as South African music heroes like Hugh Masekela and Letta Mbulu. His Academy, Grammy and Golden Globe awards validate ACT's description of him as an artist meeting "the highest international standards".
Johannesburg-born Andrew Verster has had a long-spanning artistic career ranging from writing short stories, articles and radio plays to designing costumes and sets for major productions such as the Opera Africa productions of Princess Magogo and Faust and the cult classic Rocky Horror Picture Show.
He too has a number of awards on his mantelpiece, including several Fools Awards for best costume design and best artist – winners are chosen from the KwaZulu-Natal arts community and decided by public vote – and has had over 50 solo exhibitions, both local and international.
South Africans have taken the global creative scene by storm through the older generation of artists who have also expanded their work into cause-related advancements and paved the way for a new crop of talent.
Young contemporary jazz musicians such as Simphiwe Dana, whose 2010 release Kulture Noir received high praise locally and internationally, are making their mark while 2011 Standard Bank Young Artist Award winner Bokani Dyer has captured audiences throughout South Africa. The popular Jesse Clegg is following the footsteps of his famous father Johnny, another musical legend known for his effortlessly multilingual songs representing all South Africans.
By: Sue Mustafa
Source: www.mediaclubsouthafrica.com