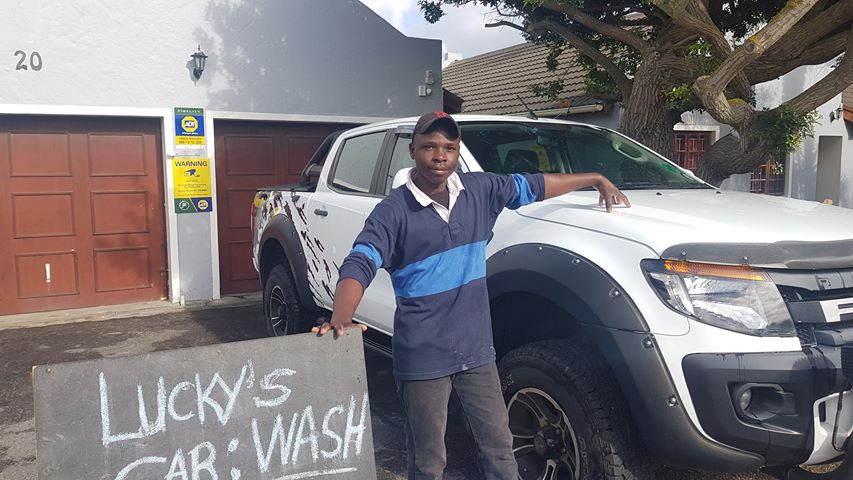 Lucky's Car Wash Thrives Thanks to 'Helpmekaar' Attitude of Cape Town Resident
Regular SAPeople contributor Vivian van Eeden recently posted a story about her gardener on Facebook page #imstaying. To her surprise it has already been liked by over 6,900 people. (Although it's no surprise to those who know Vivian and how she always shares the most positive SA stories on SAPeople.) The story has touched many […]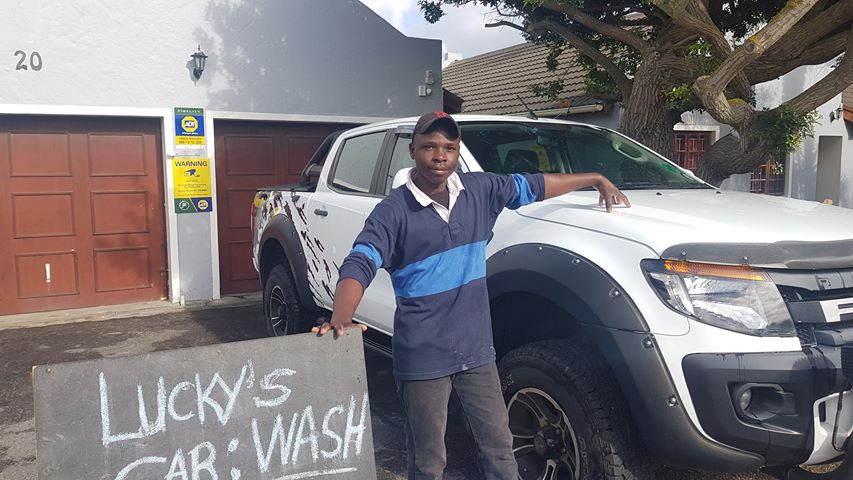 Regular SAPeople contributor Vivian van Eeden recently posted a story about her gardener on Facebook page #imstaying. To her surprise it has already been liked by over 6,900 people. (Although it's no surprise to those who know Vivian and how she always shares the most positive SA stories on SAPeople.)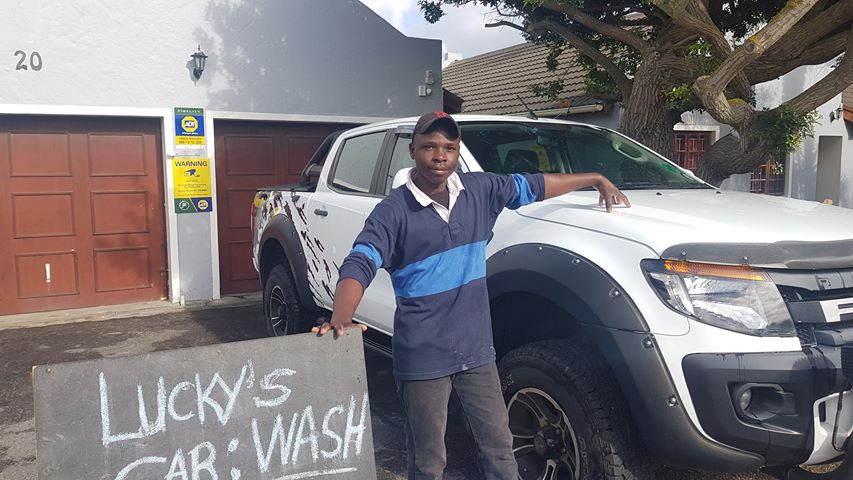 The story has touched many because it involves ordinary South Africans doing the best they can to help one another. Even when they're struggling themselves.
Vivian said in her post: "So my gardener lad did not have enough work (& I cant afford him every weekend either lol) so I let him do a car wash in my driveway every Sat & Sun. We do his invoice book together & budget for his washing supplies (& he uses my rain water tanks – Cape Town still in restricted drought!)"
The gardener's name is Lucky, and he's living his life true to his name.
Viv, an offshore finance specialist with Holborn Assets, also runs the Capri Village kids' play park.
She told SAPeople that Lucky used to be a labourer but when the builder moved overseas, Lucky was left out of work.
So she took him on as a gardener to help with her local community projects – planting verges, painting drab main road vibracretes, tidying up the kids' play park etc.
"When I didn't have enough work for him I asked if he would like to try starting his own business with me washing cars. Over the last three months it has grown very successfully in our little village of only 640 homes," she told SAPeople.
He has received so many compliments and at least one weekend a month he now makes enough for his whole month's rent!
"And this month he even hired a friend to help so at least one more person earns on weekends!" says Viv.
Writing on Facebook, Viv said: "All I had to do was fund his very first round of supplies, use of my rain water & use of my driveway on weekends! Wow.
"I am ever grateful to our community for supporting him and the regulars that come for a wash every time! We can make small differences together!!!"
By 09h20 the Saturday after Viv's post, Lucky was already on his second car!
Viv has always had a passion to make a difference locally.
She says: "In 1991 a Standard 6 Science teacher told us: 'many people will leave after political handover, it's the people who stay to make a difference that will raise up our country.'"
Viv herself moved abroad.
"I was away for years, but now I am home I want to give back as much as I can." Vivian is involved in several projects – from the rate payers' committee to raising funds for the local township creche.
While she's so happy that Lucky's weekend car wash business is thriving, Viv wishes she could find him permanent employment, like she did with her previous gardener.
"Lucky is a phenomenal young man – dedicated, earnest, positive… and always keen to work," she says.
The original post:
https://www.facebook.com/photo.php?fbid=10157689251560850&set=gm.370791350526925&type=1&theater