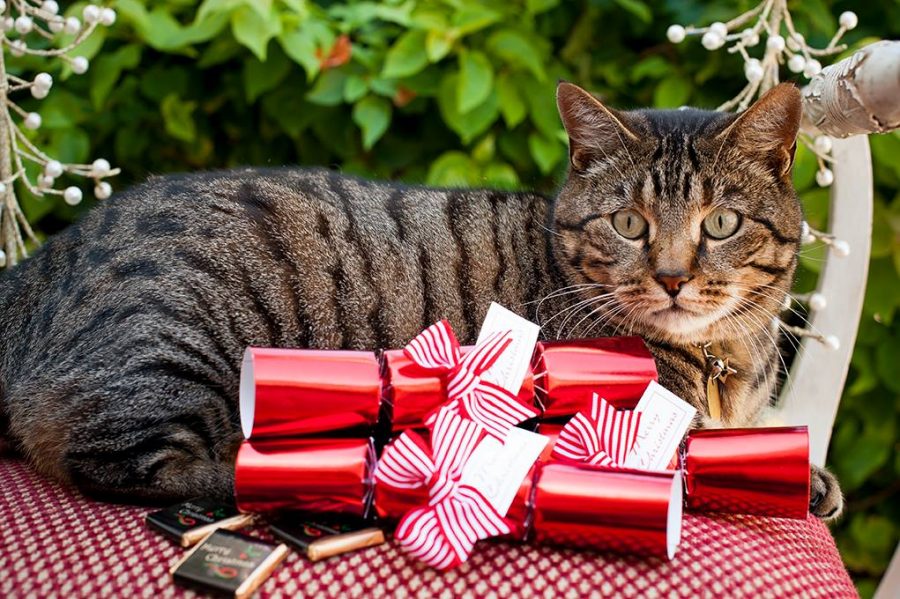 Meet Skabenga, South Africa's Famous Top Cat Living It Up in Umhlanga
Skabenga, the famous housecat-in-residence at the Oyster Box Hotel in Umhlanga, assists with a check-in today, by turning his back on the checker-inner and blithely ignoring the rather obvious mouse just to his right… writes Gus Silber. Skabenga – a mangling of the isiZulu term, S'gebengu, meaning "vagabond" or "hooligan" – is a former feral […]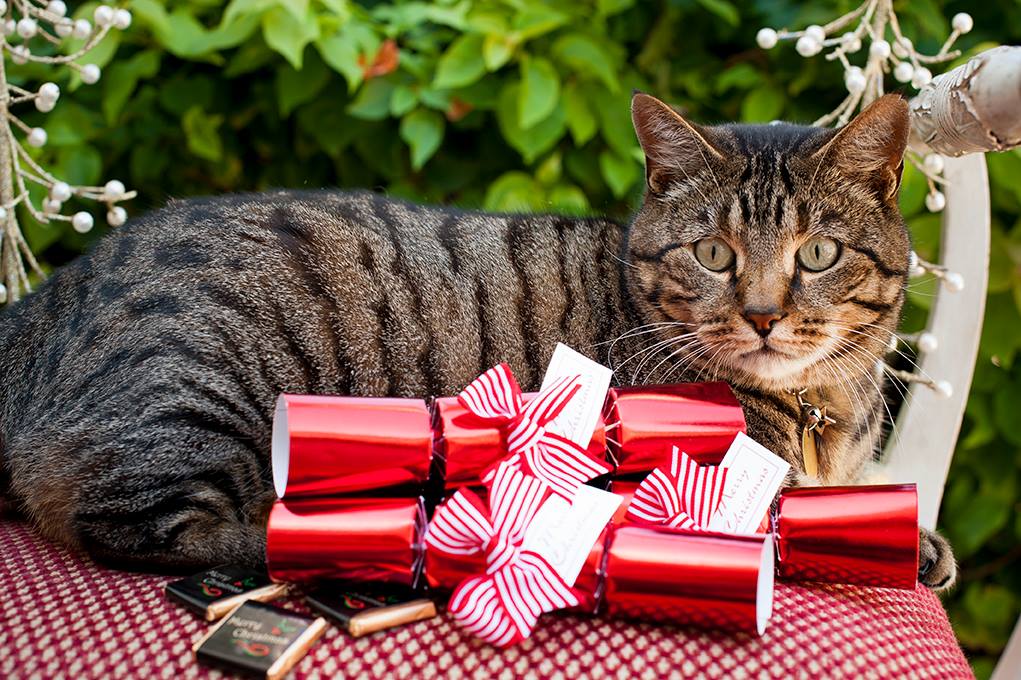 Skabenga, the famous housecat-in-residence at the Oyster Box Hotel in Umhlanga, assists with a check-in today, by turning his back on the checker-inner and blithely ignoring the rather obvious mouse just to his right… writes Gus Silber.
Skabenga – a mangling of the isiZulu term, S'gebengu, meaning "vagabond" or "hooligan" – is a former feral who worked his way up to adulation and celebrity, much like the subject of the wistful 60s pop ballad, Where Do You Go To, My Lovely, which is about a prima donna who takes pains to hide her humble origins.
Skabenga, however, has nothing to hide, partly because his size makes it difficult for him not to be seen, and partly because such concerns are moot, given that all felines are regal by birth.
When we first chanced upon Skabenga, he was lolling slothfully in the lobby of this opulent establishment, his repose reminiscent of Emperor Nero in the last days of Rome.
Skabenga magnanimously accepted a pat on the head, although his Churchillian scowl made it plain that he was not to be distracted from his duties, chief of which is to stand Skabengally – all right, repose Skabengally – for everything that the Oyster Box represents.
Skabenga is the hotel's official emissary, and his sullen visage, framed by his diamante bell-collar, can be seen on T-shirts, party balloons, boxes of special-brew tea, and a myriad of souvenirs in the hotel's shop.
Skabenga has his own Facebook page (hello, Skabenga at The Oyster Box!) and he is also the star of a children's book about his exploits.
He is frequently mentioned in dispatches on TripAdvisor ("All this…and Skabenga too!" reads a typically enthusiastic review) and the hotel treats him to an annual birthday bash which helps to raise funds for charity.
The wonderful animal-affairs site, The Dodo, featured Skabenga under the headline "Africa's Grumpiest Cat Has the Best Life Ever", and its selection of pictures included one that I think really sums up Skabenga's personality and position.
It shows him perching proprietarily on the red carpet at the Oyster Box, as members of Manchester United walk watchfully past him, acknowledging the cheers and waves of a group of onlookers who, let's be honest about this, were quite clearly really cheering and waving at Skabenga.
If you're ever in Umhlanga, be sure to pop in to the Oyster Box and make his majestic acquaintance for yourself.
By Gus Silber
GUS SILBER is a fantastic South African journalist, author, scriptwriter, speechwriter and tweeter. He "plays with words and sometimes works with them too".
Follow Gus on Twitter: @gussilber or on Facebook: Gus Silber
***
Skabenga's Story: Skabenga could quite possibly be Africa's most famous and certainly most loved cat, but although he may be photographed dining on prawn cocktails, he keeps firmly in touch with his more humble roots.
When he celebrates his birthday, he encourages locals who come to the party to bring a tin or packet of cat or kitten food for him to pass on to "my hungry friends in need at Feral Cat Rescue Trust, Durban".
Skabenga's birthday is in October… marking the day in 2005 when the one-time stray wandered off the streets and into Umhlanga Rocks' luxury Oyster Box Hotel. Guests spoilt him (or her?) rotten. He felt like royalty and decided to stay (except for a two-year period during renovations when he was cared for by a nearby cat lover).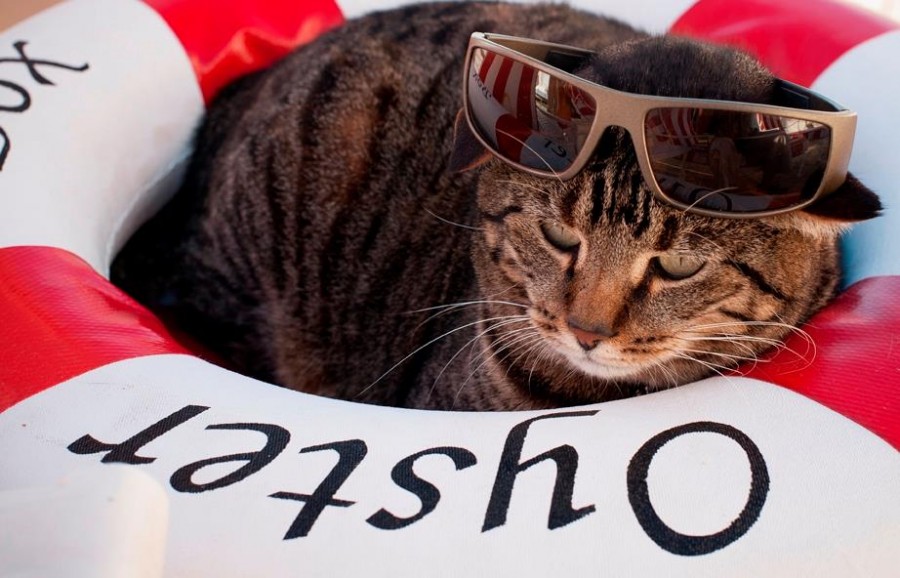 There are rumours that Skabenga was once a she, but when she sadly passed away a few years ago, she was replaced with a more cantankerous male cat!
Nonetheless, Skabenga is a firm favourite amongst locals, tourists, and visiting sports stars and celebrities (as mentioned by Gus). Swimmer Chad le Clos and rugby champ Bismarck du Plessis have all queued up to have their photos taken with Skabenga. Not to mention the day Skabenga hung out on the red carpet with Princess Charlene of Monaco.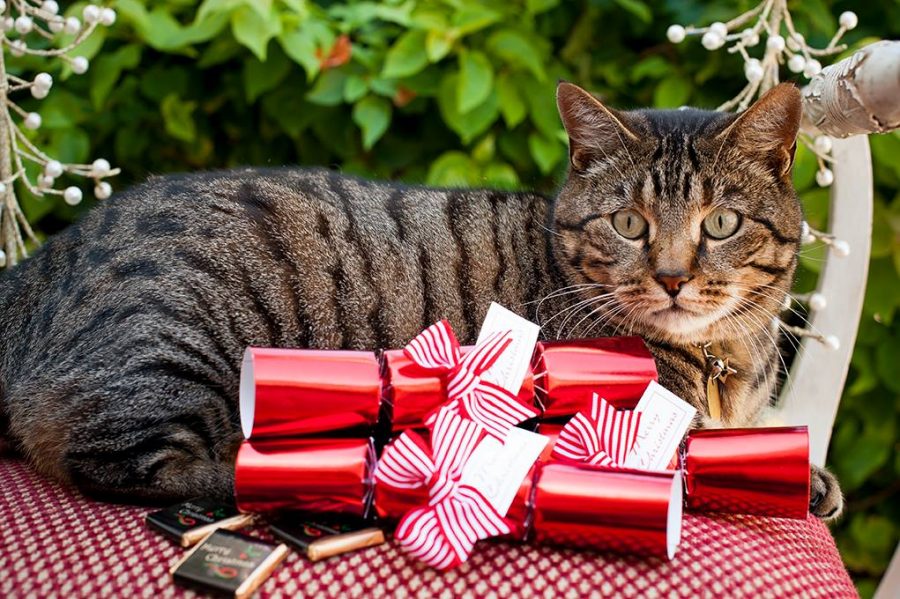 Skabenga is so much a part of the Oyster Box team that he features on the 'Meet the Team' page.
General Manager (GM) Wayne Coetzer has revealed he receives lots of fan mail for Skabenga. Coetzer, author of the book Gus mentioned above, says Skabenga's become so famous that during a trip to France in 2015, when Wayne mentioned that he was the GM for The Oyster Box, the French gentleman he was talking to responded by asking: "The hotel where Skabenga lives?"
The only thing that really gets Skabenga down… is not being the only party animal at the gorgeous Oyster Box!!!