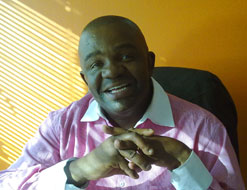 NGO Fights Gender Stereotypes in SA
by Janine Erasmus The charismatic and highly committed Mbuyiselo Botha of the Sonke Gender Justice Network is a man with a mission – to challenge patriarchal thinking which, he says, is crippling South African society. Sonke is an Nguni word meaning "together". As the NGO's media relations manager, and the man who spearheaded the recent […]

by Janine Erasmus
The charismatic and highly committed Mbuyiselo Botha of the Sonke Gender Justice Network is a man with a mission – to challenge patriarchal thinking which, he says, is crippling South African society.
Sonke is an Nguni word meaning "together".
As the NGO's media relations manager, and the man who spearheaded the recent Equality Court case against African National Congress Youth League president Julius Malema, Botha is accustomed to standing in the line of fire.
In 1984 the young Botha was involved in a demonstration against rent increases in Sharpeville township, in southern Gauteng province, where he grew up, and when the protest turned violent, he was shot in the head. The bullet has never been removed, and his body is partially paralysed as a result.
But the former secretary-general of the Sharpeville Civic Association has not let his disability hold him back, saying that he has something that many of his comrades do not, and that is life.
He has worked as a dissemination officer for the Red Cross and co-founded the South African Men's Forum, and since joining Sonke in 2007, has been instrumental in many civil cases against those who promote negative values.
Malema insinuated in January 2009 that the woman who claimed to have been raped by Jacob Zuma in 2005, years before he became the country's president, had actually enjoyed the experience.
Outraged by the youth league leader's demeaning and inflammatory statement, Botha and his colleagues brought a court case of hate speech and harassment against him, and after a number of delays and postponements, the court finally ruled in March 2010 in favour of the Sonke Gender Justice Network.
"It wasn't Malema himself that we targeted," said Botha, "but rather, we put patriarchy on trial. He is a symptom of this country's patriarchal society. Imagine the good work he could do for us if he spoke as powerfully in favour of our cause."
Constructive dialogue
Sonke challenges the traditional notion of patriarchy, which can lead to men believing that they are superior to women and can treat them in any way they please, merely because of their gender.
Constructive dialogue is at the heart of the organisation's many activities.
"If you condemn men, you abandon hope," said Botha. "You have to draw them in and make them aware of the many benefits of this progressive way of thinking."
The patriarchal tradition demands that men must always have the right answer for any problem, that they must be competitive and successful in all aspects of life, and that they must win at any cost.
"Our teaching frees men from the burden of patriarchy," said Botha, "which has been drilled into them for generations. As a man, I am automatically a beneficiary of the patriarchal system, but there is something terribly wrong with that system because it allows men to get away with doing bad things."
South Africa is not the only country affected by gender-related violence and patriarchal ideas. "This kind of violence is perpetrated all over the world," said Botha.
To make a real difference, gender activism should be more than a calendar event, said Botha. The thinking behind initiatives such as 16 Days of Activism must be sustained all year long. "In many cases, it is a matter of life and death."
Promoting social cohesion
Established in 2006, Sonke was founded by feminist Sharmillah Wilson, pastor and apartheid struggle veteran Bafana Khumalo and health and gender activist Dean Peacock.
The organisation's flagship project is titled One Man Can, launched in 2006. In addition to operations in eight of South Africa's nine provinces, the project has been rolled out in Burundi, Kenya, Malawi, Mozambique, Lesotho, Namibia, Uganda and Zambia.
One Man Can encourages people to make changes in their personal lives, so they can positively influence their community. It also promotes cooperation between men and women to break the destructive cycle of violence.
Sonke is one of the forces behind the Brothers for Life campaign, which tries to get males over the age of 30 to become role-models for younger men. This can be achieved by taking accountability for sexual behaviour, having fewer sexual partners, knowing one's HIV status, decreasing dependency on alcohol and drugs, and becoming more involved as a parent.
The organisation is also involved in projects ranging from PhotoVoice – which trains pupils to express themselves through photography – to advocacy in prisons, working with refugees and migrants, and helping to eradicate xenophobia.
The Fatherhood and Child Security initiative, operating in KwaZulu-Natal and the Eastern Cape, appeals to men to stop violence against women and children, limit the spread of HIV/Aids and promote gender equality.
At school level, the NGO supplies a host of resources, such as DVDs, comics and musical plays, which speak to youngsters on a level they can identify with. However, said Botha, the Department of Education has not yet allowed Sonke free access to schools, and the organisation is still hamstrung by red tape and resistance from officials.
Sonke measures the impact of all these initiatives through research conducted by professional bodies such as universities and consultancies.
Cooperation with other activist groups and women's movements, such as People Opposing Women Abuse and the Tshwaranang Legal Advocacy Centre for women, ensures that the equalisation process is objective.
Making headway
Just the day before our meeting, Sonke again tasted victory, this time in its complaint against South African Breweries (SAB). The brewing giant is currently running a campaign that encourages beer drinkers to prove that they are real men by opting for a larger bottle size, thereby drinking more.
Sonke's view is that this links masculinity with negative behaviour, personal risk-taking and violence, and undermines everything it has worked to achieve over the years.
"Drinking eats at the fibre of our society," said Botha. "What kind of message are they sending?"
Ironically, one of the campaign's billboards is situated just metres from the Sonke offices in Braamfontein, Johannesburg. South Africa's Advertising Standards Authority has advised SAB to retract the campaign, and on Sonke's insistence the company will also issue a public apology.
Because alcohol consumption is a major factor in road deaths and domestic violence, as well as the spread of HIV/Aids through unprotected sex, Sonke found it unacceptable that the beer producer should encourage drinking through an ill-considered ad campaign that places profitability above personal safety.