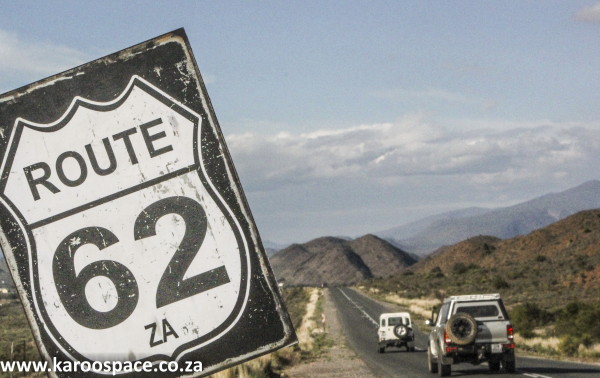 Pubs and Padstalle of Route 62, South Africa
It seems, for some of us, that the older we get the more inclined we are to be reckless. Who but the very bravest of long-distance drinkers, big-bike riders and hardened shoppers would take on the awesome pubs and padstalle of Route 62 in the Western Cape? Who but the youngest and silliest of us […]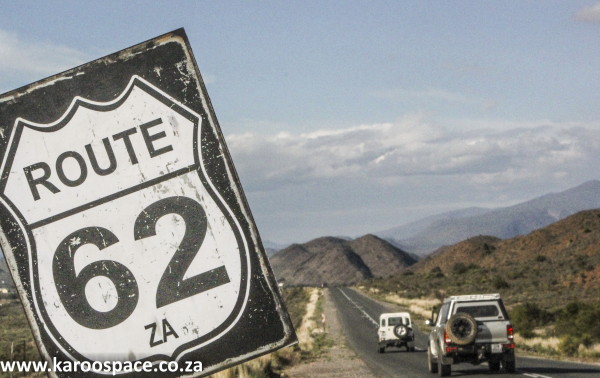 It seems, for some of us, that the older we get the more inclined we are to be reckless.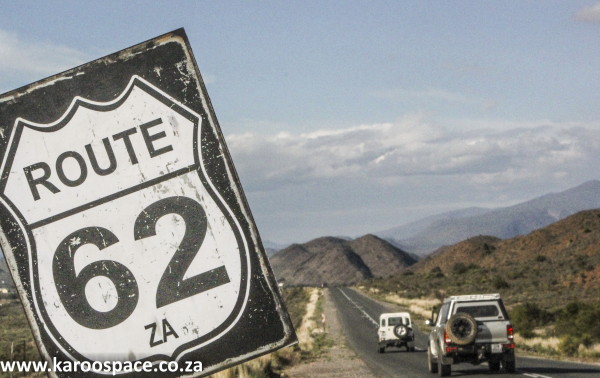 Who but the very bravest of long-distance drinkers, big-bike riders and hardened shoppers would take on the awesome pubs and padstalle of Route 62 in the Western Cape?
Who but the youngest and silliest of us would drive 238 kilometres of inky tar road from Montagu to Oudtshoorn, drinking and stopping and shopping and chatting and maundering in the midst of folded mountains with dramatic peaks and occasional snowcaps? With the prospect of something called an "Adult Milkshake" on the side?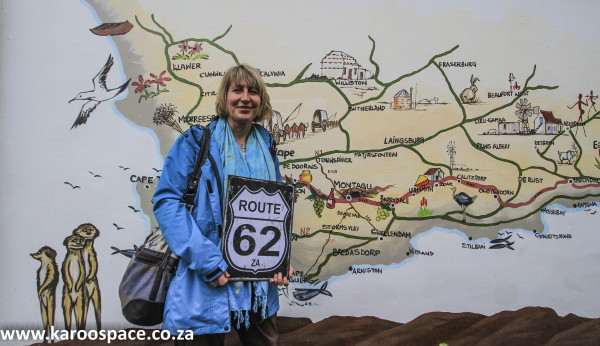 A Pub Crawl – With Retail Possibilities
Think on this. A pub crawl, done proper, is a thing of beauty. In Minneapolis, USA, for instance, they stage a pub crawl with a zombie theme that draws in more than 30,000 participants. In Wales, pub crawls happen from train stop to train stop, sampling fine country ales all along the line. And let's not begin to prattle of St Patrick's Day anywhere in the States or any old night in the French Quarter of New Orleans.
But when you mix a line-up of pubs with an array of padstalle, can this be like trying to marry oil and water?
So when one is sitting in the parking lot of the Kloof Padstal in Montagu on a cloudy day, having entered this adventure through a magical stone portal called the Cogmanskloof, the air suddenly thickens with second thoughts.
"We need a designated driver."
"Me. I'll be your designated driver." Jules.
"We need a shopping budget."
"Ha."
Kloof Padstal, Montagu
She drags me into this wondrous cave of Montagu fruit and nuts, Ticklemouse biscuits, quail's eggs, aloe products, creamed honeys, restorative oils and little Dutch syrup and waffle confections.
Do you remember the old days when a South African padstal was a rickety shed with three aged naartjies on a dirty counter and a gloomy face in the shadows? That era has long passed. The modern classic SA padstal is a thing of beauty, a veritable playground for the purchaser with money to burn.
I time Jules as we aisle-hop. This assignment is going to have to be a cherry-picker. Route 62 has too many padstalle to experience in one fell swoop, especially if one has to make occasional pub-stops along the way.
After a fortifying bacon and cheddar pancake, we load the bakkie with our purchases and leave town.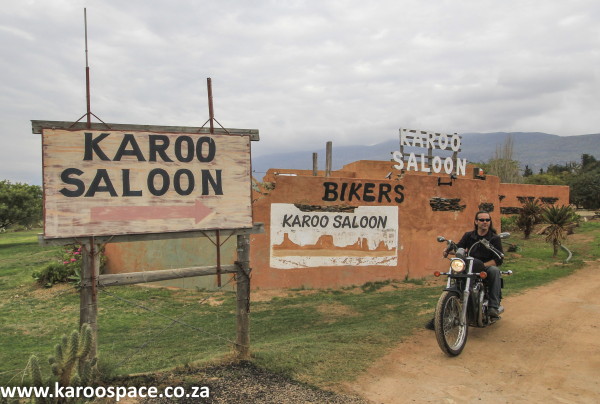 The Rockin' Karoo Saloon
About 15km before the Tradouw Pass and Barrydale we stop at the Karoo Saloon, my kind of joint. It is biker rock 'n roll to the core, with a massive Harley-Davidson slated eagle inlaid into the front of the main building.
Newish owners Marius Slabber and Janet Brewer emerge and greet us like we are heaven-sent angels.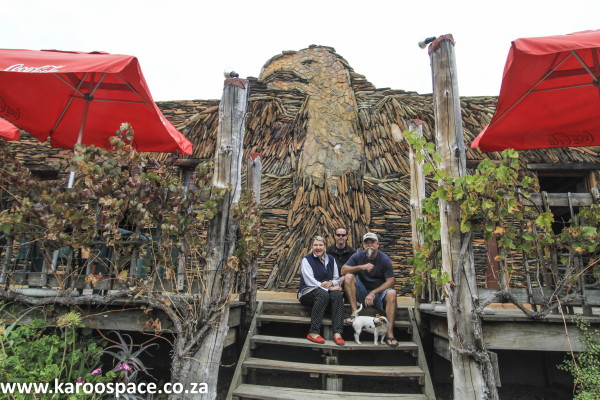 Under the Harley Eagle
The Karoo Saloon is where you can drink a cold beer, ask for some Lynyrd Skynyrd music without raising eyebrows, order up a Tex-Mex thin-base pizza and basically write off the entire day. Maybe the next one as well.
They are busy adding more rooms to their overnight offerings, which I find to be a very sensible move. Once you're at the long bar of the Karoo Saloon, it's very hard to get up and potter forth along the R62 without endangering other motorists and occasional meerkats in the process.
"Have another beer," says the kindly Jules. "I'll have another still water, please." Damn, this is turning into an awesome trip. What was I worried about?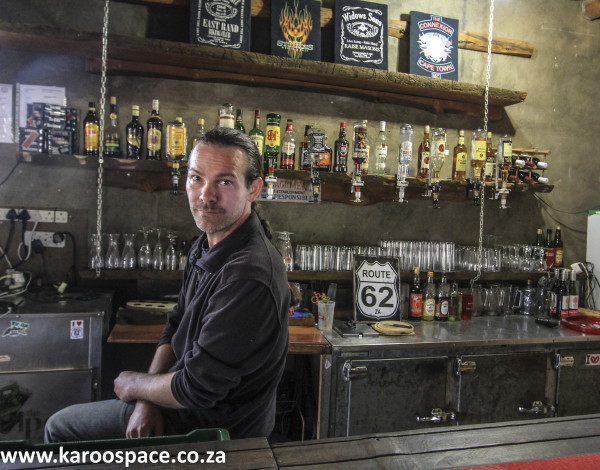 The Barman
The Karoo Saloon bar is manned by a very cool chap called Adrian van Zyl, who gives reasonably-priced guitar lessons in his spare time via a cunning set of flash cards. Adrian used to work up the road at the Warmwaterberg resort.
Our tatty bakkie roadmap has Warmwaterberg marked as a "radioactive spring". People we know have had intensely blissful experiences at that place.
We discuss this with Adrian over another round and come to the mutual conclusion that it must be the lithium in the water.
"Is that the stuff that makes your voice squeaky?" is my first reaction.
"No, that's helium," says Jules. "Lithium transmutes into helium at some stage, which was what the first man-made nuclear reaction in 1932 was all about. Lithium is also a key ingredient in mood-stabilising drugs."
Adrian concurs. I go outside to sit under the bald Harley eagle to clear my head. Nuclear physics, mind-altering chemistry and draught beer in one sitting? I don't think so.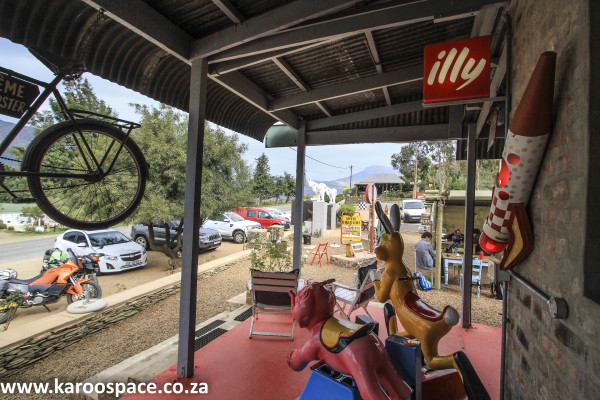 The Barrydale Strip
Presently, I find myself in the companion seat being driven along the famous Barrydale Strip, one of the most colourfully signposted set of attractions in South Africa.
I'm especially fond of the billboard for the Karoo Moon Motel, featuring Marilyn Monroe, a stylised Cadillac and a windpomp in background for local context.
"OK, this is where we shop again," warns Jules. "I don't want to turn around and find you drinking beer with that Clarke of the Karoo and his mates." Indeed, we presently come upon the cheerful Mike Clarke and his shop-neighbour Danny Brownlow. Against all social inclinations, I follow my wife dutifully into the Diesel and Crème shopping precinct, which is a perfect blend of platteland trading store and American diner.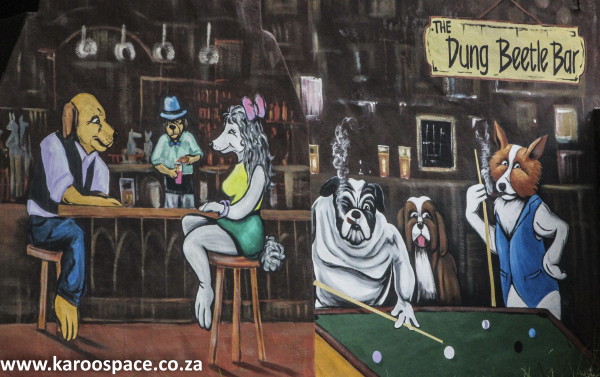 Dung Beetle Bar
"What about the Dung Beetle Bar?" I venture with hope in my voice.
My words fall on deaf ears, but I do wring a promise out of Jules that next time we're in the area, we can stay over at the Karoo Moon Motel.
An hour later however, it's my turn all over again. On the other side of Barrydale is the legendary Ronnie's Sex Shop, billed in the official website as "The Oddest Pub in Africa".
There are hats and panties on the ceiling, the barman usually wears a T-shirt saying "I am not Ronnie" and the man himself whirrs about the premises like Willie Nelson's rather preoccupied cousin. Whether you're a stone-eyed biker or a weekend warrior, you always leave Ronnie's feeling a bit cooler than when you first drove in.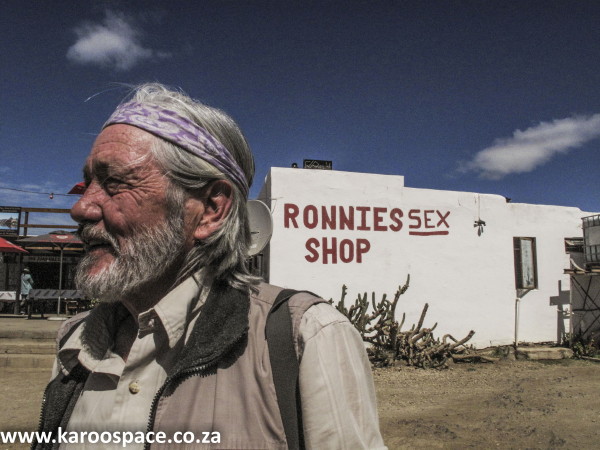 Ronnie's Sex Shop
They say Ronnie's Sex Shop makes "adult milkshakes" with combinations of peanut butter and Jack Daniels, bananas and rum, lime and Jagermeister and Turkish Delight and vodka. But that's too rich for my blood, even on a good day.
After Ronnie's disappears from our rear view mirrors we turn in at Algerynskraal Padstal, where Arnold and Antoinette Schoeman run a lovely mix of gift shop, art gallery and restaurant.
One of their signature breakfast dishes is a "Build Your Own", with ingredients including putu pap, tomato and onion sauce, cheese, mushrooms, savoury mince and bacon.
We load up with olive oil, pickles and soap made from the milk of goats. I note that our padstal shopping baskets have begun to overflow. But I've been in a great mood, what with having a genial chauffeur flitting me from pub to pub all day long.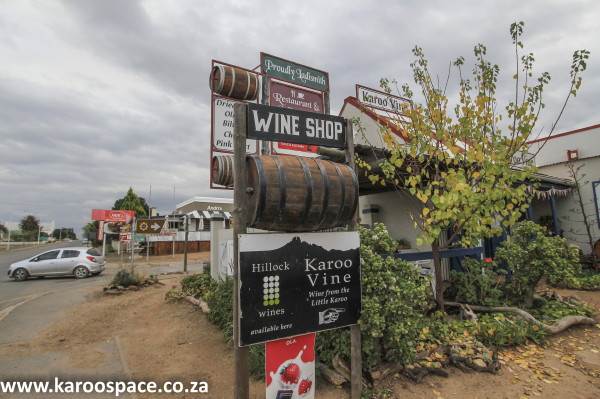 Ladismith Home of Cheeses
At Ladismith Jules buys cheese at the, wait for it, Ladismith Cheese Company while I pop in at the KarooVine and select a few good reds.
Presently, we find ourselves having a glorious roadside picnic on a dirt road somewhere in the midst of red mountains outside Calitzdorp. Tomorrow we'll have a monster omelette nearby at the Bella de Karoo padstal and then drive on into Oudshoorn and pop in at another biker's favourite, Smitswinkel.
But right now we have to drink up, finish that last morsel of green pepper cheddar and find a bed for the night. It's been a long, hard dawdle of a day but, as they say, someone has to do it. Right?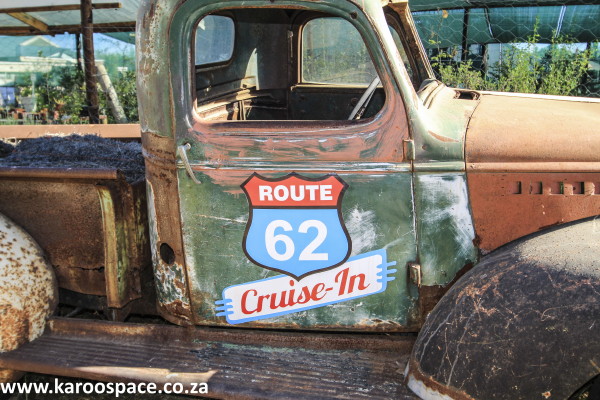 USEFUL CONTACT DETAILS:
 Story and Photographs by Chris Marais & Julienne du Toit
Please view the original article on www.KarooSpace.co.za and join the bestselling authors for their new classic holiday adventure via the pages of their Traveller's Companion book, Road Tripper Eastern Cape Karoo. For the Print Book Click HERE and for the Ebook click HERE.