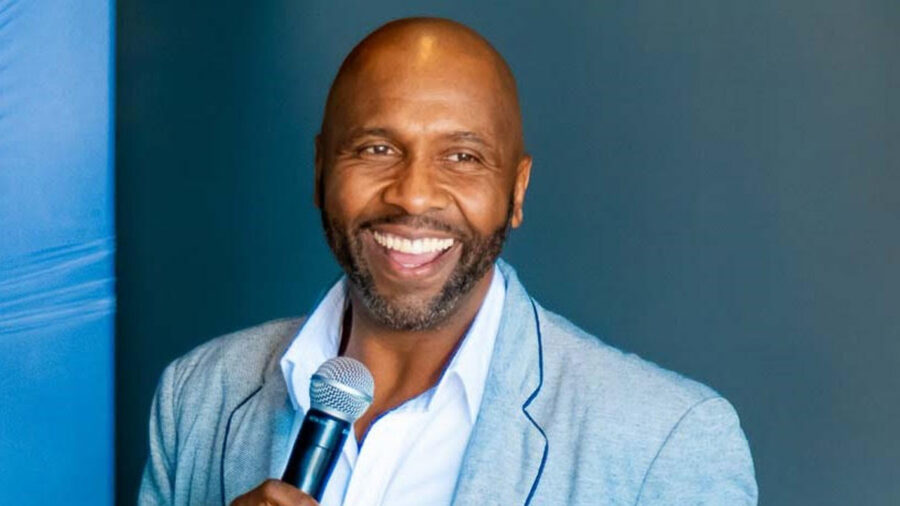 SA Stars Invite South Africans Abroad to Help SA Through Covid-19 Crisis: Solidarity Walk
Soccer star Lucas Radebe along with other South African celebrities like Francois Pienaar and Karen Zoid are inviting South Africans abroad to join them to raise funds for South Africa's COVID-19 Solidarity Fund this weekend, which is a Bank Holiday weekend in the UK. South Africans across the globe can join the well known personalities […]
Soccer star Lucas Radebe along with other South African celebrities like Francois Pienaar and Karen Zoid are inviting South Africans abroad to join them to raise funds for South Africa's COVID-19 Solidarity Fund this weekend, which is a Bank Holiday weekend in the UK. South Africans across the globe can join the well known personalities in the #SolidarityWalk which has been organised by the South African Chamber of Commerce in the UK.
Former Bafana Bafana and Leeds United captain Lucas Radebe, popularly known as Rhoo, says South Africans can participate in the #SolidarityWalk on any one or more days from 29th to 31st August 2020.
The Solidarity Walk aims to unite South African diaspora and friends of the country to show support for those affected by the Covid-19 pandemic. The SA Chamber also aims to raise awareness and donations for the Solidarity Fund, an independent public benefit organisation.
"I am a firm believer in community, and this is an example of how South Africans can come together, no matter where they are on the world and work together towards achieving a common goal. I will be walking in solidarity with the South African diaspora and friends of our nation, not only to raise funds, but also to honour the work of everyone who has been helping the country overcome the COVID-19 pandemic," says Radebe.
This week, Radebe together with former Springbok legends, Francois Pienaar and Andre Snyman, multi-award winning South African music legend PJ Powers aka Thandeka and South African rock singer, songwriter, guitarist, composer and talk show host, Karen Zoid, the #SolidarityWalk ambassadors have come together to challenge South Africans in the UK and the globe to take part in the #SolidarityWalk.
This initiative brings together business leaders, celebrities, South Africans and friends of the country, united for a good cause.
Andre Snyman says: "Supporting initiatives that contribute to the Solidarity Fund in South Africa has never been so important. We all have a role to play in the well-being of those less fortunate in our country. The pandemic has left so many families destitute with little or no source of income, so this is an easy way to contribute and donate whatever you can."
Sharon Constançon, Chair of the South African Chamber of Commerce (UK), welcomes the business and high-profile celebrity support, saying "we are happy that South Africans have a safe mechanism in the form of the Solidarity Fund to contribute to those in need because of COVID-19 in South Africa. We're also delighted to partner with well-loved South African personalities who are giving their time for the Solidarity Walk."
How you can take part in the Solidarity Walk
Participants can join the walk and collectively cover 2414 miles/ 3885 kilometres – which is the distance from Cape Town to Beitbridge and back again. The distance will be virtually displayed on the SA Chamber website along with a moving map to show progress in miles.
Register for participation for the #SolidarityWalk: https://southafricanchamber.co.uk/event/events.php?eid=586
Solidarity Walk Event details:
Date: Any one or more days from 29th to 31st August 2020
Time: At any time that suits you, within the 3 days
Place: Wherever you wish to exercise – close to home, a park, your garden, one of the suggested routes – wherever it is easy to access and safe
With whom: Alone, with your family, with friends, with a social group formed for the event
Cost: £1.50 (approx. R35) to register – optional refund from final donation
Donation: Any amount, see website below for instructions
Sponsorship: Raising money at an amount per mile walked, encourages you to walk further
Activity: As long as you are moving on foot you can join – walking, running, hiking, pushing a pram, walking the dog; you and your family's steps count too.
Social Media: Twitter: @SAChamberUK #SolidarityWalk
Facebook: @SouthAfricanChamberUK #SolidarityWalk
Instagram: @SAChamberUK #SolidarityWalk
LinkedIn: South African Chamber of Commerce #SolidarityWalk
For more info: https://www.southafricanchamber.co.uk
Music legend PJ Powers says: "We as South Africans will overcome what we are going through right now. We need to celebrate our diversity and we need to form a strong bond for solidarity – that is so sorely needed in South Africa at the moment. We shall overcome!"
Karen Zoid adds: "I am proud and happy to be part of this campaign to raise funds for those most in need of food, health and wellbeing. Just in the music and entertainment industry alone the immediate impact and loss of income has been huge. The only way to get through this, is together."
The Solidarity Fund… helping South Africans in the fight against COVID-19:
[Read] The acting Gauteng Health MEC, @JacobMamaboloSA on Monday handed over 36 ventilator machines donated by the Solidarity Fund to the Charlotte Maxeke Johannesburg Academic Hospital @GautengHealth #COVID19SA https://t.co/6U8muXlGRS pic.twitter.com/Au9Y2B43P7

— @SAgovnews (@SAgovnews) August 25, 2020