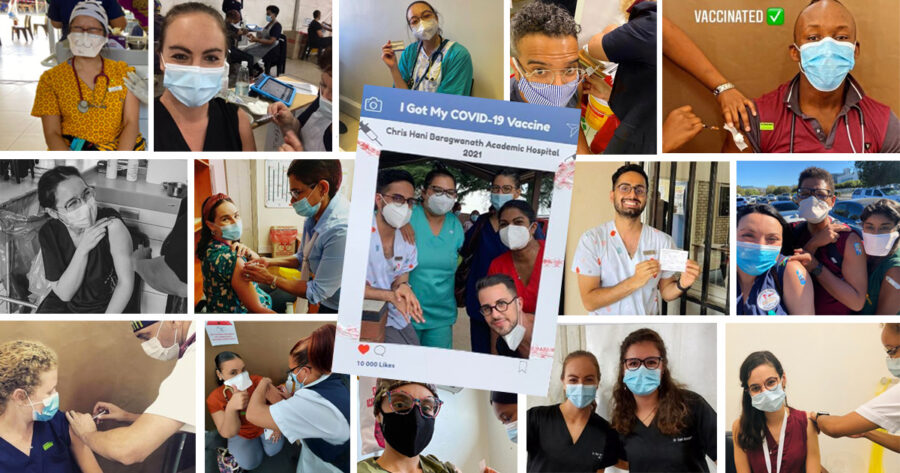 SA's Awesome Doctors Feeling Safe, Hopeful and 'Insanely Grateful'
Meet some of South Africa's doctors who have been vaccinated this week, after bravely fighting the coronavirus pandemic on the frontline over the last year, risking their own lives to help save thousands of others. Many are feeling relieved, honoured and hopeful, whilst also sad for those who didn't make it. Over 52,000 healthcare workers […]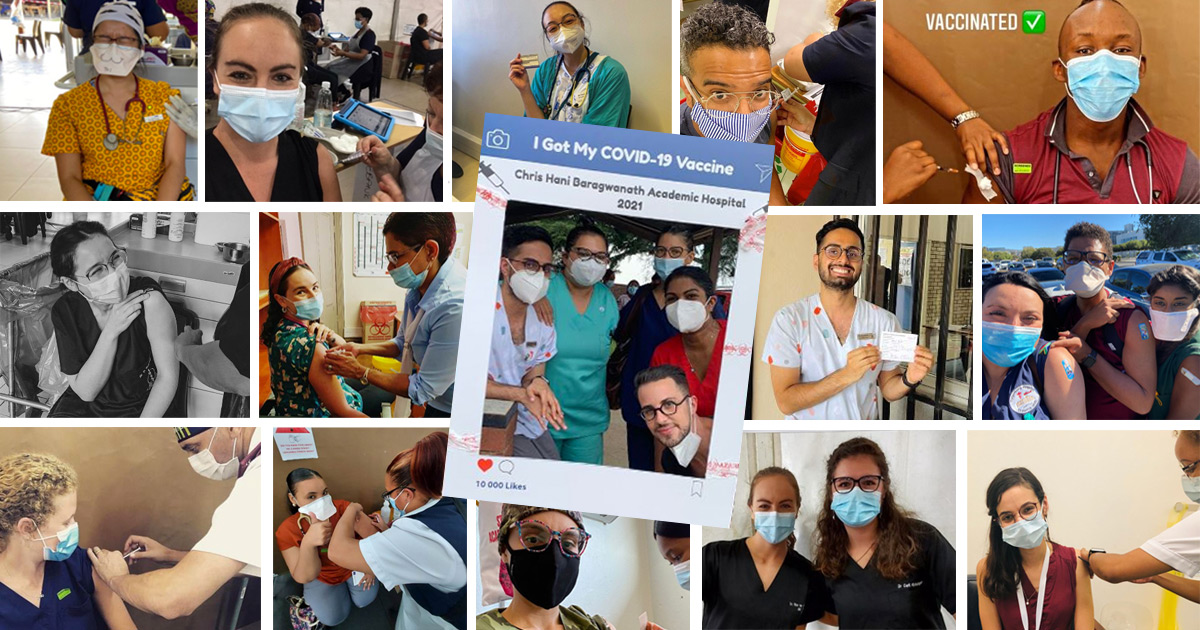 Meet some of South Africa's doctors who have been vaccinated this week, after bravely fighting the coronavirus pandemic on the frontline over the last year, risking their own lives to help save thousands of others. Many are feeling relieved, honoured and hopeful, whilst also sad for those who didn't make it. Over 52,000 healthcare workers have now been vaccinated in SA, using the Johnson & Johnson vaccine, during the first phase of the rollout. Here several doctors from hospitals across the nation share their emotions and experience of being amongst the first in the world to be vaccinated against COVID-19…
Dr Fahad Hendricks, Groote Schuur Hospital, Cape Town
"I guess my overwhelming emotion was selfishly relief, but also immense sadness at those who missed this and paid for it with their lives in the service of our community. Apart from arm pain in the first 24 hours, I didn't have any side effects."
Dr May Kyaw, Chris Hani Baragwanath Hospital, Johannesburg
"I was very excited to get vaccinated! The mild side effects and reactogenicity is worth it, compared to the severity of illness we've seen in our patients in this pandemic. CHBAH rollout was so smooth as well – congratulations and thank you to everyone involved."
Dr Mikayla Warden, Karl Bremer Hospital, Cape Town
"It was a bitter-sweet experience. Proud to be part of this incredible new step for medicine and science. But sad that a lot of people did not make it to receive this life-saving intervention."
Dr Eirlys Jones, Robert Mangaliso Sobukwe Hospital, Kimberly
"Although really grateful, I actually felt awful after the vaccine and took a sick day, where I slept the whole day. Feeling much better today."
Dr Ahmed Badat, Chris Hani Baragwanath Hospital, Johannesburg
"I'm so proud of our country and grateful for this opportunity. Vaccines have helped forward humanity immeasurably and being amongst the first to receive it has been an honour."
Dr Maria Kontogeorgos, Netcare Unitas Hospital, Centurion
Dr Mareli Bronkhorst, Dr Euwon Valentine and Dr Ishara Ramkissoon, Tygerberg Hospital, Cape Town
"What a privilege to get vaccinated today! First step towards a world without masks and giving hugs again to those you love. So proud of this well-organised rollout programme, it was done well ethically. I felt safe and hopeful for the first time."
Dr Jessica Joseph, Brackengate Covid-19 Field Hospital, Cape Town
"I feel incredibly privileged to be one of the first few in the world to be vaccinated. The magnitude of the occasion was quite overwhelming. I feel much happier that I am keeping myself safe from severe infection. I know there is a lot of fear and misconception around the COVID-19 vaccine but I think it is important for people to remember that they have gone through vigorous safety testing and trials. At the end of the day, vaccines do save lives. The vaccination process was so efficient and organized. The whole thing took 25 minutes (including the 15 minutes of observation afterwards). On the evening after my vaccination, I experienced some mild body aches but nothing severe. I would really encourage anyone who qualifies and doesn't have contraindications to be vaccinated when their time comes."
Dr Ilhaam Sheik Esack, Khayelitsha District Hospital, Cape Town
"We are vaccinated, ladies and gents! Alhamdulillah (Praise be to God)."
"I felt touched as I was tremendously grateful. I also reflected on the months of tremendous fear and uncertainty. However, the general atmosphere was that of celebration… It felt like a historical moment we would remember forever. The vaccine itself was only slightly painful as the cold liquid is injected into your arm. This lasts for a few seconds only. (Afterwards I temporarily experienced) severe body aches and night sweats. Be prepared (with pain and flu medication). Don't be discouraged; it is so, so worth it."
Dr Danielle Bosman, Helen Joseph Hospital, Johannesburg
"I experienced no side effects, just insane gratitude!
In some bizarre way somehow, somewhere there is a dim light at the end of this dark tunnel.
The millions of lives and jobs lost. The unbelievable number of children's education threatened/destroyed.
The horrific statistics of GBV skyrocketing during lock-down.
The trauma of trying to save a life with no gas left in the tank (or oxygen..)
The empty cities, beaches and skies.
I can't tell you what to do, but man I hope you get vaccinated.
The whole world stopped, (desperately) awaiting its arrival.
For 2.5 million+ people, it didn't arrive soon enough.
How fortunate we are to even have a choice?!
Just think about it."
Dr Lungelo Chonco, Karl Bremer Hospital, Cape Town
Dr Nina van der Merwe, Chris Hani Baragwanath Hospital, Johannesburg
"The mom of one of my friends died of COVID-19  this morning. Thereafter, I was again consumed with guilt. What did I do to deserve a vaccine?? So many have died and we have let them down. On one hand, I was so excited and grateful and on the other hand, riddled with guilt… and a massive headache."
***
Acting Minister in the Presidency Khumbudzo Ntshavheni said:
"Since the start of the COVID-19 pandemic, our Healthcare Workers have been the shield that kept our nation safe. They have faced the virus head-on and have persevered against an unrelenting virus. Their selfless sacrifice has saved countless lives and our nation owes them an immense debt of gratitude. Their vaccination will help protect them against infection and ultimately return our nation to normalcy."
According to the Department of Health, the J&J vaccine – which works against the new 501Y.V2 variant dominant in SA – was tested in a large trial of almost 44 000 people from four continents, of whom 7 000 participants came from South Africa.
The SA Cabinet said it is pleased that millions of additional vaccines, from several sources, will be arriving at varying intervals in the coming months, beginning in March 2021. Vaccination in SA remains free and voluntary.