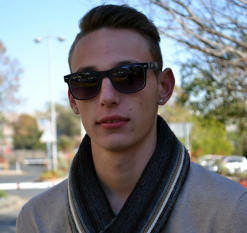 SA's youth can beat drugs
South African Jarred Gaskin was 17 years old when he was chosen to play for Arsenal Football Club's youth team in England. He returned to his home in Johannesburg and was given two months to apply for British citizenship, which would allow him to play there. But within that two months, Gaskin got involved with […]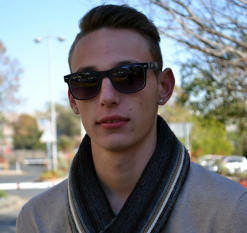 South African Jarred Gaskin was 17 years old when he was chosen to play for Arsenal Football Club's youth team in England. He returned to his home in Johannesburg and was given two months to apply for British citizenship, which would allow him to play there.
But within that two months, Gaskin got involved with bad company and became hooked on crystal methamphetamine, or meth as it is colloquially known – a highly addictive man-made drug that elicits a strong bout of energy. As a result, he threw a promising football career away.
Gaskin's misfortune is testament to the modern-day youth's struggle against drugs. And though the problem seems to be escalating, some young people say it can be beaten.
Boipelo Masidi, a third-year architecture student at Wits University, said the first time she was exposed to drugs was when she left her home in Potchefstroom and moved to Johannesburg. "I have been offered cocaine. And the people who offer you are young and I know they are students because I see them around campus."
Unlike generations past, who had to deal with racial discrimination and political upheavals, those born after apartheid face a new kind of struggle against poverty and high levels of unemployment, which in turn leads to substance abuse. "We are dealing with trying to find economic freedom. Drugs are part of that struggle," said Masidi.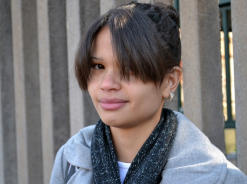 Aidan van Staden, a screen acting student at Afda Film School and a born-free South African (born after 1994), said drugs are more reachable because youth his age have easier access to transport and various means of mobile communications.
However, Van Staden thought exposure to drugs will allow one to make an educated decision on whether to dabble in them or not. "With that knowledge you will know how to deal with it and make the right choice."
For a few, drugs have become less taboo. Jessica Elonga, 20, who is originally from the Democratic Republic of Congo but has lived in South Africa for the last six years, believes society has accepted drug use as part of growing up as a teenager. "It depends on your environment. Those who are not protected from the world grow up automatically thinking it is normal for you to [take drugs]."
Drug use a "passing phase"
Gaskin still harbours regret for becoming addicted to a drug he knew would turn his life upside down. He weighed 97 kilograms during his football playing days. In the two months he used meth, he lost 19 kilograms. "It really is not worth it. You will say you only want to try it once but the feeling is addictive and it will mess up your life."
At the time, Gaskin was influenced by peers who were eight years older than he was. Meth, he explained, boosts energy levels. But the come-downs often lead to depression and irritability. To keep the euphoric feeling, Gaskin always searched for more. "This was near the end of last year, during my matric finals. My marks could have been better."
Gaskin cleaned himself up after his father caught him taking meth. He now gets tested every Friday. Today, the 19-year-old works for a motor insurance company in Johannesburg and will study financial management next year.
He offered a solution to youth who have not been exposed to drugs. "Just don't try it at all. And for those who are addicted; go for rehabilitation."
Masidi is hopeful that drug abuse is a passing phase for her generation and that they can overcome it. If one is looking to get away from drugs, she said they should start by telling their parents about it and make them understand why they were using it. "The first step is recognising that you have a problem."
Masidi added that students, particularly at Wits University, can consult the Counselling and Careers Development Unit, which helps drug users beat their problem. "There is no reason to say you are stuck in a situation because there is a lot of help out there."
Twenty-year-old Angela Mchunu suggested that young adults who have drug problems should keep away from bad company and, instead, surround themselves with people who can influence them positively. "If you are in it already, it is hard to say no [to drugs]."
Law student Crystal Davids, 18, thought people take drugs because they cannot handle the pressures of life. "They take the easy way out."
Davids grew up in Eldorado Park in the south of Johannesburg, where the drug epidemic has recently reached a tipping point. With the help of police and with support from the highest levels of government, the community is currently on a major drive to root out drug dealers.
Taksheeta Pursooth, a human physiology student from Mayfair in Johannesburg, said drugs affect both the user and the loved ones around them. "It does affect you emotionally especially if the person is close to you."
She added that some young men and women in her community have lost their lives to drugs and alcohol. However, Pursooth accepted that such social problems have always existed and will not go away any time soon – they can only be lessened.
South Africa's youth "ready to lead because they are ready to listen"
South Africa's young men and women will inherit the country in coming years. Some of them will become the chief executives of major corporations, others will become political leaders of South Africa. And they truly believe they are prepared to take on that responsibility.
For too long, Mchunu said, her generation had been portrayed in a negative light, which she believed is not entirely true. "There are people who are striving for greater things and who can turn this country around for the better."
Van Staden said his age group has aspirations and knows exactly where they want to go. "I see a lot of people my age as educated, focused and broadminded. They are ready to lead because they are ready to listen."
He felt the country that today's young people will inherit would still have its problems, which are merely opportunities to learn and grow.
A mechanical engineering student, who wished to remain anonymous, said his generation will be one of the best the country would have produced. "There are lots of people out there who are motivated. We want to do major things, make lots of money, be very influential people and change the world. In my school we all left saying we going to be big in whatever we are going to do. We were sure of that."
He added that once his generation lead the country, South Africa will begin to grow properly. "These are the people who are awakened to the possibilities and what South Africa can be."
For Davids, people her age are taking life more seriously and have become wiser. Indeed, Davids is the embodiment of her words. She chose to study law because of the job opportunities it has to offer and because it can make a positive impact on society.
Youth more open-minded
Gaskin said the way South Africans co-operate is "spectacular". "We had a problem where everyone was segregated and now we have come together. I see that racism is not a problem any longer."
The exposure to various cultures and beliefs have shaped the born-free generation into a more liberal and tolerant group. Van Staden put it eloquently, saying his exposure to people from various backgrounds revealed to him different thoughts and beliefs. "I have learnt about the respect family members have for each other in Muslim households. There are not many arguments and they treat the family as a team."
Mchunu said that South Africans are becoming more liberal, having already accepted interracial and gay marriage.
Pursooth does not think she will be able to adapt to another country's cultural norms after living in South Africa's open society. "South Africans are so familiar with diversity. We are taught in our homes how different cultures are and we try to understand it a bit better."
By: Shamin Chibba
Source: www.mediaclubsouthafrica.com