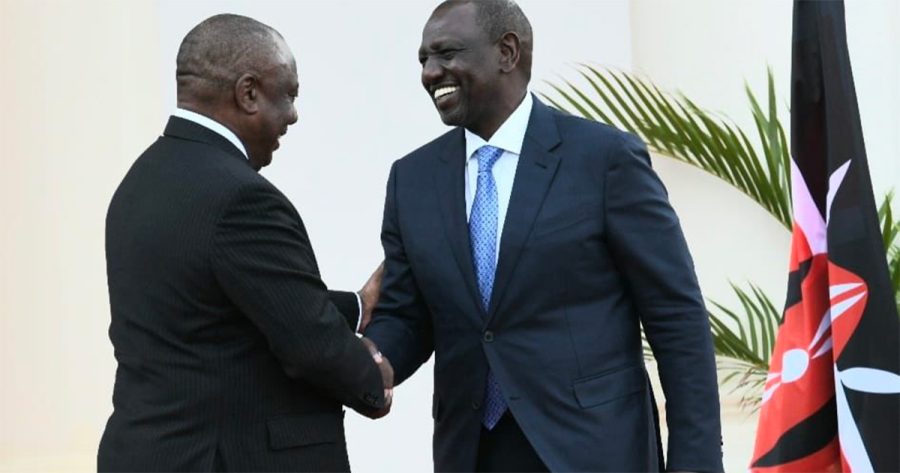 South Africa to Welcome Kenyans with 90-Day Visa Free Entry from 2023
President Cyril Ramaphosa has announced that Kenyans will now be able to enter South Africa visa free for a period of 90 days, following an agreement that was reaching on the 'thorny issue' during his official state visit to the African country. During the visit several Memoranda of Understanding and agreements were signed between the […]
President Cyril Ramaphosa has announced that Kenyans will now be able to enter South Africa visa free for a period of 90 days, following an agreement that was reaching on the 'thorny issue' during his official state visit to the African country.
During the visit several Memoranda of Understanding and agreements were signed between the two countries.
"We agreed that indeed Kenyans should be able to visit South Africa without requiring them to have visas… this dispensation will commence on the 1st of January 2023 and that our officials will speed up the processes of putting it into effect," said Ramaphosa.
The President explained that the new dispensation will be available to Kenyans for a 90-day period in a year. Meaning, Kenyans can use the visa free entry for 90 days in a year.
"We will be able to review this and get reports from our ministers within the year and see how this is functioning.
"This will also be underpinned by other processes that we have agreed should take place. [That is] close monitoring of the implementation of this process and also be able to have a return policy of those…elements that would be undesirable to be able to be returned to Kenya," he said.
President Ramaphosa said the move will strengthen the relationship between the two countries.
"More importantly [the agreement strengthens] the people to people contact. Kenyans and South Africans have multiplicities of relations both business, social, communal and at relative level. They want to be able to travel and tourism between our two countries will be greatly enhanced through this," he said.
During talks, the two countries also signed agreements and Memoranda of Understanding in the areas of correctional and prison services, housing and human settlements, arts and culture and schools of government.
"We are committed to ensure that the agreements and Memoranda of Understanding that we have signed now and in the past will be implemented fully," he said.
Bilateral relations
President Ramaphosa described the Official State Visit to Kenya as "productive and constructive".
"We recognise that the wonderful foundation that exists between our two countries gives rise to enormous opportunities that our two countries should capitalise on," he said.
The President reflected that the two countries face similar challenges of unemployment, inequality and poverty.
"Since 2020, South Africa has been implementing an Economic Reconstruction and Recovery Plan to lift our economy out of a prolonged period of slow growth, to create jobs and to undertake far-reaching economic reform.
"This is not dissimilar to Kenya's Recovery Plan, with its six core pillars of agriculture, micro, small and medium enterprise, housing and settlement, health care, the digital superhighway and creative economy, and the environment and climate change.
"There are definitely opportunities for South Africa and Kenya to share experiences and good practice in the implementation of these two economic plans," he said. – SAnews.gov.za