South African Soprano Stuns at Commonwealth Games in Scotland
South African opera singer Pumeza Matshikiza stunned the audience at the 2014 Commonwealth Games opening ceremony in Glasgow this week with her rendition of "Freedom Come All Ye" (watch video below). Pumeza's performance of the 1960's Scottish protest song was significant to the people of Glasgow, who have a strong connection with South Africa. Glasgow gave Mandela […]

South African opera singer Pumeza Matshikiza stunned the audience at the 2014 Commonwealth Games opening ceremony in Glasgow this week with her rendition of "Freedom Come All Ye" (watch video below).

Pumeza's performance of the 1960's Scottish protest song was significant to the people of Glasgow, who have a strong connection with South Africa.
Glasgow gave Mandela the Freedom of the City in 1981, nine years before he was set free from prison. Pumeza hails from the same Xhosa-speaking people as Mandela. She was a teenager when he was released and later elected President of South Africa in 1994. A year previously, Mandela visited Scotland's largest city in 1993.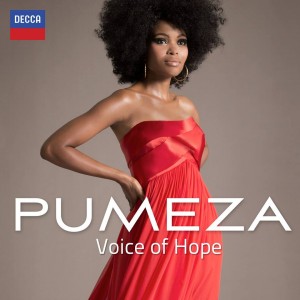 The song she sang at the Opening Ceremony was written by Hamish Henderson and set to a march from the First World War. It refers to Nyanga, one of the oldest black townships in Cape Town. This happens to be one of the places where Pumeza grew up as a child.
According to a video transcript by Decca Classics on YouTube, Pumeza took inspiration from this, and "her reinvention of the song ingeniously mixed Scottish and South African instrumentation."
As a child Pumeza experienced extreme crime and poverty…and it was opera that became her ticket out of the townships. A South African composer noticed her awesome talent and paid for her to fly to London where she won a full-scholarship at the Royal College of Music, despite having had very little formal training. She has performed at major European opera houses and her debut album – Voice of Hope – will be released in the UK on Monday 28 July 2014.
"We never studied musical notation or any history of music," Pumeza recalls on her website. "It was just tonic sol-fa. But I sang in choirs and I grew up with choral and church music. We sang pieces by our own composers, then as I grew older we were introduced to oratorio choruses, with pieces from Haydn's The Creation for example. Later on, going in the direction of opera was a continuation of this kind of background."
She says she thinks of herself "as someone who comes from Cape Town, because that's what I know. I remember as a young person living in different townships, because my mother wanted to have a house and we changed places frequently. I went to about four primary schools and then stayed in high school for five years."
She remembers the apartheid days and the fight for freedom…so her performance of a protest song for freedom at the Commonwealth Games meant so much, not just for Pumeza's dazzling career…but for her life's journey.
 WATCH VIDEO: Pumeza performs at Commonwealth Games 2014 Opening Ceremony
Pumeza's debut album 'Voice of Hope' is released Monday
Amazon: http://po.st/VoiceOfHopeAma
iTunes: http://po.st/VoiceOfHopeiTu