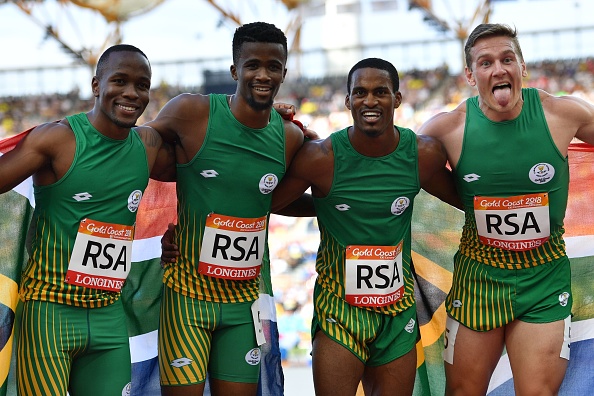 South African Quartet Sprints to Silver in 4×100 Relay
Akani Simbine and Henricho Bruintjies added silver medals to their Commonwealth Games sprint collection as South Africa took silver in the 4×100-metre relay on Saturday, writes MARK ETHERIDGE on the Gold Coast, Australia. The two had won gold and silver respectively in the 100m final a few days prior to the relay. Bruintjies got the […]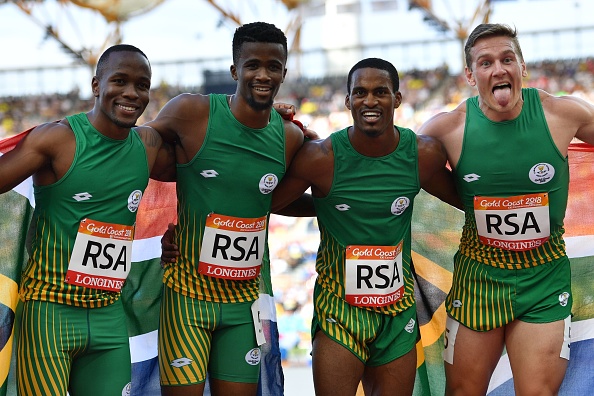 Akani Simbine and Henricho Bruintjies added silver medals to their Commonwealth Games sprint collection as South Africa took silver in the 4×100-metre relay on Saturday, writes MARK ETHERIDGE on the Gold Coast, Australia.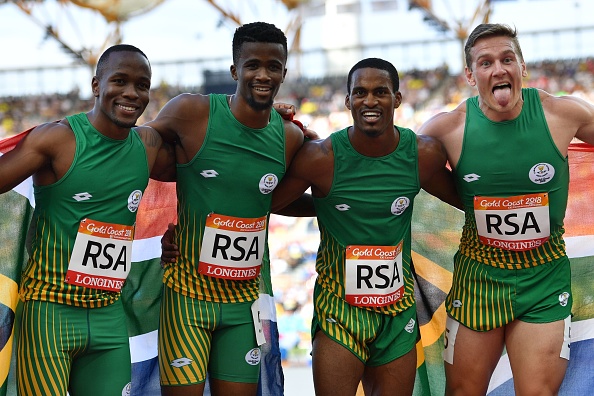 The two had won gold and silver respectively in the 100m final a few days prior to the relay.
Bruintjies got the SA quartet underway and Simbine sealed silver with Emile Erasmus and Anaso Jobodwana sandwiched in between, as they rewrote the record books.
Their combined time of 38.24 seconds takes 0.11sec off the old mark, set at the last Games in Scotland four years ago when Akani Simbine and Bruintjies were also part of the squad (Ncincilili Titi and Simon Magakwe were the other two).
With changeovers efficient if not spectacular by the South Africans, Simbine still had a lot of work to do as Jobodwana gave him a tough job to do!
But he was right up to the task and overtook a flagging Josh Clarke of Australia and Yohan Blake of Jamaica, the last within 10m of the line. Up ahead, England won in 38.13 but Simbine was closing fast.
The relay team's plans were disrupted way before these Games with first Wayde van Niekerk being sidelined with an injury and then Clarence Munyai picked up an injury in the 200m semi-final.
Bring both those names back into the picture and surely South Africa must be targeting another medal in this event.
'We were a fair way behind, when I got the baton,' said Simbine. 'All I was thinking was "just chase, just chase". I could see Blake coming up and there was no, now way that he was beating me.'
'I knew I could finish strong but didn't know I'd finish THAT strong.'
The man who calls himself King Bruintjies on social media was next to hold court. 'We had two or three sessions before the 100m final and then yesterday again… so probably four sessions in all.
'For now I'm quite happy but by getting in a few more sessions we can definitely be unbeatable – as they say, practice makes perfect.'
The powerful Erasmus was brought in purely for the relay event and was glowing with pride.
'It's an incredible feeling running with these three people. They're the best three people I've ever run with and just knowing that it might not be perfect, but with these guys, they'll still make sure things will go great.'
Jobodwana says the silver medal goes some way to making up for his disqualification in the 200m semi-final for false starting. 'I just focused on the job. I'm glad I survived Friday the 13th,' he grinned. 'The whole day I was thinking "please don't let it be me who gets the team disqualified. I'm just glad to be able to do my part for the team.
'The hamstring held up and now I'm heading home to get it sorted out for good.'