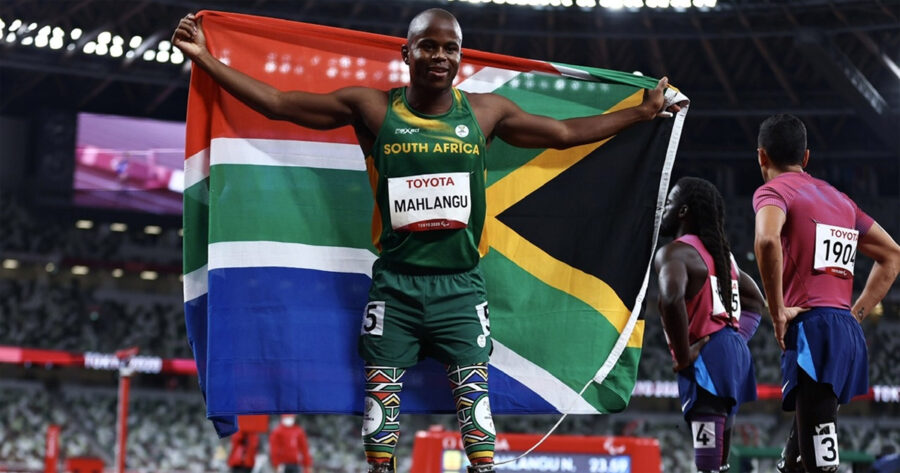 South Africa's Ntando Mahlangu Races to Second GOLD at Tokyo Paralympics
As anticipated, Ntando Mahlangu has done it again – scooping yet another fabulous Gold Medal for South Africa on Friday, 3 Sep, at the Tokyo Paralympics in Japan. Last week Mahlangu won Gold in the long jump AND broke a World Record. Mahlangu won the Men's 200m (T61) final at the Olympic Stadium. With his […]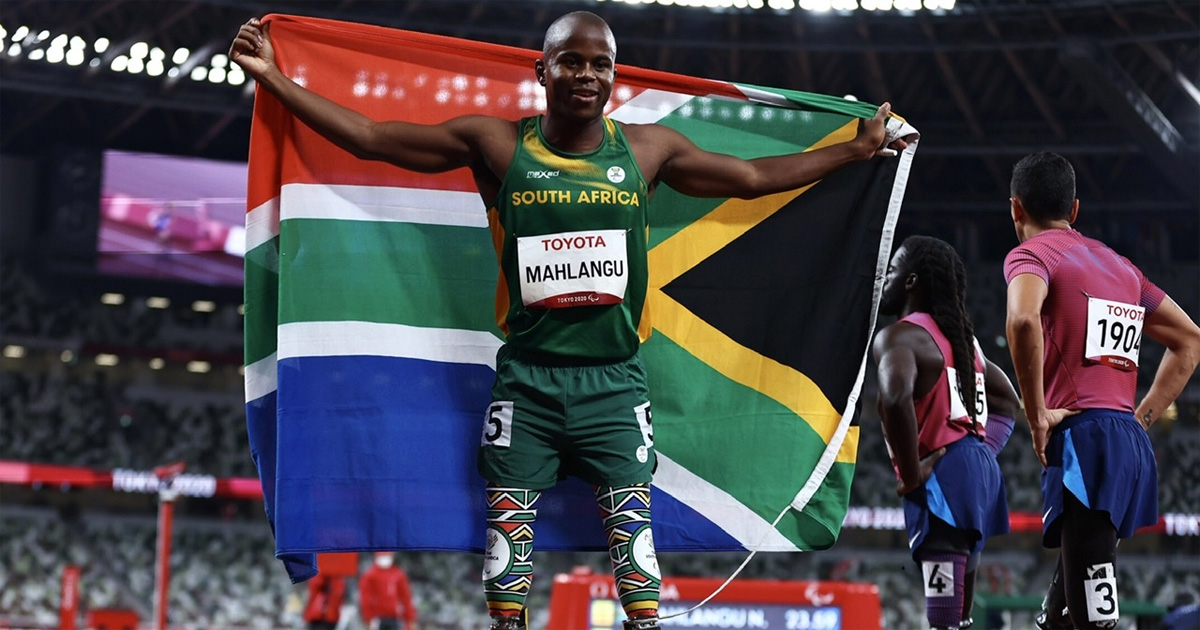 As anticipated, Ntando Mahlangu has done it again – scooping yet another fabulous Gold Medal for South Africa on Friday, 3 Sep, at the Tokyo Paralympics in Japan. Last week Mahlangu won Gold in the long jump AND broke a World Record.
Mahlangu won the Men's 200m (T61) final at the Olympic Stadium. With his blades proudly displaying the South African flag colours, he joyously celebrated his win, flying the SA flag high.
It was the exact 'Mahlangu Storm' that TeamSA had predicted for Friday, after a very quiet Thursday for Team South Africa.
The Paralympic Games called him 'SUPER NTANDO!'.
Mahlangu ran a sensational time of 23.59sec, said TeamSA, making this South Africa's fourth Gold of the Games, and 6th medal overall. Here are more details from Gary Lemke in Tokyo:
Changing of the guard as Mahlangu wins Gold
From one Paralympic legend to another in the making. Great Britain's Richard Whitehead proved to be as classy in defeat as he has been in victory over the years when he took off his name pinned to his vest and turned to Ntando Mahlangu: "Let's swap, Ntando. A changing of the guard."
Whitehead's gesture came in the mixed zone at the Tokyo Olympic Stadium where minutes earlier the South African 19-year-old had hunted down the two-time men's 200m (T61) Paralympic gold medallist and four-time world champion and beat him to the line, to win in 23.59sec and pick up South Africa's sixth medal of these Games, and fourth gold.
It was also Mahlangu's second gold after he had won the long jump six nights earlier.
It was a reversal of the gold and silver medal from the Rio 2016 Games when Ntando had exploded onto the scene as a 14-year-old.
Mahlangu was a red-hot favourite to win the gold on a wet Friday night in Tokyo. He holds the world record in the class, a 23.03sec performance in Switzerland in 2019, and there had been much expectation that he would go under 23 seconds here. It wasn't to be, but victory was his.
WATCH Ntando Mahlangu win Gold in Tokyo, again
Ntando Mahlangu won #Gold in the men's 200m (T61) in 23.59 seconds. #YouDeserveIt #Paralympics pic.twitter.com/psQM4n8YIv

— SABC Sport (@SABC_Sport) September 3, 2021
However, for the first half of the race, the 45-year-old Whitehead had given his younger rival plenty to think about. Racing in lane six, on Mahlangu's outside, the Brit was away quicker and held sway through the bend and into the home straight. With 80m remaining Ntando was in full flight, his colourfully-painted blades being eye-catching, although for more than a few moments it looked as though a stunning upset could be on the cards.
However, with 60m left, Mahlangu had managed to hunt down his foe and got to grips with him, before pulling away inside the last 50m to win comfortably in the end by 0.40sec. The class that Whitehead has displayed throughout his own glittering career was on display afterwards as well. Whitehead said:
"It's a pity that there wasn't a full crowd here to celebrate Ntando's win. He's an athlete who deserves to have full houses watching him. He's the future. When I won gold at London 2012 there were 80 000 people in the Olympic stadium and it was a special moment, a life experience. Ntando deserves that."
A few minutes later Whitehead continued the grace when he posed for a picture and suggested to the South African that they change vest names. It reminded me of what Michael Phelps said when Chad le Clos dethroned him in the men's 200m butterfly; similarly the American had referred to Le Clos' arrival as gold medallist on the biggest stage as him "handing over the baton".
Stream the Tokyo Paralympics on Showmax Pro. 
Ultimately, it was a combination of Whitehead's 45-year-old legs perhaps counting against him in the last 50 metres. He had come to Tokyo, virtually out of sprinting retirement – he has been concentrating on marathons in recent years – to give Mahlangu the chance to fulfil all the prophesies.
There had only bene five entrants in the men's 200m in this T61 event, so it became a one-race dash for the medals, and Whitehead's decision to be part of it is something that Mahlangu will reflect on and give thanks to the elder statesman for doing.
However, the elated new double gold medallist from Tokyo, was determined to enjoy the moment. "I'm not concerned that there wasn't a crowd here in the stadium tonight. The most important thing when I started doing athletics was to run. Having a nice full stadium would be nice, but the fact that I can come here and do what I love is what drives me.
"The love and the warmth from the Japanese people before coming to the stadium and all through the Games has been wonderful. Coming into the race I didn't want to talk too much about winning and I certainly didn't take the gold medal for granted. I had changed a few things and my start was a bit slow, but I knew where in the race I would accelerate. I was very well prepared," Mahlangu said.
"I'm grateful for the win and I'm also happy for my coach who has put so much work into us getting this far. We have been working together for a long time now.
"At the end of the day I'm very happy, You know, I go back home with two gold medals and one world record. Not a lot of people can say that. I can be proud of myself.
"I was well prepared for this race and I think you could see that. To come from behind on the bend shows that I executed things properly. The problem with being behind is not the fact that you're behind, but it's making sure you then don't panic and execute things properly in the second half of the race, and finish the race off.
"I am very, very happy and very happy with where i am at this stage in my career. I can be proud of myself and there's no need to put pressure on myself, I still have many years ahead of me. The long jump world record did take a bit out of me though, I could feel it for the first 110m or so. But, when I got into the second half of the race my body responded and I could execute the race in the way that I had planned."
In other track action on Friday night, Tebogo Mofokeng finished fourth in an African record 50.09sec in the men's 400m (T62) final, with fellow TeamSA athlete Daniel du Plessis placing 7th in 53.56.
Elsewhere, Charl du Toit finished fourth in his men's 200m (T37) heat in 24.04sec and narrowly missed out on a place in the final.
Sources include: TeamSA and Reuters
Stream the Tokyo Paralympics on Showmax Pro.