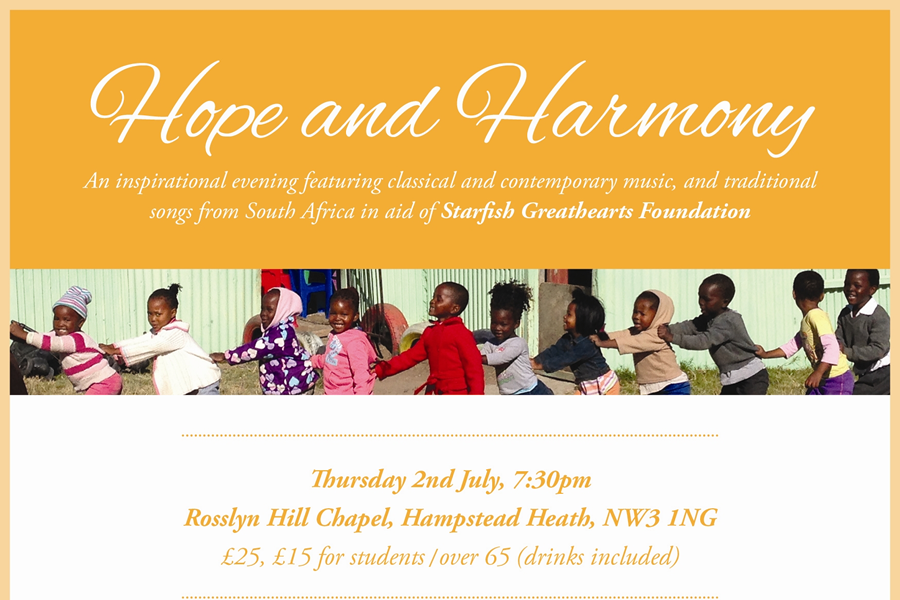 Fantastic Starfish Event in London TONIGHT
Starfish Greathearts Foundation, a charity working with children in South Africa orphaned or made vulnerable by HIV and AIDS, are holding an inspirational evening of jazz and classical music alongside traditional songs from South Africa this evening. The event – 'Hope and Harmony' – promises a wonderful line up of musicians, including: Queen of Afro-Jazz Pinise […]

Starfish Greathearts Foundation, a charity working with children in South Africa orphaned or made vulnerable by HIV and AIDS, are holding an inspirational evening of jazz and classical music alongside traditional songs from South Africa this evening.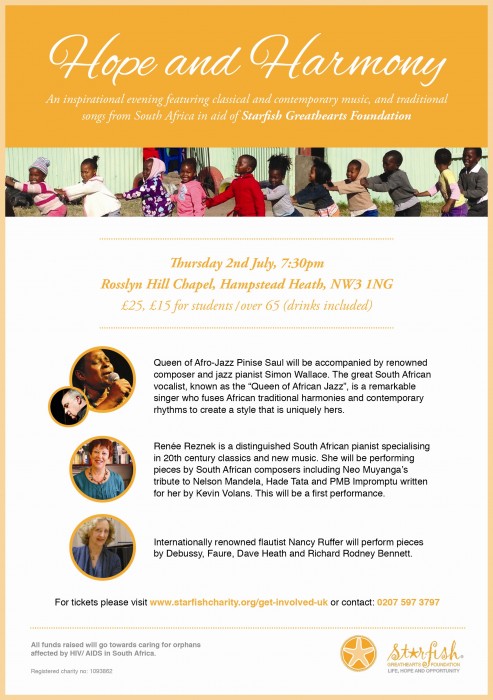 The event – 'Hope and Harmony' – promises a wonderful line up of musicians, including: Queen of Afro-Jazz Pinise Saul, jazz pianist Simon Wallace, distinguished South African pianist Renee Reznek and renowned flautist Nancy Ruffer.
Hope and Harmony Event Details
Thursday 2nd July at 7.30pm at Rosslyn Hill Chapel, Hampstead, NW3 1NG.
Tickets cost £25 or £15 concession for students and those over 65, and these prices include interval refreshments.
Tickets can be purchased at www.starfishcharity.org/get-involved-uk or by calling 0207 597 3797. Or email ukinfo@staritycharity.org
All proceeds from the evening will go directly towards projects providing life, hope and opportunity for vulnerable children in South Africa.
Click here to download and view the full Starfish A5 Programme (PDF).