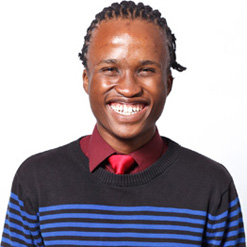 The genius from the townships
His mother dropped out of school to have him when she was 18. He went to school in the townships, where his family lived in an RDP house. Today, 22-year-old Wandile Mabanga is writing his master's dissertation in a field of quantum physics so specialised there are only two people in the world qualified […]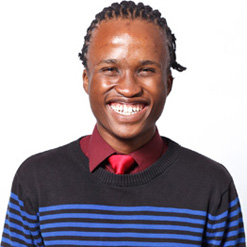 His mother dropped out of school to have him when she was 18. He went to school in the townships, where his family lived in an RDP house. Today, 22-year-old Wandile Mabanga is writing his master's dissertation in a field of quantum physics so specialised there are only two people in the world qualified enough to supervise him.
Genius is often linked to childhood. French poet Charles Baudelaire wrote, "Genius is nothing more nor less than childhood recaptured at will." Mabanga bears this out. Again and again he displays a greedy curiosity, a childlike – but not childish – fascination with learning everything he can about everything around him.
"Liking to learn comes mainly from playing, as a child," he says in a video for the Allan Gray Orbis Foundation. "Catching crabs: what are these things? Why do they work the way they do?" Written on a piece of paper on his wall is the question, "Why do we grow up?"
Jumping the grades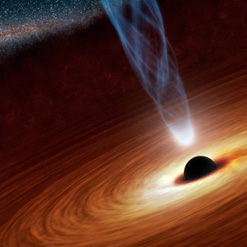 Mabanga was raised in KwaThema, a township outside Springs in Gauteng. He started school at Umsobomvu Primary in 1997, where his flair for learning allowed him to complete grades one and two in a single year.
"The teachers had a love for what they were doing," he says. "One of the fondest memories I have is from grade six. Mrs Sisulu taught us about the flower. I couldn't understand how something so beautiful and elegant could be described on paper, in a language we invented."
This curiosity about the deep complexity yet simple workings of the flower set the roots for Mabanga's enduring fascination with physics. His MSc degree at Wits University in Johannesburg is in the field of quantum gravity, an esoteric theoretical field that, broadly, seeks to unify gravity with the three other fundamental forces of physics – electromagnetism and the strong and weak nuclear forces.
'This child is troublesome'
In 2003 Mabanga enrolled at Tlakula High School in KwaThema, where he was a member of the debating society and active in youth organisations. He excelled at his studies, particularly maths and science.
High school stoked his love for science: "It started with doing experiments in high school and constantly watching National Geographic," he told the Saturday Star. "The environment fascinates me and I'm curious to see how everything works and how things are made. My mind runs wild.
"I'm constantly asking myself different questions, challenging my mind to see if I can get answers." During one school holiday, he took a job investigating the viability of hydrogen fuel cell technology as a green-energy substitute for coal.
In his matric year, 2007, there was a six-week teachers' strike. Mabanga helped his classmates by taking over the teaching of maths and science. At the end of the year he emerged as one of the top five matriculants in Gauteng, with a perfect 100% mark for maths and 93% for physical science.
In the Allan Gray video, Tlakula High School teacher SMS Masombuka recalls one of his colleagues saying of Mabanga: "This child is troublesome. He gets 98 out of 100, we clap our hands for him, and he says, 'No, what about that two percent? I want that two percent, ma'am. Can I write another test?'"
Masombuka adds: "And that's how you manage to get 100 out of 100 marks – not percent. In mathematics, in grade 12. No other learner got such a mark in South Africa."
Meeting Mandela
It wasn't only his studies that kept Mabanga busy in high school. He was also a member of Youth Connection, a KwaThema-based organisation working to develop the "soft" life skills of township kids, skills they need to get and keep jobs.
In 2006, Mabanga joined the Nelson Mandela Children's Fund youth club Efeng Bacha, which was given the job of organising Mandela's 88th birthday celebration, where he got to meet the great man.
In 2008, Mabanga helped Efeng Bacha organise South Africa's first Youth Parliament – a massive project. The organisation is currently building the first world-class Children's Hospital in Johannesburg.
Mabanga is also a member of the international Golden Key society, the world's largest honour society, which connects high-achieving individuals locally, regionally and globally. And in 2011 he was the first South African to enter the International Maths Competition in Bulgaria.
A funding conundrum
But there was a darker side to high school. His family scraped through each month, living on his brother's social grant and the income of his TV-repairman father. There was a strong possibility that school would be the end of his education.
"When I was still at high school I didn't think I'd make it to university," he says. "That was mostly because I knew my parents couldn't afford it. What kept me going with my studies was my love for the subjects. I thought, after school I'd go and work – and that would be it."
That wasn't it. His excellent marks easily landed Mabanga a bursary, allowing him to enter Wits University in 2008 to study chemistry with chemical engineering. This five-year, two-degree programme is limited to only 30 select students.
But his fascination with physics remained. In 2009 he had to face a dilemma: continue with chemistry, or switch to physics and lose his funding.
"In second year, unfortunately, I had to make a very difficult decision, of whether I keep my current sponsor, or I do physics," he says. He had already applied to the Allan Gray Orbis Foundation , which funds young people who show potential to become great leaders or entrepreneurs.
The funding came through, and he was on his way. Not only could he study his beloved physics, but he could also help pay for his younger brother's school fees – and give his mom some money.
"I am proud of my relationship with my mom," he says. "We've been through a lot together. A lot of moms would choose for their kids. She has allowed me, for most of my life, to be myself."
Mentoring matrics
Mabanga hopes to become a working theoretical physicist, but also a social entrepreneur, giving back to the impoverished community that nurtured his love for learning.
Today, he often returns to Tlakula High School to mentor the kids there. In the video, he shows a matric class film footage of majestic aerial vistas across the world: rainforests, the Himalaya mountains, tropical islands.
"The most important thing, right now, for you, is to get your matric certificate," he says. "But not just get it, but get it to go wherever you want to go." The video, he says, is "to excite you about the world we live in, that you are about to explore as you go out."
Later, he says: "I go back to my high school because I believe in giving back. When I look at the kids at school, and I speak to them, it reminds me of myself. It keeps me going, to try to tell them, 'Your circumstances are not permanent, and the world is not exactly the way you perceive it.'
"We are all shaped by the environment. A lot of people constantly exposed to an environment where it's impossible to do anything – that becomes reality for them."
By: Mary Alexander, Vodacom Digital Classroom
Source: www.mediaclubsouthafrica.com