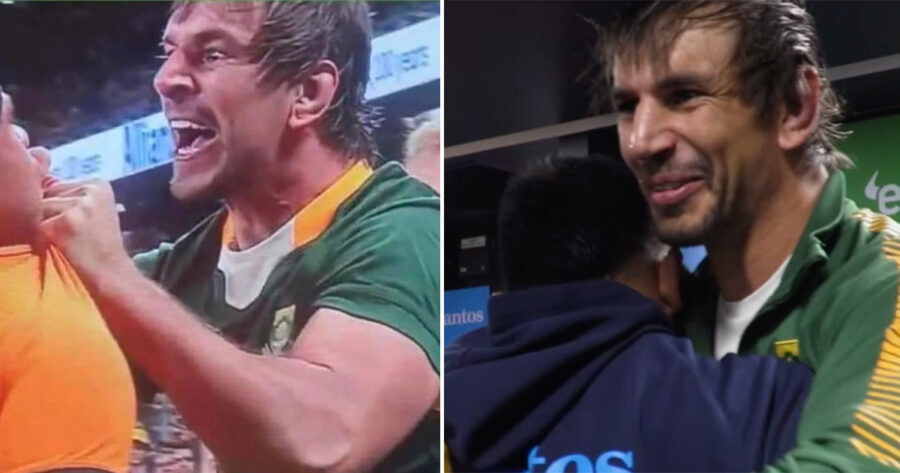 WATCH Eben Etzebeth and Allan Alaalatoa Make Up After That Fuming Altercation in Sydney
In true rugby style, South Africa's Eben Etzebeth and Australia's Allan Alaatatoa 'kissed and made up' after that shocking brawl during the rugby in Sydney yesterday. The two professional sportsmen shook hands and embraced after the match which was won by the Springboks 24-8. The Wallabies team posted the feel-good video to social media and […]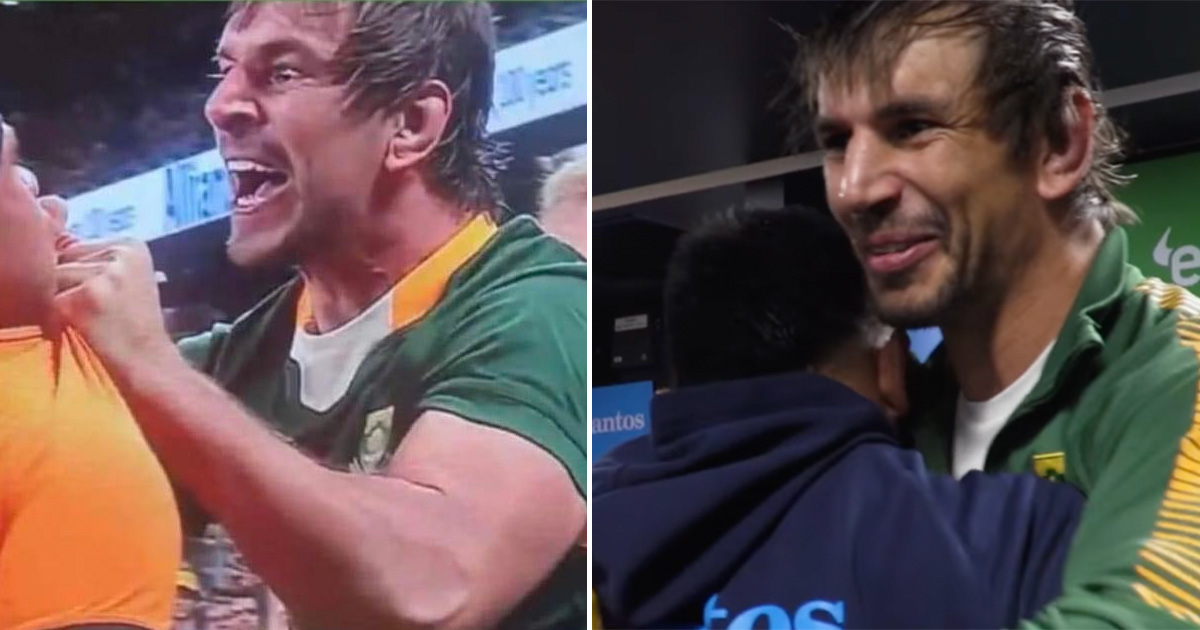 In true rugby style, South Africa's Eben Etzebeth and Australia's Allan Alaatatoa 'kissed and made up' after that shocking brawl during the rugby in Sydney yesterday. The two professional sportsmen shook hands and embraced after the match which was won by the Springboks 24-8.
The Wallabies team posted the feel-good video to social media and said: "? More than rugby. Springboks #Wallabies eToro #AUSvRSA" (Watch the video below.)
Etzebeth's fuming facial features, which had been caught on camera during the match as he had an altercation with Alaatatoa, went viral in the past 24 hours and spawned several memes from 'Nou gaan ons braai' to "what do you mean, you're out of brandy?'
Etzebeth's "crazed eyes" made headlines around the world, including in SA where IOL admitted "Eben Etzebeth's face of fury sends shivers down everyone's spine. SA Rugby Mag said "Eben goes rage Monster" and New Zealand's Stuff called it a "terrifying scuffle".
The altercation came after the Springbok's Makazole Mapimpi was yellow-carded.
After watching the Wallabies' video showing the two rugby greats embracing and sharing some beer, a South African expat living in Sydney said: "Great to see, this is why I love Rugby you play your guts out on the field and have a few cold ones after. Much respect to these two great players ?"
Another said: "And that, ladies and gentlemen, is why rugby is is awesome."
Teekay Madonsela in SA wrote:
"Now, I truly understand when they say it's the "Gentlemen's sport", I was ready to carry a grudge for the rest of my life. ?? Australians are welcome in South Africa anytime. ?"
Many South Africans agreed, and Eltina Stenhouse in Durban added: "For 20+ years we've sat in our season ticket seats at KP Durban three rows behind the visiting team's bench. Without a doubt the Australian super rugby and Wallabies players have been the best at acknowledging and interacting with spectators behind them. Even when there's teasing they respond with good humour."
Rugby's like Vegas. What happens on the field stays on the field.
WATCH Allan and Eben post match
WATCH Eben Etzebeth's 'face of fury' during the Springboks vs Wallabies match
Note to self: don't mess with Eben Etzebeth 😠 pic.twitter.com/PIN5Mn44ES

— SuperSport 🏆 (@SuperSportTV) September 3, 2022