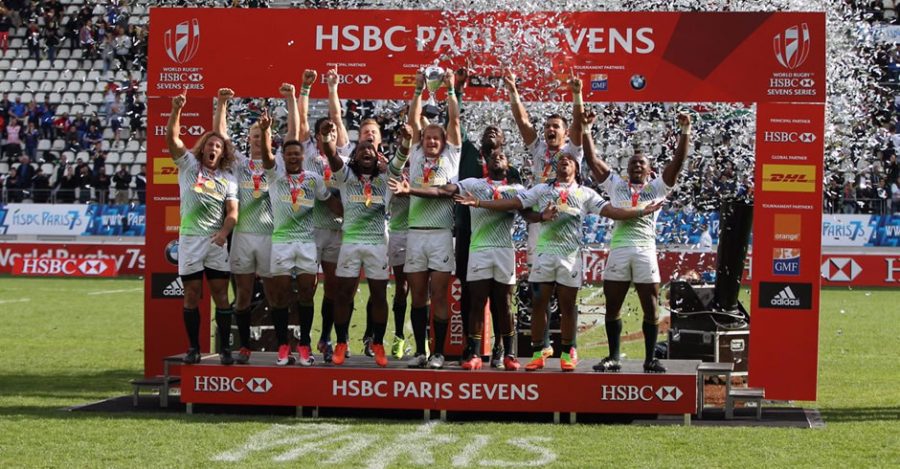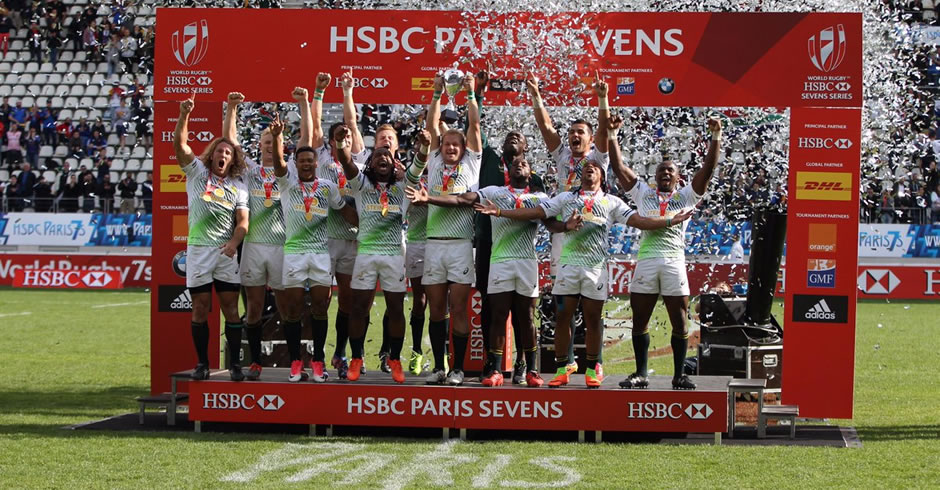 WATCH Highlights as Springbok Sevens Win Paris Series and Crowned World Rugby Series Champions
The Springbok Sevens team on Sunday took an unassailable lead in the World Rugby Sevens Series and will be crowned the 2016/17 series champions in London next week when the series conclude with the HSBC London Sevens at Twickenham. WATCH the Highlights from today in Paris at the bottom of the page. The Blitzboks had […]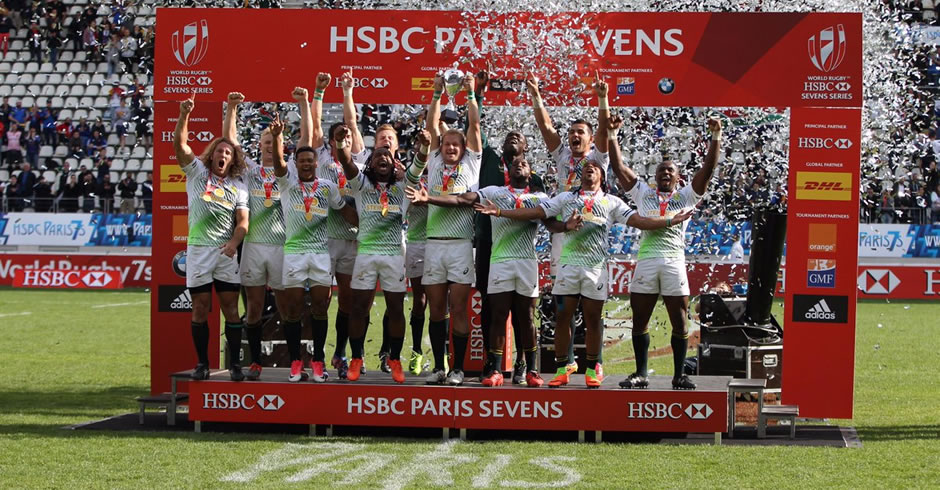 The Springbok Sevens team on Sunday took an unassailable lead in the World Rugby Sevens Series and will be crowned the 2016/17 series champions in London next week when the series conclude with the HSBC London Sevens at Twickenham. WATCH the Highlights from today in Paris at the bottom of the page.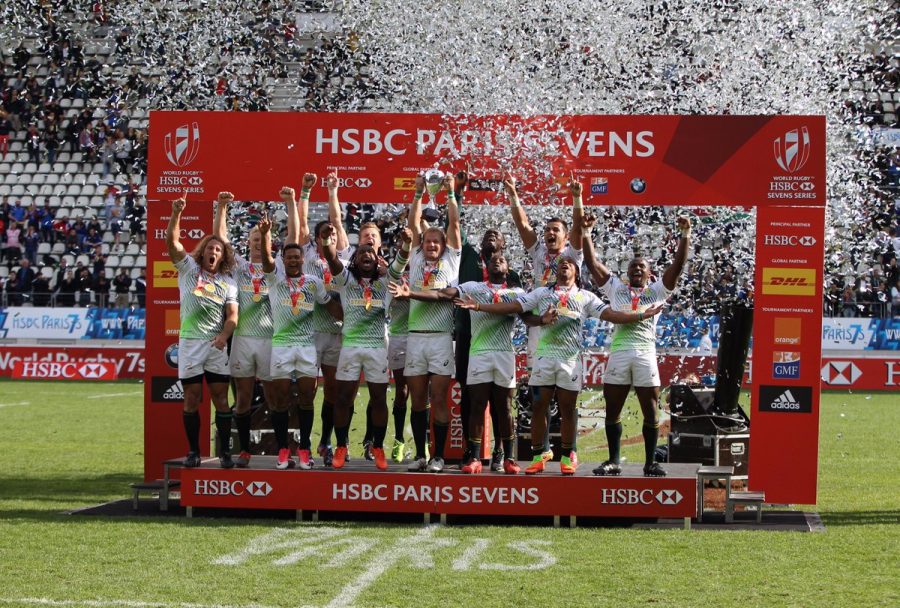 The Blitzboks had a 25 points lead over Fiji and 27 points lead over England coming into the penultimate tournament of the series, the Paris Sevens, and after increasing their lead over their rivals at the Stade Jean Bouin, they have wrapped up the series with the tournament in London to go.
Fiji lost in the Cup quarterfinals to Scotland and England to the same team in the semifinals, while South Africa beat Samoa and New Zealand to progress to an eighth final in nine tournaments and confirmed their standing as the world's top team.
Coach Neil Powell praised his players, management and support back home and said the Blitzboks are blessed with this win, which they worked for three years.
"We are extremely thankful and blessed, the team worked for this for three seasons now. Last year we came close, but this time we managed to do it," Powell said.
"I have to give the guys credit, they are an incredible group that never fear hard work and they deserve this. We are also lucky to have management back home and on tour that works incredibly hard for the team and I want to thank all for that. The support we get from SA Rugby is also instrumental in our success."
Powell also thanked the supporters of the team, saying that they are trying to be a team for all the people in South Africa. "We want to make South Africa proud and hopefully this will help towards that," the coach said.
Powell also becomes the first person to win the HSBC World Rugby Series as a player and as a coach. He was part of the previous Blitzboks team that clinched the title in 2008/09 (with Paul Treu as coach) and now won it as coach of the same team he played for in 32 tournaments and captained as well during his career.
"I am much more relieved now than in 2009 when I was a player. Back then I was just happy to win it, this time there is huge relief. And feeling really blessed. We are not finished though, we want to finish the series strong next week in London and keep chasing that perfect game. We have high standards and keep pushing to improve as a squad."
The team focus has always being inwards and that contributed to their success, Powell said. "We keep the standards high and it does not matter who our opponents are, we try and play to those standards. We pride ourselves on our defense and want to be clinical on attack. We don't always get it right, but it does not stop of us from trying," Powell concluded.
Meanwhile SA Rugby president, Mark Alexander, congratulated the team with the series win.
"It is great for the team and for SA Rugby. We are really pleased. The Blitzboks have made us very proud as a nation and we want to congratulate them with this fantastic achievement. They are not only true ambassadors for our country, but true champions as well."
Source: SARugby.co.za
Watch the Highlights on the Final Day of the Paris Sevens
If your device cannot view the video above, please try below…
? Highlights: All the action from the final day at the Paris sevens as South Africa pick up another tournament win #Paris7s #HSBC7s pic.twitter.com/kEvaXCbyRk

— World Rugby Sevens (@WorldRugby7s) May 14, 2017
Your champions at the HSBC Paris Sevens, South Africa (@Blitzboks)! #HSBC7s pic.twitter.com/NntprwvpcT

— World Rugby Sevens (@WorldRugby7s) May 14, 2017